Black Bean Vegetable Enchiladas
Talk about a party in your mouth! These black bean enchiladas should be called "kitchen sink" enchiladas because there's a little bit of everything stuffed inside them! Topped with a homemade (mild) enchilada sauce and sharp cheddar cheese, these are sure not to disappoint! My six year old likes to pack the leftovers for his school lunch the next day. Enjoy!
Black Bean Vegetable Enchiladas

3 1/2 Cup Black Beans, cooked and drained*
3 small zucchini squash, chopped
1 large sweet potato, chopped
2 Red Bell Peppers, chopped
1/2 large Yellow Onion, chopped
1 Cup Frozen Corn
1/4 cup Lime Juice
1 1/2 Tablespoon Garlic Salt
1 1/2 teaspoon ground Cumin
Salt and pepper to taste
1 1/2 to 2 Cups Sharp Cheddar Cheese, shredded
24-28 Flour Tortillas
Double Recipe Enchilada Sauce

Makes Two dozen enchiladas
Directions:
1. Prepare the enchilada sauce as outlined here.
2. Preheat oven to 350 degrees F. Grease two 9×13 pans.
3. Chop all vegetables into pea-sized pieces. See my chopping tips to speed up this process. In a large, oiled skillet, sauté the sweet potatoes for about 5 minutes on medium-high heat before adding the rest of the vegetables. Add the zucchini, bell peppers, and onion to the skillet and cover with a lid. Let the vegetables cook for about 10 minutes, stirring occasionally. You may need to add  a splash of water now and then to prevent the vegetables from sticking to the bottom of the skillet.
4. Meanwhile, cook your flour tortillas if necessary. I use the uncooked variety for it's additional flavor.
5. Once the vegetables are crisp tender, add the black beans and frozen corn to the skillet. Mix in the lime juice, garlic salt, ground cumin and salt and pepper to taste. Cover and let simmer for 5 minutes.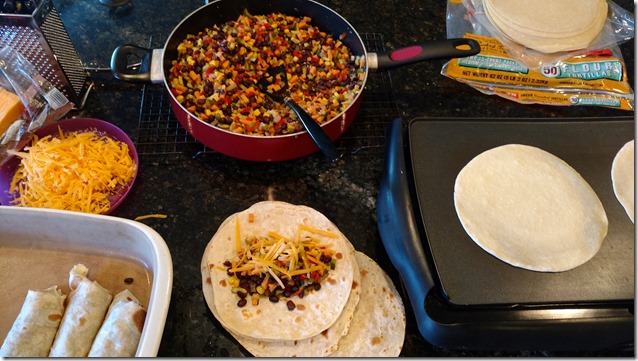 6. Now you are ready to start assembling the enchiladas. Pour about 1/2 cup of bean/vegetable mixture onto the center of a tortilla. Top with 1 tablespoon shredded cheese and roll it up like a burrito. Place 12 enchiladas in each pan. Top with enchilada sauce and a sprinkle of cheese. Bake, covered with foil, at 350 degrees  minutes for 20 minutes. Remove foil and bake another 5 minutes to melt the cheese.
7. If 2 dozen enchiladas is too much for one night, leave the sauce off of one of the pans and cover it with plastic wrap AND tin foil.  Pour the enchilada sauce into an airtight container and freeze the enchiladas and the sauce separately for an easy meal later.
We like to eat our enchiladas with fresh peach salsa.
*Notes: I use my Instant Pot (affiliate link) to cook dry beans. If I didn't plan ahead, canned beans work just fine. However, cooking the beans from dry takes less than an hour in the Instant Pot and saves you some cash compared to the canned beans. Just sayin'.