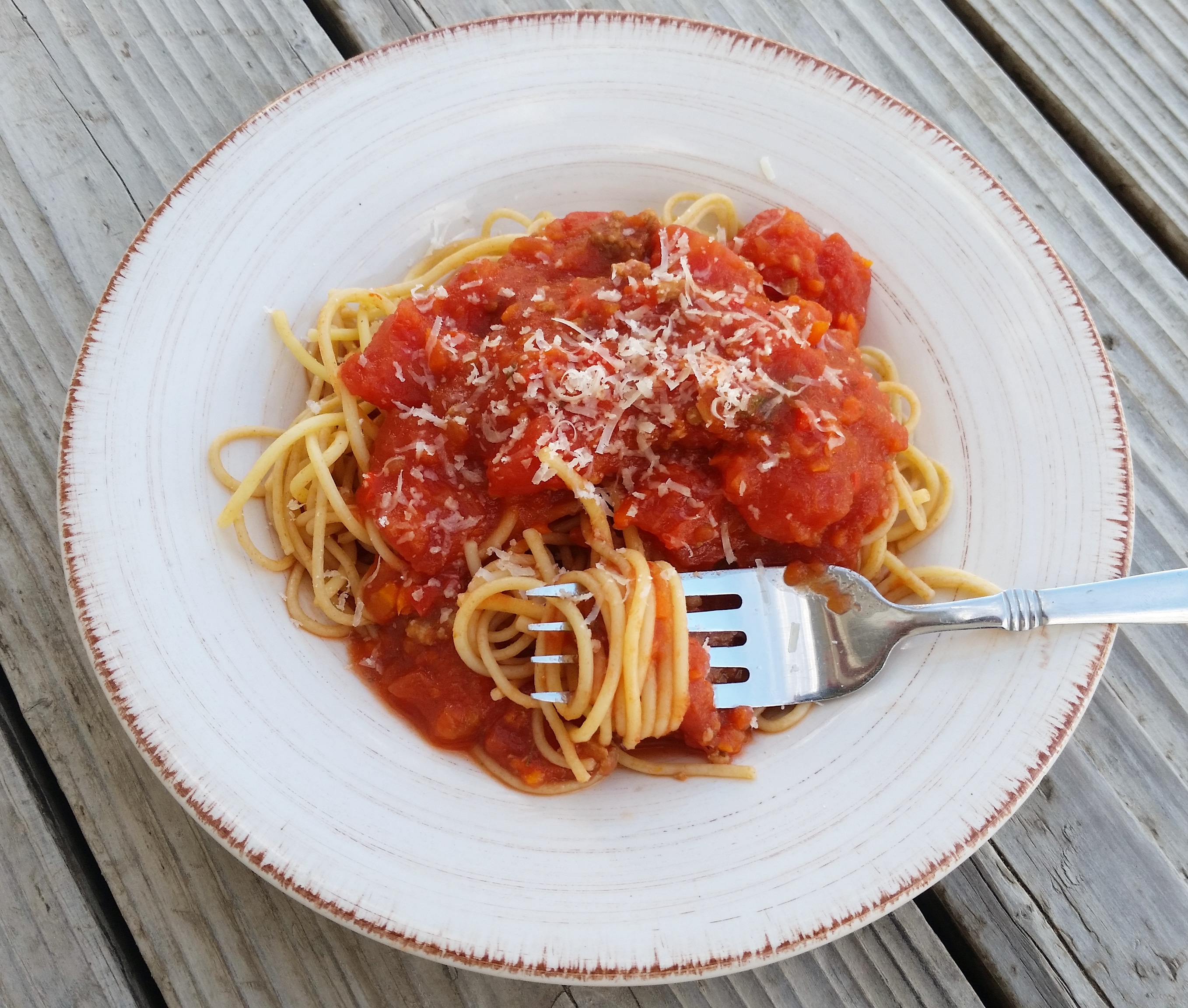 Coming up with names for my food is so hard. This one is my attempt to tell you that there is more sauce and chunky tomatoes in here than meat. I'm not a fan of marinara made with lots of meat and only a tint of tomato, because I like my pasta to be juicy. And, of course, I am the type who uses meat for flavor and not typically as the main dish. Anyways, this sauce is amazing. It's healthy, flavorful, and perfect for a busy day when you need a meal that can be prepped ahead of time. Enjoy!
Saucy Spaghetti Sauce
1 Cup Onion, chopped
1/2 Cup Red Bell Pepper, chopped
1/2 Cup Celery, Chopped
1/2 Cup Carrot
2 Cloves Garlic
1/2 Cup Mild Italian Sausage, cooked*
1/2 Cup Ground Beef, cooked*
8 Cups Diced Tomatoes, (Four 15-ounce cans), undrained
1 6-ounce Can Tomato Sauce
1 Tablespoon Dried Parsley
1 teaspoon Dried Oregano
1/2 teaspoon Dried Marjoram
1 teaspoon salt
1/2 teaspoon pepper
2 Tablespoons Fresh Basil (or 1 Tablespoon Dry)
2 Tablespoons Balsamic Vinegar
8 ounces Whole Grain Spaghetti
8 ounces White Spaghetti
Freshly Shredded Parmesan
Directions:
1. In a food processor, finely chop the onion, bell pepper, celery, carrot and garlic. Pour vegetables into a large stock pot along with the sausage and beef. Cook until meat is not longer pink or frozen. *See notes.
2. Stir in tomatoes, tomato sauce, dried herbs, salt and pepper. Bring to a low boil and simmer for about 30 minutes, covered. Remove lid and let simmer another 10 minutes, stirring occasionally. Add fresh basil and vinegar.
3. Meanwhile, boil pasta according to package directions. Top cooked pasta with sauce and a sprinkle of freshly shredded parmesan.
Serves 8.
Pair your spaghetti with a dark green salad like my Kale Salad with Lemon Vinaigrette to make this a complete meal.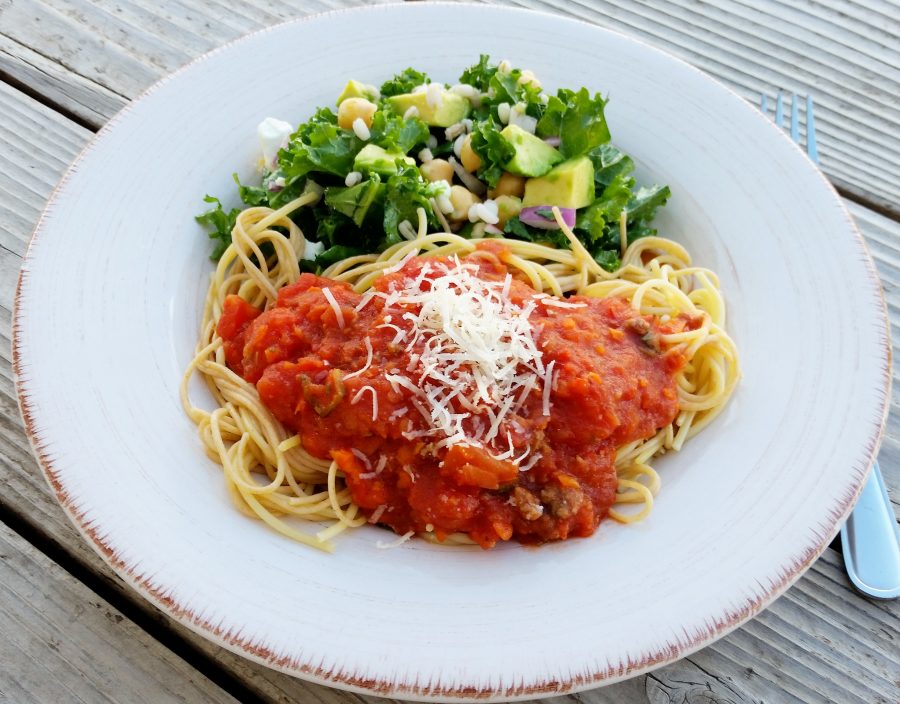 *Notes: I often cook my ground sausage and meats 1 pound at a time. Whatever I don't use goes into 1 cup portions in a zipper baggie, and I freeze it for later use. The amount called for here would be about 1/8 pound each of beef and sausage if cooking it from a raw state.
Featured Products
(Includes Affiliate Links)
Bosch Food Processor Attachment