Sweet Pea and Bacon Ranch Salad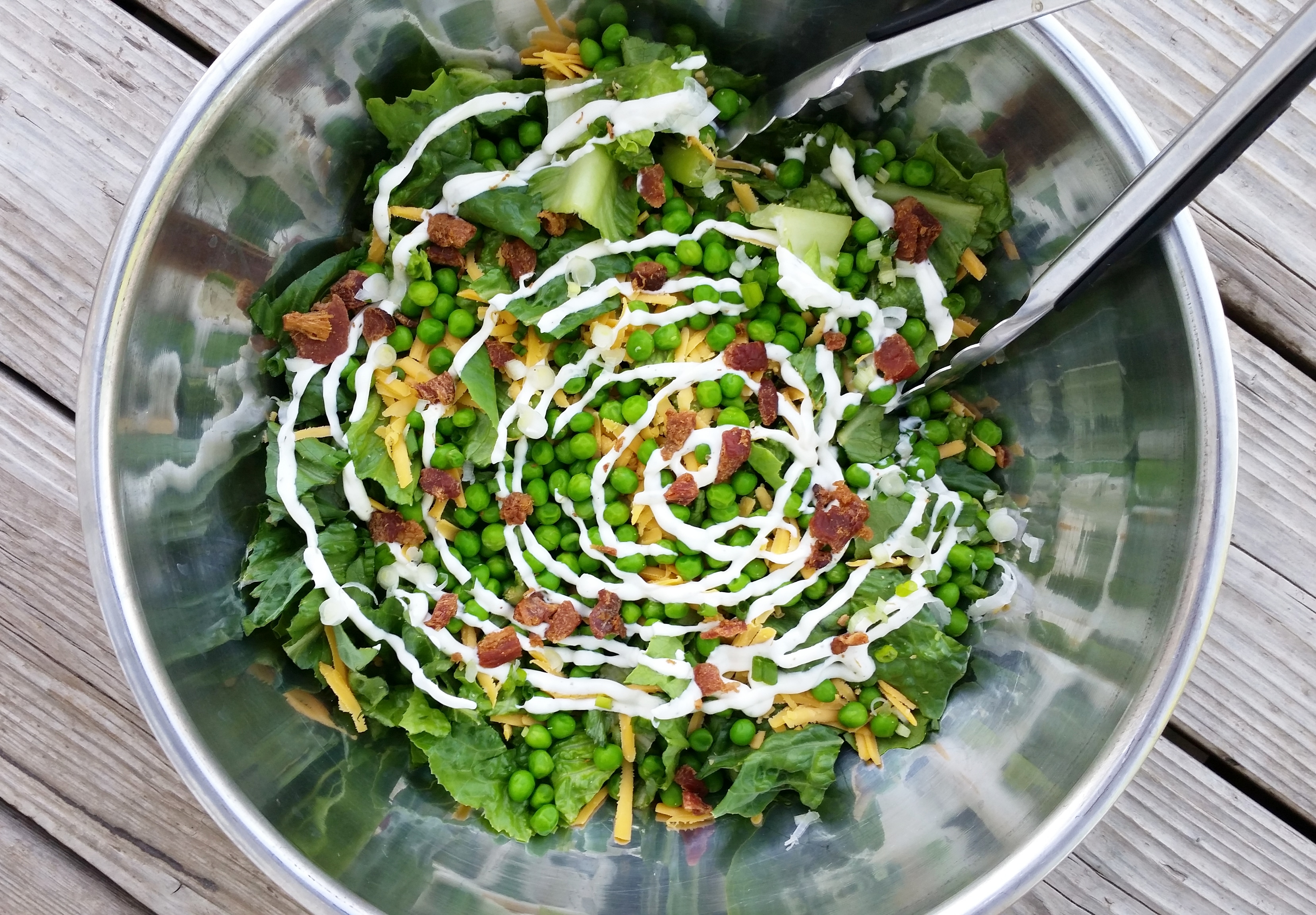 I never struggle to get my kids to eat their salad when I serve this one. It has classic, kid-friendly ingredients like cheddar cheese and bacon, but also contains some pretty awesome sources of fiber and vitamins in the peas and fresh romaine. The secret to making this taste so good is the green onions. Yum. Try this one on your kids and let me know how it goes. Enjoy!
Sweet Pea and Bacon Ranch Salad
8 Cups Romaine Lettuce, chopped
1 1/2 Cups Frozen Peas, thawed*
3/4 Cup Sharp Cheddar Cheese, shredded
1/4 Cup Green Onions, sliced thin
1/4 Cup Hormel Real Bacon Pieces
1/4 Cup Ranch Dressing (See directions and notes)
Directions:
1. Prepare Ranch Dressing: In a large jar with a tight-fitting lid, combine 1 Cup Mayonnaise, 1 Cup Greek Yogurt and 1 Packet (3 Tablespoons) Dry Hidden Valley Ranch Dressing Seasoning. Shake or stir until well mixed. This can store in the fridge up to 2 weeks.
2. In a large bowl, mix just the lettuce with 1/4 Cup Ranch Dressing. Top with remaining ingredients. Drizzle with more dressing as desired.
Serves 8.
*Notes: I thaw my frozen peas by placing them in a strainer and rinsing with hot water. Use a few paper towels to dab the peas dry before adding to the salad. Also, you can use prepared Ranch dressing, but I SWEAR it tastes so much better when you make your own from the dry seasoning packet.
Featured Products
(Contains Affiliate Links)
Hormel Real Bacon Pieces