Improving My Meal Planning
Those of you who have followed me for even a short time know I believe meal-planning is the surest way to eat a balanced variety of foods while keeping the 5:00 panick-attack from occuring every weeknight. I have found that while having a plan for daily meals is awesome, having the plan written down and the recipes + shopping lists all in one place is IDEAL. However, like most other parents out there, I have roadblocks to getting dinner on the table by 6:00 every night. Here are just a few:
Roadblock #1: Writer's-block. Yes, even food bloggers get in a rut when planning meals. However, turning to the World-Wide Web can be a major time-sucker, sifting through food blogs looking for new recipes.
Roadblock #2: Confession. Though I preach looking over all my recipes before writing my grocery list, I often just do it in my head. Weeeeellll…… there's a lot going on in my head, and I inevitably forget ingredients. And this Momma of five kiddos does. not. go. into the store for anything these days.
Roadblock #3: Like most of you reading this, I follow recipes from my phone. Sadly, it is constantly falling asleep, mid-food-prep while I'm trying to cook. This is wreaking havok on my personal sanity as I have smudged, sprayed, dropped and cracked my phone a gazillion times in the kitchen.
So, what's a busy Momma to do?
(Cue the drumroll…) I found THE best App a few weeks ago that has solved all my meal-planning issues. AND, I am happy to announce: I have partnered with Prepear (Affiliate link) as one of their Food Pros to offer recipes and meal plans to users!!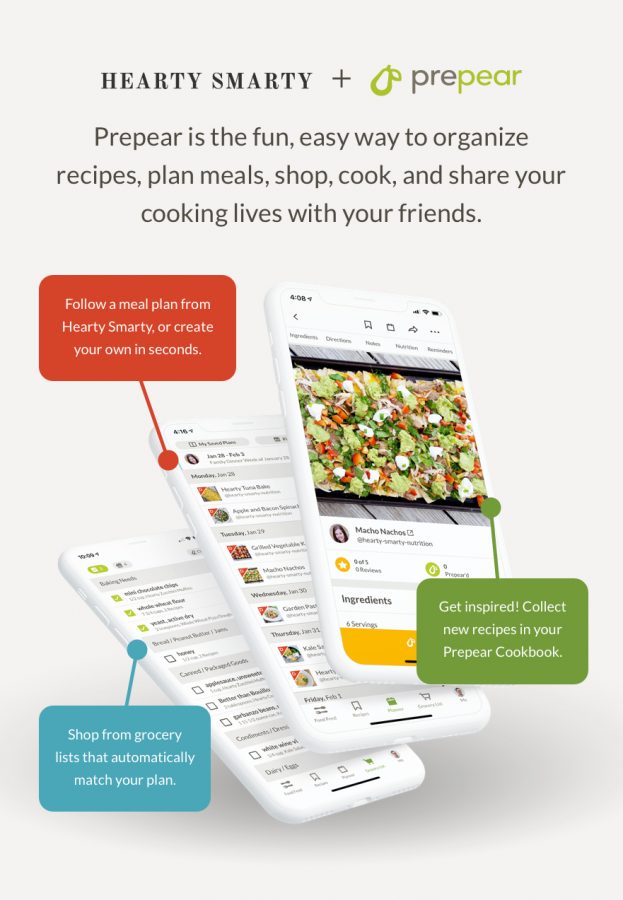 Solution #1: Prepear has a huge collection of new and interesting recipes I can bookmark and plug into my weekly planner of meals. I use it on my laptop, tablet or phone (iOs or adroid). The free version is a DIY, drag-and-drop system of creating meal plans. I can manually add my own recipes or copy and paste recipes from anywhere on the internet, and follow and share with friends and family. No more dinners in a rut!
Solution #2: Once my meal plan is all set, the app generates a detailed grocery list. I can delete items I already have on hand and even add the household items I need (paper goods, cleaning supplies, whatever). I take this list with me to the store or use it to order my groceries online and ba-da-bing, ba-da-boom! Meal-planning is done! It's a no-brainer.
Solution #3: The App stays awake while my hands are busy cooking in the kitchen. That solves my messy, broken phone problems.
I already have several meal plans created and ready to use. I've got more on the way, but some are as follows:
To learn more/sign up for the FREE App, CLICK HERE.
Now, if you are one of the select few still reading this: you are wonderful. To reward you for staying with me to the end, I am giving you the opportunity to enter a drawing for 1 YEAR OF FREE GOLD MEMBERSHIP. (*Update* 3/1/2019 Giveaway Closed. Congratulations to Rachel Nelson!) Leave your questions about the Prepear App and the Meal Plans in the comments below, and you will automatically be entered into the drawing. I'm looking forward to making meal-planning easier for you this year!