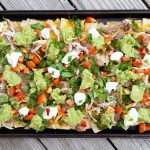 Print
Macho Nachos
A super easy meal for Taco Tuesday--it's delicious AND pretty nutritious!
On a large sheet pan, spread tortilla chips in an even layer.

Heat the beans and chicken until warmed through. Drizzle the beans over the chips and sprinkle the chicken and cheddar cheese on top.

Remove from oven and top with tomatoes, lettuce, dollops of avocado and Greek yogurt. Garnish with Green onions and Cilantro.
Serve with roasted vegetables to make a complete meal. I always have a steady supply of Rotisserie Chicken and Mel's Pressure Cooker Refried beans in the freezer, so that makes this dish a total cinch. You can read more how I do the chicken here. And Mel has a great tutorial for freezing beans on her website as well here.