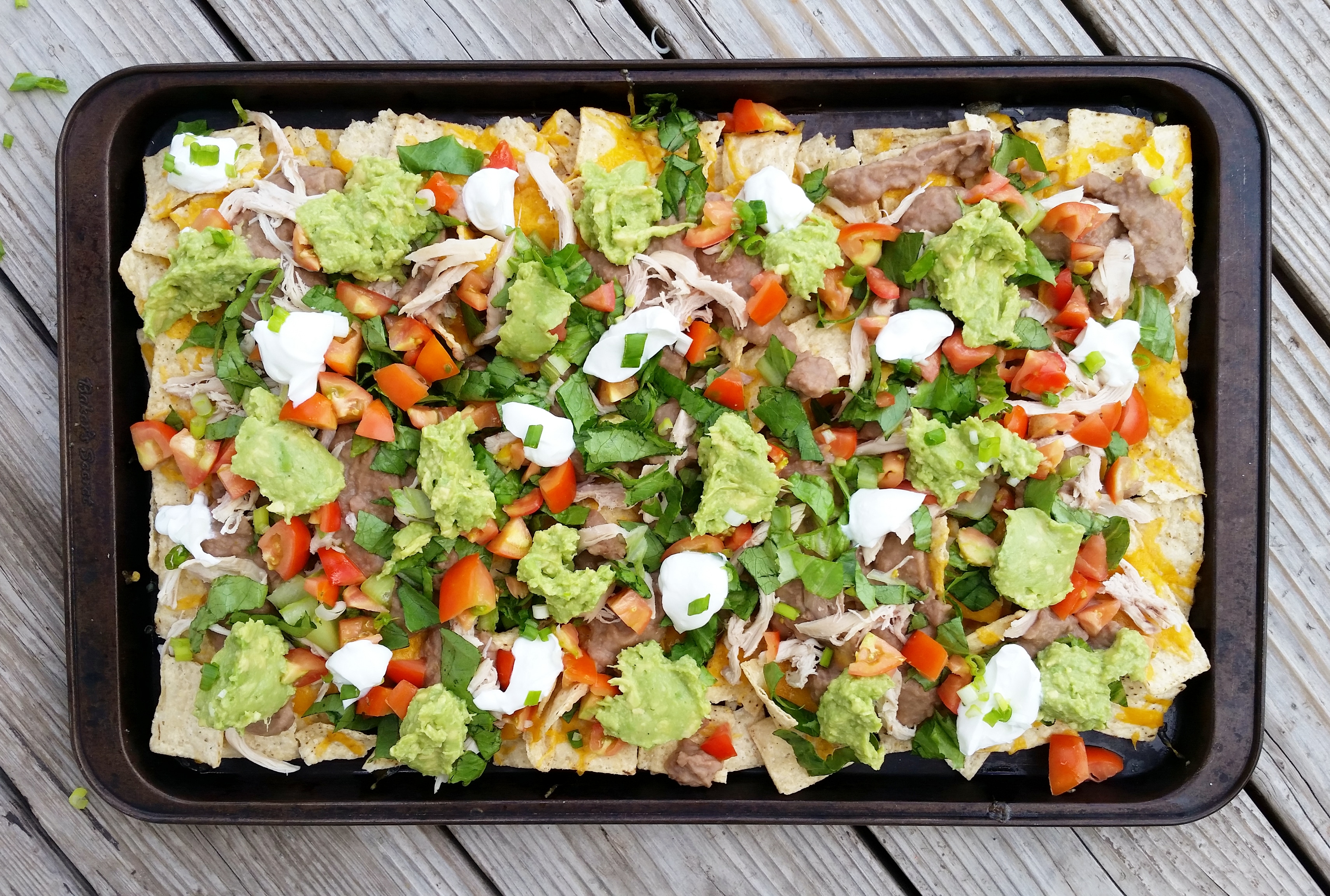 A few months ago, I was trying to think of a new menu item for Taco Tuesday when a childhood memory of one of my favorite Mexican joints in Sheridan, Wyoming popped into my mind. When I was a kid, I used to love eating at a place called, "Pablos." I'm sure it was anything BUT authentic, and, as is always the case in small towns, it went out of business a long time ago. Regardless, I always ordered the same thing: Macho Nachos. It was a massive platter of all the good stuff. I re-created it for my family a few times using Mel's Pressure Cooker Refried Beans and it is a huge hit. My eight-year-old, soccer-playing, totally active, off-the-growth-chart son is especially happy when he sees this on the table! It's SUPER filling, easy, and fast to make. I like to roast a pan of veggies to go with it to make it a complete meal. Enjoy!
Macho Nachos
A super easy meal for Taco Tuesday--it's delicious AND pretty nutritious!
Ingredients
6

Cups

Tortilla Chips

2 1/2

Cups

Mel's Pressure Cooker Refried Beans

1 1/2

Cups

Rotisserie Chicken

shredded

1 1/2

Cups

Cheddar Cheese

shredded

1 1/2

Cups

Tomatoes

chopped

1

Cup

Lettuce

shredded

1

Cup

Mashed Avocado

1

Cup

Greek Yogurt

1/4

Cup

Green Onions

sliced

1/4

Cup

Cilantro

chopped

Salt and Pepper to taste
Instructions
On a large sheet pan, spread tortilla chips in an even layer.

Heat the beans and chicken until warmed through. Drizzle the beans over the chips and sprinkle the chicken and cheddar cheese on top.

Place the pan in the oven and broil on low just until the cheese melts.

Remove from oven and top with tomatoes, lettuce, dollops of avocado and Greek yogurt. Garnish with Green onions and Cilantro.
Notes
Serve with roasted vegetables to make a complete meal. I always have a steady supply of Rotisserie Chicken and Mel's Pressure Cooker Refried beans in the freezer, so that makes this dish a total cinch. You can read more how I do the chicken here. And Mel has a great tutorial for freezing beans on her website as well here.