Easy Honey Whole Wheat Bread (for the Bosch)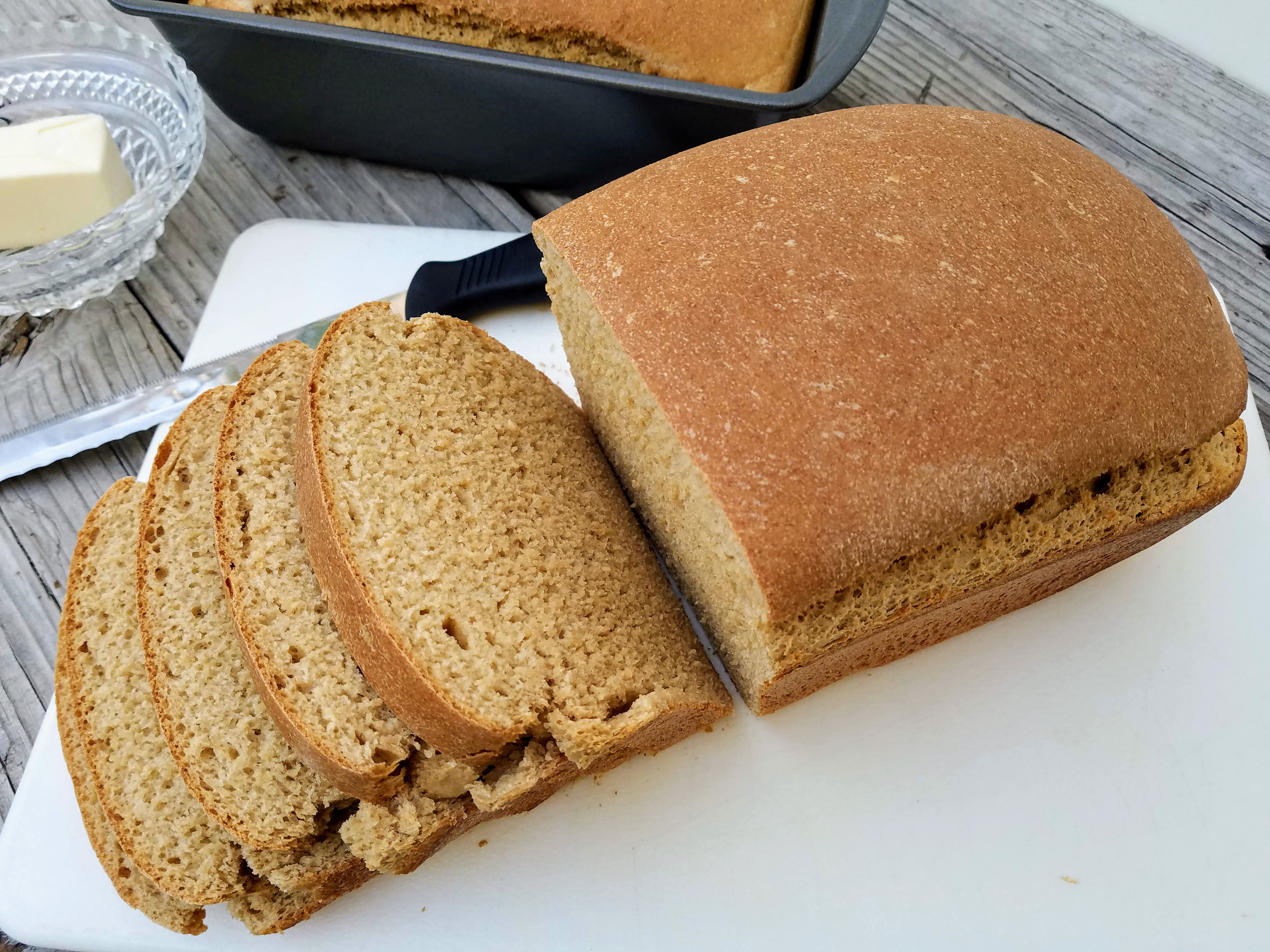 Fresh-baked homemade bread envelops all the comfort and warmth of home. Once I got myself a Bosch mixer (aff. link) this comfort food was featured more regularly at our dinner table, and our whole family is so glad! My favorite Fall and Winter meal is a bowl of hot soup with this bread– fresh out of the oven. YUM!!!
This recipe is simple and fail-proof. Not only does it taste delicious, but it is 100% whole wheat, and made with all whole ingredients. I hope you and your dinner guest love this as much as the Andersen family does. Enjoy!
Easy Honey Whole Wheat Bread (for the Bosch)
Easy, healthy homemade bread ready in 60 minutes
Ingredients
3

Cups

Warm Water

80 degrees

1

Tablespoon

Active Dry Yeast

2 1/2

teaspoons

Salt

6

Tablespoons

Canola Oil

3

Tablespoons

Honey

8

Cups

Whole Wheat Flour

divided
Instructions
Preheat oven to 375 degrees. This will warm the kitchen and help the yeast activate. In the bowl of the Bosch mixer, combine water and yeast. Let it sit a minute until the yeast begins to bubble.

Add salt, oil, and honey and mix on the lowest speed until the honey dissolves. On low speed, gradually add 5 cups flour and mix until all the flour is incorporated. Slowly add 1/2 cup increments of additional flour until the dough no longer sticks to the sides of the bowl. (See notes for pictures.)

Mix on medium speed for 6 minutes. While you wait, generously grease two, 9 x 5 x 3 inch bread pans. Once finished, rub a bit of cooking spray on your palms and fingers and pull half of the dough out of the mixer. Form into an oval-shaped loaf and place into the bread pans.

Set the bread pans in the warmest corner of your kitchen (I put mine on the counter top right next to the stove), and cover with a clean, dry cloth. It will take about 10 minutes for the dough to rise to the top of the bread pans.

Place the pans on the same rack inside your oven and bake for 20 to 25 minutes or until the tops are a dark, golden brown. Let the loaves cool in the pans for a couple minutes before removing onto a cooling rack for another 5 minutes. Slice with a serrated bread knife and serve warm with butter and honey.
Notes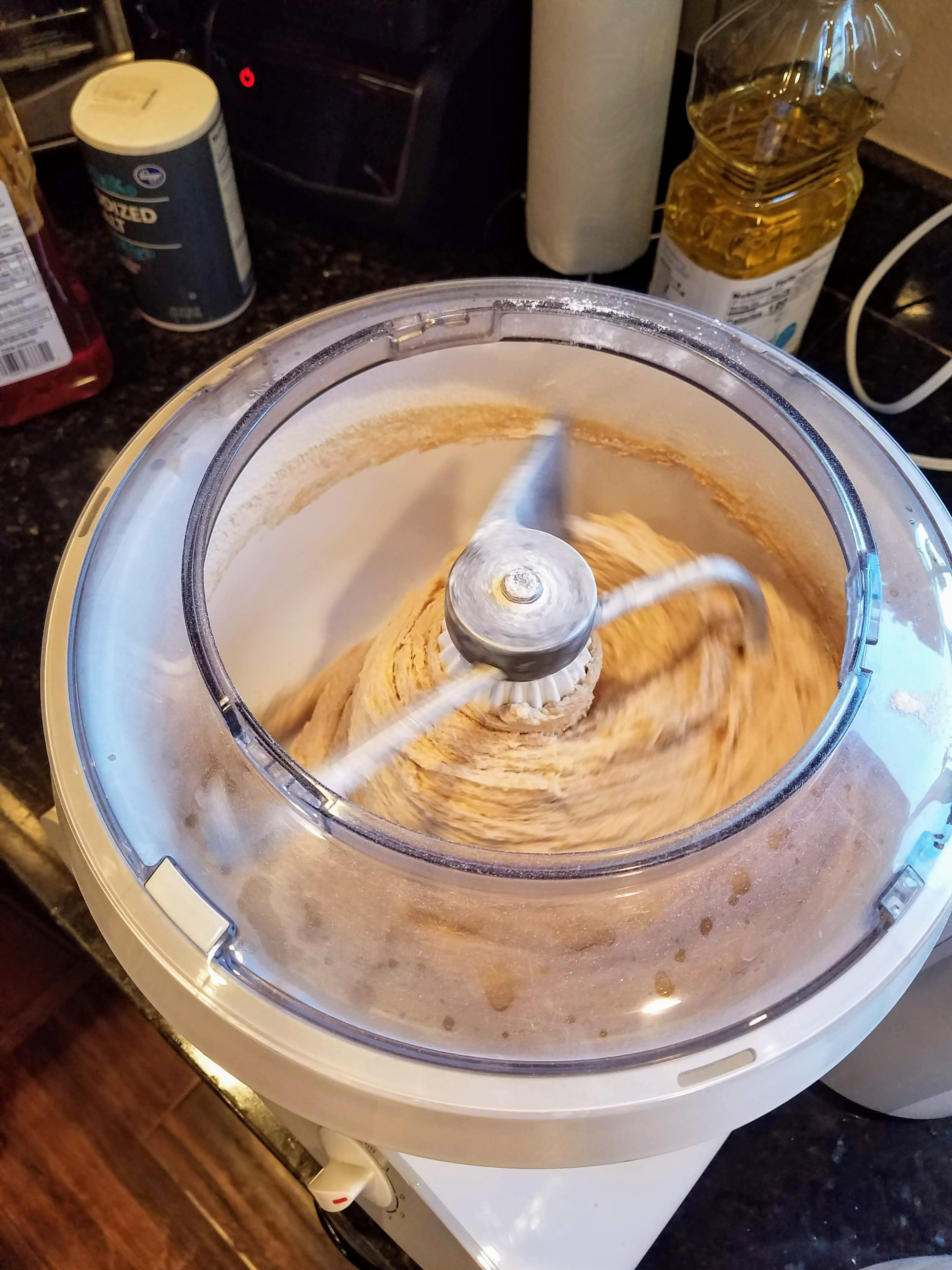 Notice how the dough is still sticking to the inside in a ring around the bowl. Slowly add more flour until it "cleans" the inside of the bowl, like this: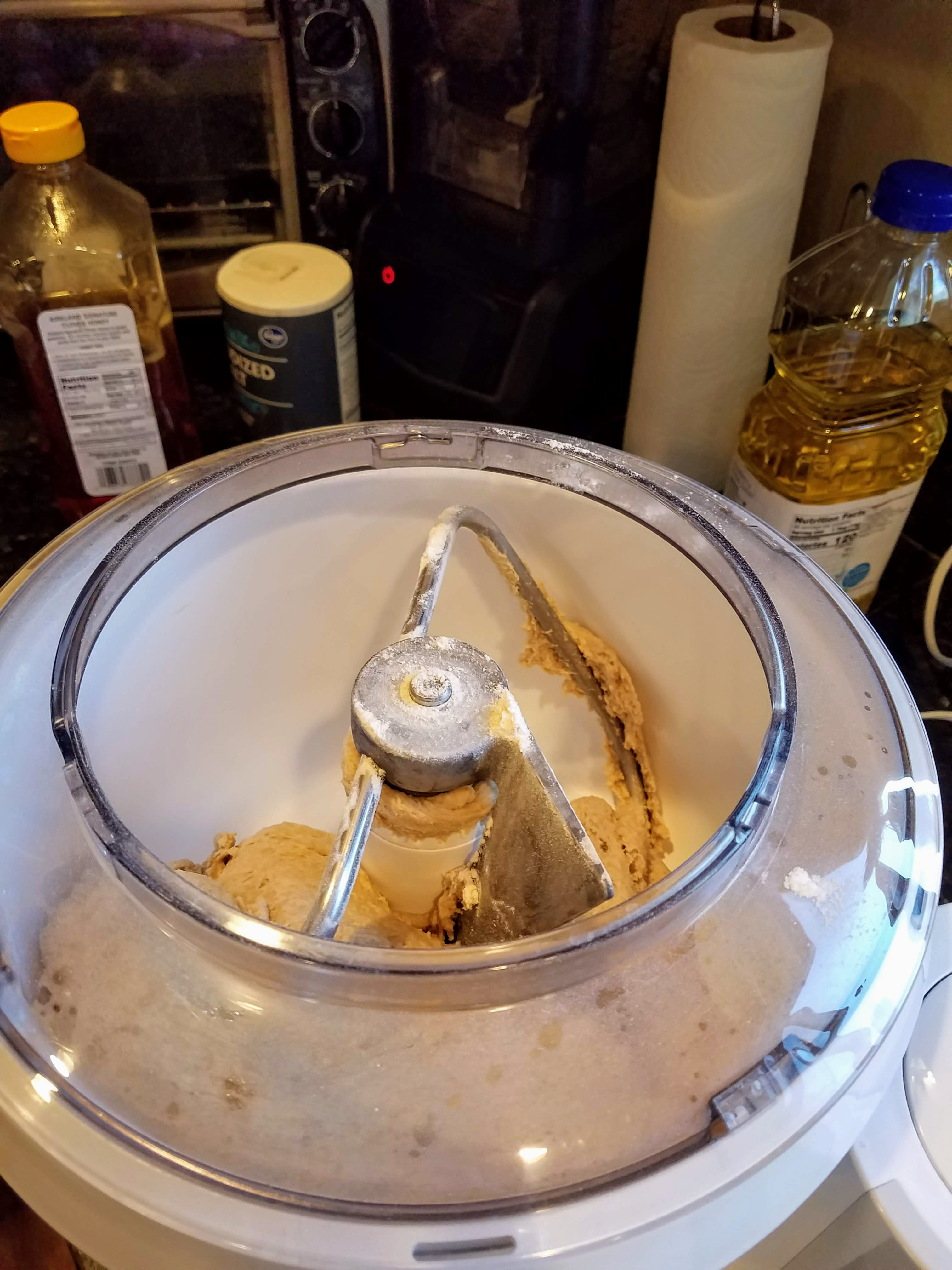 See how clean the sides of the bowl are? Now you are ready to put the lid on and mix for 6 minutes at medium speed.
Non-stick Bread Pans