Frozen Spinach Pucks for Smoothies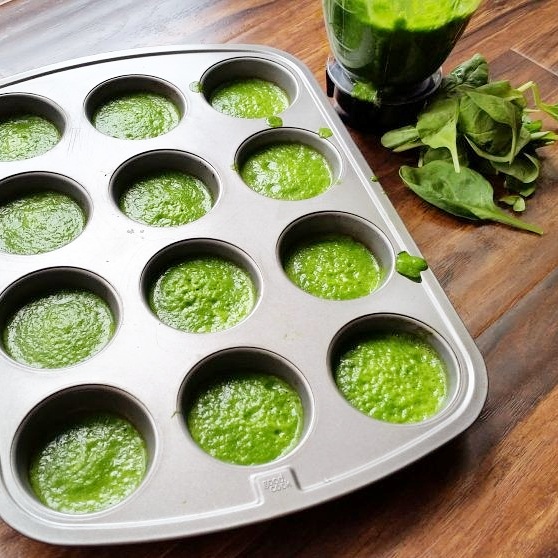 One of my goals in the kitchen is to waste as little food as possible. I also try to waste as little time in the kitchen as possible too. When food starts going bad in the fridge, my challenge is to re-purpose it or preserve it before it is too late. Years ago, I overheard some ladies in the grocery store checkout line talking about how they freeze spinach for smoothies. They called them "spinach pucks." I gave it a try, and it worked like a charm! The best part is, because the spinach is blended once into a puck and then again into your smoothie, the spinach goes undetected for the picky eaters.
Have you ever been guilty of buying Costco's huge, 2.5 pound bag of spinach totally intending to eat salads all week, but your plans didn't quite come to fruition? Or maybe your garden is producing way more spinach that your family can eat. I've been there. Here's how I ensure that this super nutritious food doesn't go to waste:
Making Spinach Pucks
1. Pick out any wilted leaves and pack the good ones into a blender. I've been using the same 'ol Osterizer for over 5 years now and it works just fine for this. Tightly pack the spinach to the 2 cup line.
2. Add just enough water to get the spinach to start blending. Start with about 2 tablespoons.
3. Continue to add spinach until it becomes too pulpy (is that a word?) to blend.
4. Blend until smooth.
5. Fill muffin tin cups with the blended spinach.
6. Freeze spinach 8 hours or overnight.
7. Pop the pucks of spinach out of the tins and store in an air-tight freezer container for up to 3 months.
8. Use a spinach puck or two in your favorite smoothies.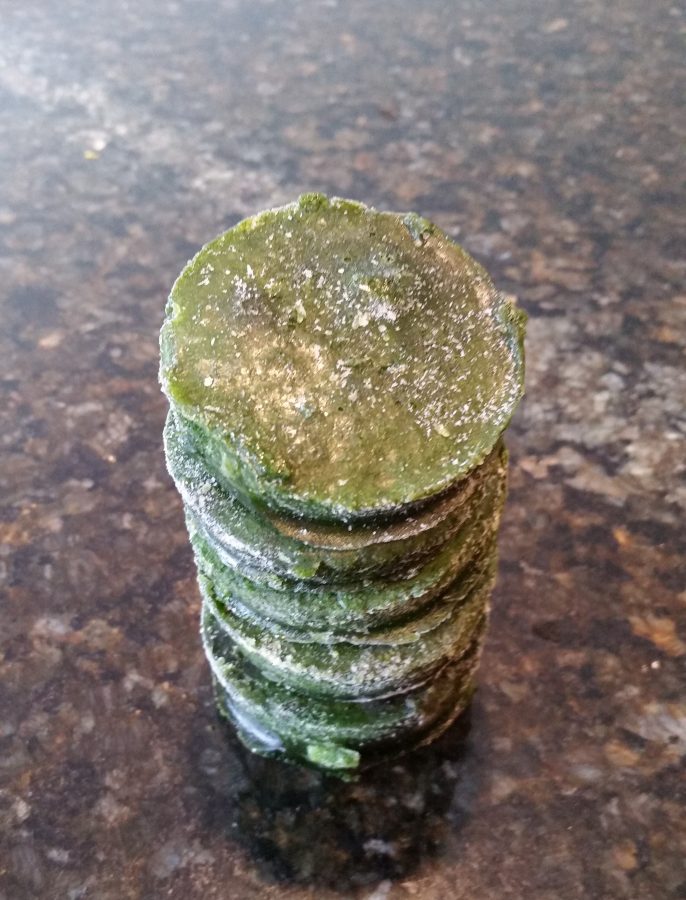 Why freeze?
In the process of freezing food, very little to no nutrition is lost. However, other forms of preservation such as canning kills off many beneficial vitamins, minerals, and phytochemicals (antioxidants) in fruits and vegetables. Frozen produce won't last as long as canned produce, but you will receive much more nutrition from it. So, just remember to label your frozen foods and eat them up within three month's time.
Featured Product
Includes Affiliate Link