Mini Churro Muffins (Whole Wheat)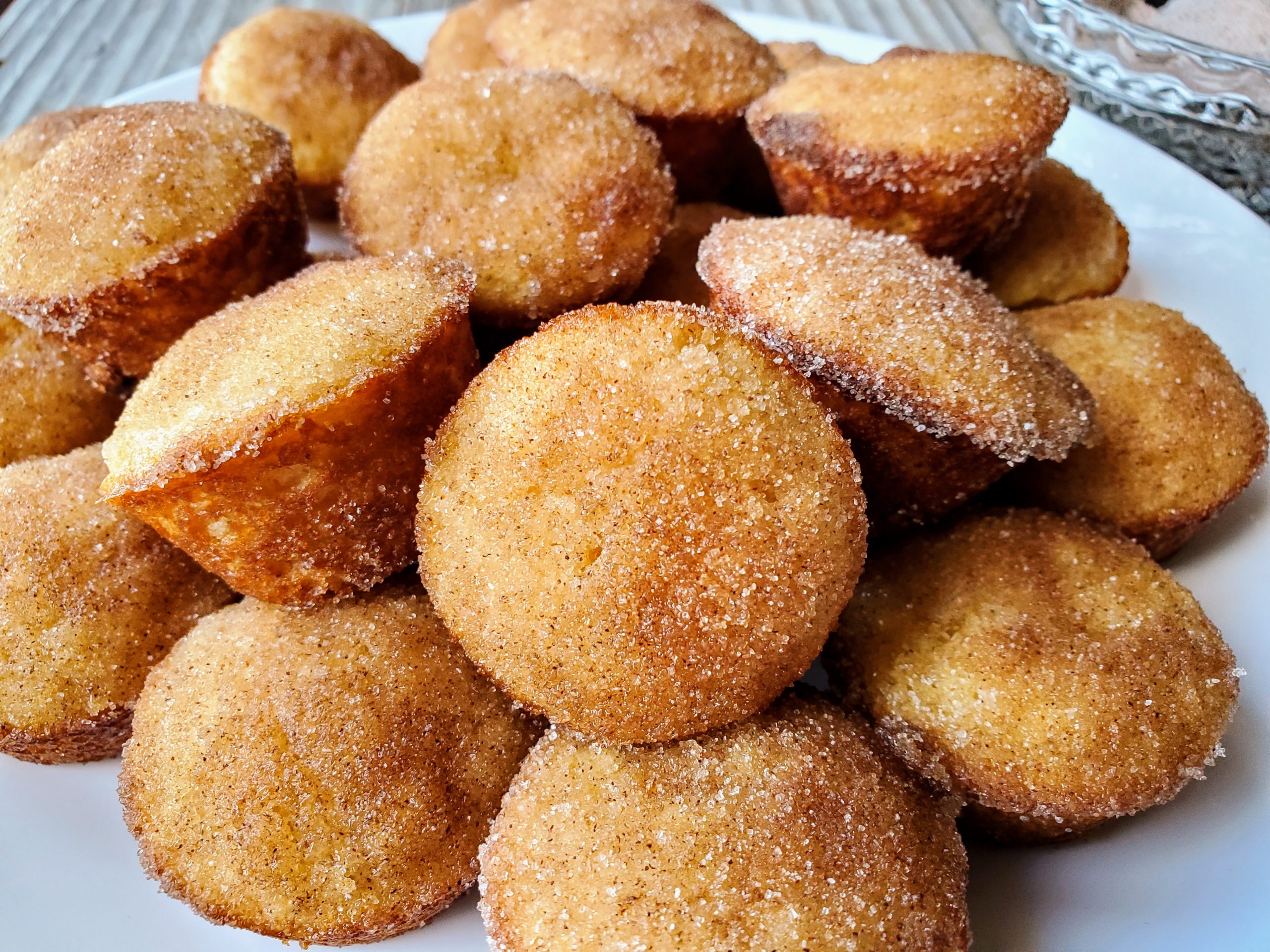 It's Spring Break this week and the plan was to be playing in the sand and theme parks in Southern California. Since the whole world is shut down by the Corona Virus, we are at home making the best of quarantine life. Yesterday we would have been playing at Disneyland, so we decided to pretend we were there with some simple activities. It started with a cute little 'Disney marathon' where the kids dressed in their Mickey Mouse t-shirts, loaded their bikes and strollers, and we listened to theme park music while jogging around the neighborhood. While eating parfaits for breakfast we watched our favorite YouTuber, Mr. Cheesy Pop taste all the best treats in Disneyland. The plan was to go outside and pretend we were Disneyland groundskeepers as we tended our flower beds. Instead, we got carried away chopping down a diseased tree in the back yard. We sang Disney songs and worked away in the sunny back yard all day. At dinner time, the kids all said they had the best day ever. I think they just really love projects when we let them use sharp objects to destroy things!
Anyways, our night ended enjoying these DELICIOUS churro muffins (because what is Disneyland without churros?!) while we studied our Easter scripture lessons. Then we all piled on the couch to watch the magical, "Mary Poppins Returns." However, half the family passed out before she made it to the Royal Doulton Music Hall inside the china bowl.
Now, more about these muffins– I would have made them with all-purpose flour, but the stores have been completely wiped out. I have been grinding wheat for all my baking needs lately. I actually think whole wheat was better because it gave them a closer texture to chewy churros. I made a few tweaks with the baking powder and used my substitution ratio for whole wheat (you can find that and others by downloading my food substitutions reference here.) These tasted like the REAL DEAL and were devoured in minutes. The best part is that our kitchen smelled just like a churro stand at the park. I hope you enjoy this little taste of Disneyland as much as we did!
Mini Churro Muffins (Whole Wheat)
homemade chewy churro muffins that taste like Disneyland
Ingredients
3/4

cup

granulated sugar

1/2

cup

butter

melted

1

cup

milk

1

teaspoon

vanilla

1 1/2

cups

whole wheat flour

2 1/2

teaspoon

baking powder

1/2

teaspoon

salt
Dip
1/4

cup

butter

melted

1/2

cup

granulated sugar

1

Tablespoon

ground cinnamon
Instructions
Pre-heat oven to 375 degrees and grease two 24-cup mini muffin tins. Set aside. (This recipe will only fill one and a half of your tins to yield 36 mini muffins.)

In a large mixing bowl, use a wire whisk to mix sugar and melted butter. Add milk and vanilla and mix until sugar is dissolved.

Add flour, baking powder, and salt, and stir until combined.

Fill each cup just half full with batter. Bake for 10-12 minutes

While the muffins are baking, use two bowls for the dip. One bowl will have melted butter. In the other bowl, mix the sugar and cinnamon together.

Once the muffins are cool enough to pop out of the tin, dip the tops first in melted butter and then the cinnamon-sugar mixture. Serve hot.
Non-stick Mini Muffin Pans