Southwest Black Bean Burgers with Oven Fries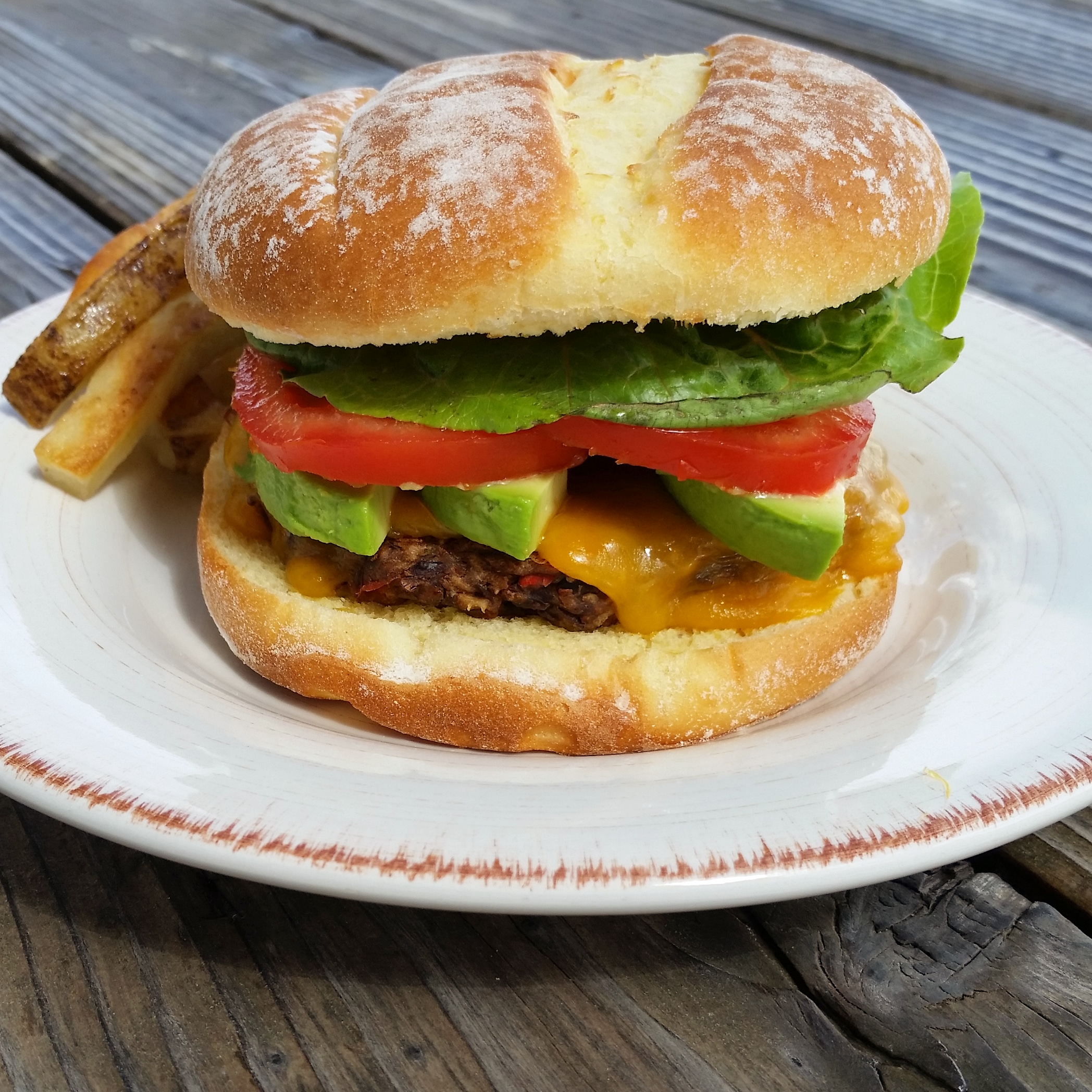 Many black bean burgers have come out of my kitchen, and most of those were not well-received at the dinner table. These, however, are a different story. Three of my four kids wouldn't touch the previous burgers. These ones, however, were devoured by ALL FOUR KIDDOS and my husband! And me. Of course. Now, I do love a good, grass-fed, high quality beef burger on occasion. The rest of the time, I skip the red meat and eat black bean burgers for their fantastic fiber and heart-healthy benefits. This is one of my most original, fail-proof recipes I have in my repertoire, so I sure hope you enjoy these as much as my family and I do!
Southwest Black Bean Burgers with Oven Fries
Ingredients
Southwest Black Bean Burgers
2

cans

Black Beans

drained (24 oz.)

half

Jalapeno

seeded

half

Red Bell Pepper

seeded

1/2

cup

Yellow Onion

1

Cup

Rolled Oats

2

Eggs

2

tbsp

Dry Ranch Mix

1/2

teaspoon

Chili Powder

1/2

teaspoon

Salt

1/4

teaspoon

Pepper
Burger Condiments
8

Hamburger Buns

1

avocado

sliced

8

ounces

cheddar cheese

sliced

1

Vine-ripe Tomato

sliced

2

Cups

Romaine Lettuce
Oven Fries
4

Cups

Russet Potatoes

French Fry-cut

2 1/2

Tablespoons

California Olive Ranch Olive Oil

1 1/2

Tablespoons

Seasoned Salt
Instructions
Burger Directions:
Pre-heat an electric, non-stick griddle to 375 degrees. Drain the beans and let them continue draining in a strainer as you complete the next steps. You want them as dry as possible.

In a food processer or blender, shred jalapeno, bell pepper and onion. Remove from motor and pour out the juices, using your hand to catch the shredded vegetables.

Pour shredded vegetables into a large mixing bowl. Wipe out the processer and pour in the rolled oats. Blend until oats make a course flour. Add oats to vegetable mixture.

Add all remaining ingredients and spices to mixing bowl. Using a pastry blender, mash the mixture together until only half of the beans are left whole.

Use your hands to form a ball of bean mixture, just smaller than a tennis ball. Drop the ball onto the heated griddle and press into a burger. It should be about 3 inches in diameter.

Cook the burger about 8 minutes on one side and 5 minutes on the other. The burger should be golden brown in color and hold its shape.

Serve on a bun with avocado, tomato, lettuce, cheese, etc.
Oven Fries Directions:
Preheat oven to 450 degrees. Mix together Julienned potatoes, oil and salt in a bowl.

Line a large cookie sheet with tin foil and spray with cooking spray. Pour potatoes in an even layer onto the greased foil.

Bake potatoes for 15 to 20 minutes, stirring once half-way through. Fries should be golden brown, crispy on the outside, and soft on the inside.

Featured Products
(Contains affiliate links)
 Bosch Food Processer Attachment
California Olive Ranch Everyday Olive Oil