Instant Pot Chicken and Homemade Dumplings (from frozen chicken)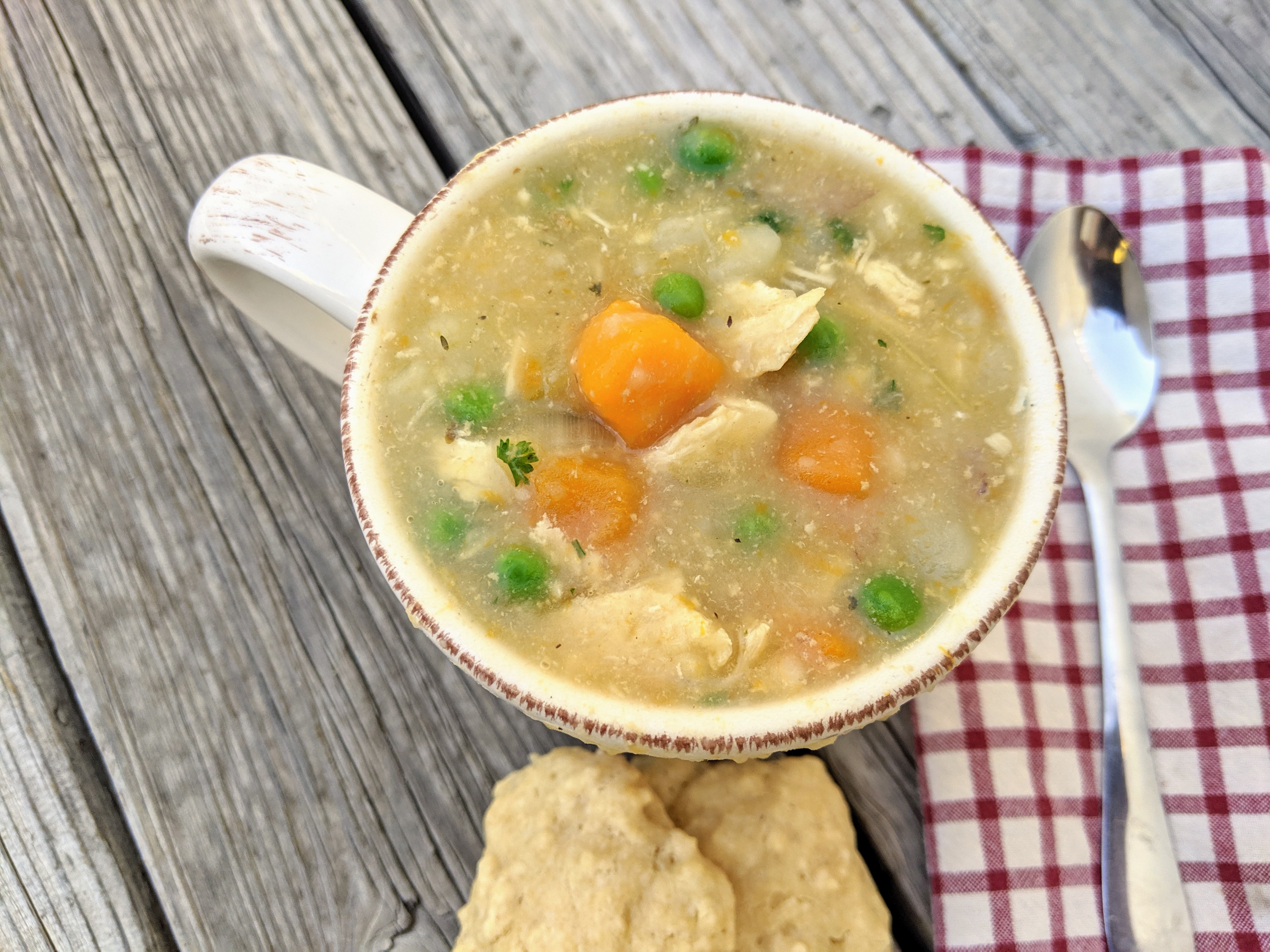 Anyone following me on Social Media might be wondering if I have fallen off the face of the planet, right? Never fear. I am alive and well and burning the candle at both ends, working on a tool you are going to LOVE! I will make the big announcement on Monday, so stay tuned. Meanwhile, it's high time I share the most amazing recipe I made for my family after church last Sunday.
When I was a teenager, I use to LIVE off of Dinty Moore Chicken and Dumplings mixes. With parents who both worked full-time and my crazy schedule as a busy student athlete and musician, it was all we had time for. Had we known about the Instant Pot back then, things would have been different. There are lots of advantages to raising a family in the 20-teens, and the Instant Pot is definitely one of them! From start to finish, I can have this nourishing, homemade-from-scratch comfort food ready to serve in under an hour thanks to the pressure-cook feature on my Instant Pot.
There are a few things I do differently than traditional Chicken and Dumplings to fit our preferences. I think you will enjoy them too. First of all, I don't use any canned soup in the chicken mixture. Instead, I thicken it with flour and a few ladles of broth after the chicken soup has finished cooking. This decreases the fat content significantly without losing the mouthfeel and thickness. The next thing I do is bake the "Dumplings" separately. Thus, they are actually biscuits and not dumplings at all. We prefer the texture of a biscuit with a crispy outside and moist inside that we can dip into our chicken soup better than a chewy dumpling floating atop the soup. I have also found that baking the biscuits separately holds their flavor better.
This comfort food is so full of flavor and goodness that the whole family swoons over it. I think yours will too. Enjoy!
Instant Pot Chicken and Homemade Dumplings (from frozen chicken)
Forget to thaw the chicken? Use the pressure cook setting on the Instant Pot to make Chicken and Dumplings from frozen to perfectly tender in less than 60 minutes!
Ingredients
Chicken Stew
1

Tablespoon

Butter

2.5

pounds

boneless skinless chicken breasts

cut into 3 inch chunks

1/2

teaspoon

Salt

1/4

teaspoon

Ground Black Pepper

4 1/2

cups

Water

2

Tablespoons

Reduced Sodium Better than Bouillon Roasted Chicken Base

1

large

onion

chopped

3

Cloves

garlic

minced

3

medium

carrots

about 1 1/2 Cups, chopped

2

Celery Stalks

chopped

2

Bay Leaf

1/8

teaspoon

Thyme

2

teaspoons

dried Parsley

6

small

Russet Potatoes

about 6 Cups, chopped

1/2

Cup

All-Purpose Flour

1

Cup

Frozen Peas
Drop Biscuits
2 1/4

Cups

Whole Wheat Flour

2 1/4

Cups

All-Purpose Flour

2

tablespoons

baking powder

1 1/2

teaspoon

salt

1 1/8

teaspoon

Cream of Tartar

1 1/8

Cup

Butter

2 1/4

Cups

Buttermilk

See notes
Instructions
Instant Pot Chicken Stew
Heat Instant Pot using the [Sauté] function. Once it is hot, melt butter so it fully coats the bottom of the pot. Sprinkle FROZEN chicken with salt and pepper and brown them inside the pot for about 5 minutes on each side. If needed cut large chicken breasts in half and brown the raw sides. Remove from pot and set aside.

While the chicken is browning, mix the chicken base and water until the chicken base is dissolved. Set aside broth.

Sauté onions until they are translucent. Add the garlic and sauté for just 30 seconds until fragrant. Add carrots and celery and sauté another 2 minutes. Add the bay leaf, thyme, and parsley and let it cook for one minute until fragrant.

Pour 1 cup of chicken broth into the pot of vegetables and deglaze by scraping the brown bits of the bottom of the pot as you stir a few times.

Add the potatoes, remaining broth, browned chicken breasts and meat juice. Close the lid and turn venting knob to the sealing position. Use the [Manual] or [Pressure Cook] function to pressure cook the chicken at [High Pressure] for 5 minutes.

It will take about 10 minutes for the Instant Pot to pressurize before the cooking process begins. Once the pressure cooking phase has finished, let the pressure release naturally (just let it sit) for 15 minutes. Then, turn the pressure knob to the venting position until the remaining pressure releases and you can unscrew the lid.

Scoop out the chicken and discard the bay leaves. Cut or shred the chicken and return to the pot.

Change the setting to the [Sauté] function again. Leave the lid off and mash a few of the potatoes with the back of a ladle to help thicken the soup. In a separate bowl, add two or three ladles of soup broth to 1/2 cup of all purpose flour. Use a wire whisk to stir the mixture until no clumps remain and it resembles a smooth paste. Add the paste back into the chicken soup mixture and continue stirring until you reach the desired consistency.
Drop Biscuits
Preheat the oven to 425 degrees. In a large bowl, stir together the flours, baking powder, salt, and cream of tartar. Use a pastry blender to cut in the butter until mixture resembles coarse crumbs.

Make a well in the center of the flour mixture and add the kefir (or buttermilk) all at once. Use a fork to stir just until combined. It should resemble a thick, lumpy batter.

On a greased baking sheet, drop dough by spoonfuls about one inch apart. Use a lightly greased spatula to scrape the dough out of the spoon and onto the sheet.

Bake for 6 to 8 minutes. or until the tops are barely golden brown. Watch them carefully, because the bottoms will brown before the tops.

Serve the chicken soup in bowls, topped with a broken biscuit.
Notes
Make sure you chop your potatoes, carrots, celery and onions in chunks about the size of dice. If you chop them too small, they will over-cook and turn into mush in your Instant Pot. Also, I choose to use kefir in place of buttermilk, because it's what I always have on hand. Either one will work in this recipe.
Featured Product
Includes Affiliate Links