Mom's Sugo (Marinara Sauce to feed a large group)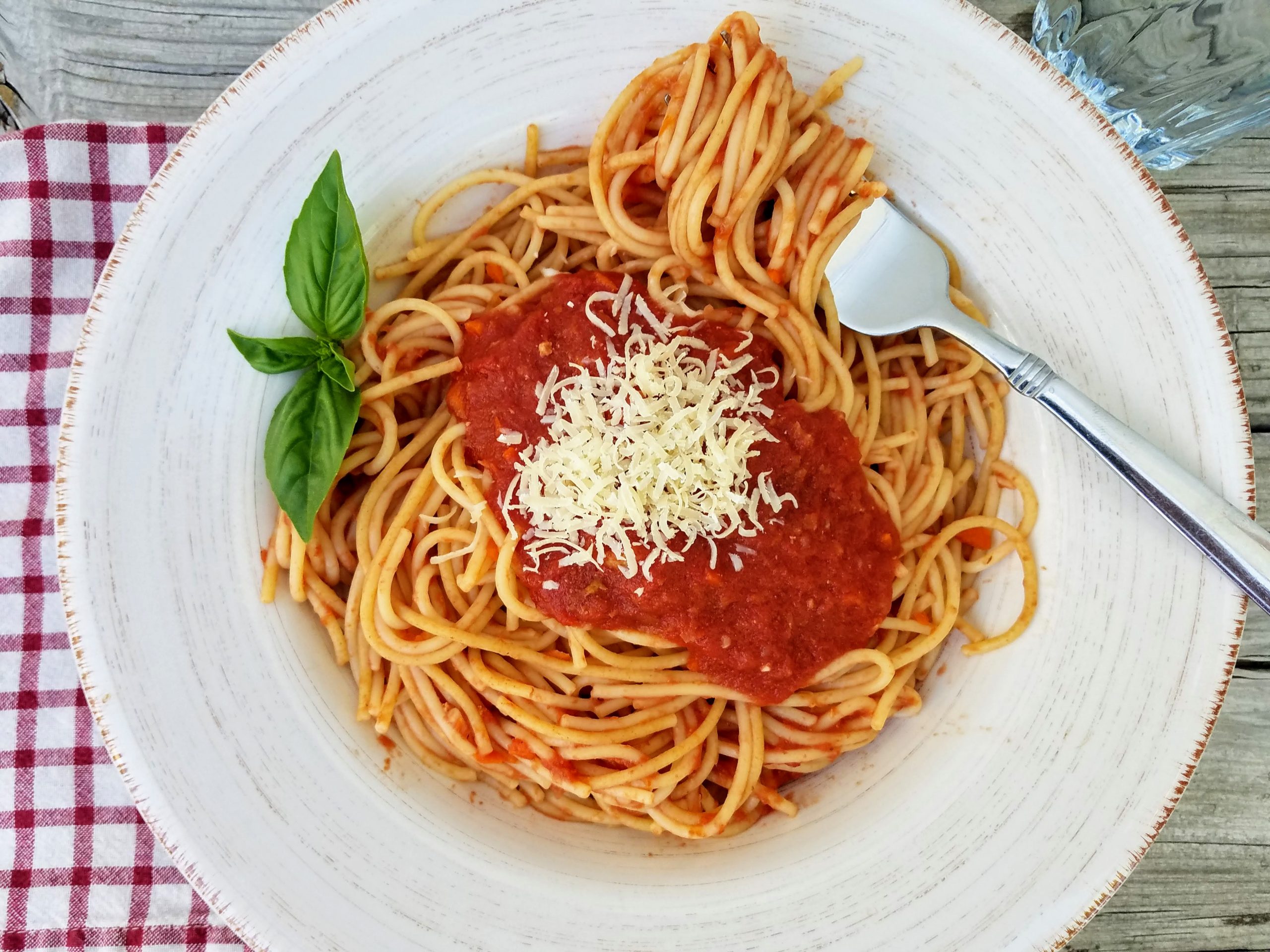 Each Summer, my husband's parents, siblings and all their children gather at the family cabin in the mountains of Arizona. As of today, our family is 45 members strong. Feeding a family that size can be quite intimidating. We canoe in the lake, hike trails, mountain bike, and chase kids all day long. At the end of each day, everyone comes running to the dinner table with hungry appetites. One of our very favorite meals that everyone loves to eat at the Cabin is Andrea's "Sugo". It tastes best when simmered in the slow cooker on low for 4 hours. So, this is a great meal to make ahead or throw in the slow cooker first thing in the morning and let it simmer while we play all day.
This recipe was handed down to Andrea by her mother who spent 3 years on a Church mission in Italy. While she was there, she developed the most knock-your-socks-off delicious recipe for marinara sauce. She was so kind to let me share it with all of you. Here goes:
Mom's Sugo
Marinara Sauce to feed a large group
Ingredients
7

lbs

Tomato Sauce

28

ounces

Petite diced tomatoes

1

lb

mild Italian sausage

4

medium

carrots

4

medium

celery stalks

4

cloves

garlic

64

ounces

dry spaghetti noodles

4

Cups

shredded Parmesan

optional topping
Instructions
In a food processor with the grater attached, shred carrots and celery. Mince garlic and set aside.

In a large (3-4 gallon) stock pot, cook sausage until no longer pink. Do not drain the fat! Add carrots and celery and saute for 3 minutes. Add garlic for last 30 seconds of cooking.

Reduce heat to a low simmer or change to the [slow cook] setting on the Instant Pot. Simmer for 4 hours.

Serve 1/2 cup sugo over 1 cup cooked spaghetti noodles for 32 servings. Or freeze both sauce and noodles in gallon freezer bags for a meal or two later.
Notes
Depending on whether the canned sauce you are using has salt added or not will determine how much salt to add to your sugo. If you are using "no salt added" sauce, I suggest adding 2 teaspoons of salt before letting the mixture simmer. If it still needs more, add 1/2 teaspoon at a time until you reach desired flavor.
Pro tip: mix 1-2 cups of marinara with cooked pasta to serve. This prevents pasta from sticking.
Instant Pot
Bosch Food Processor Attachment