Hearty Vegetable and Chicken Fajitas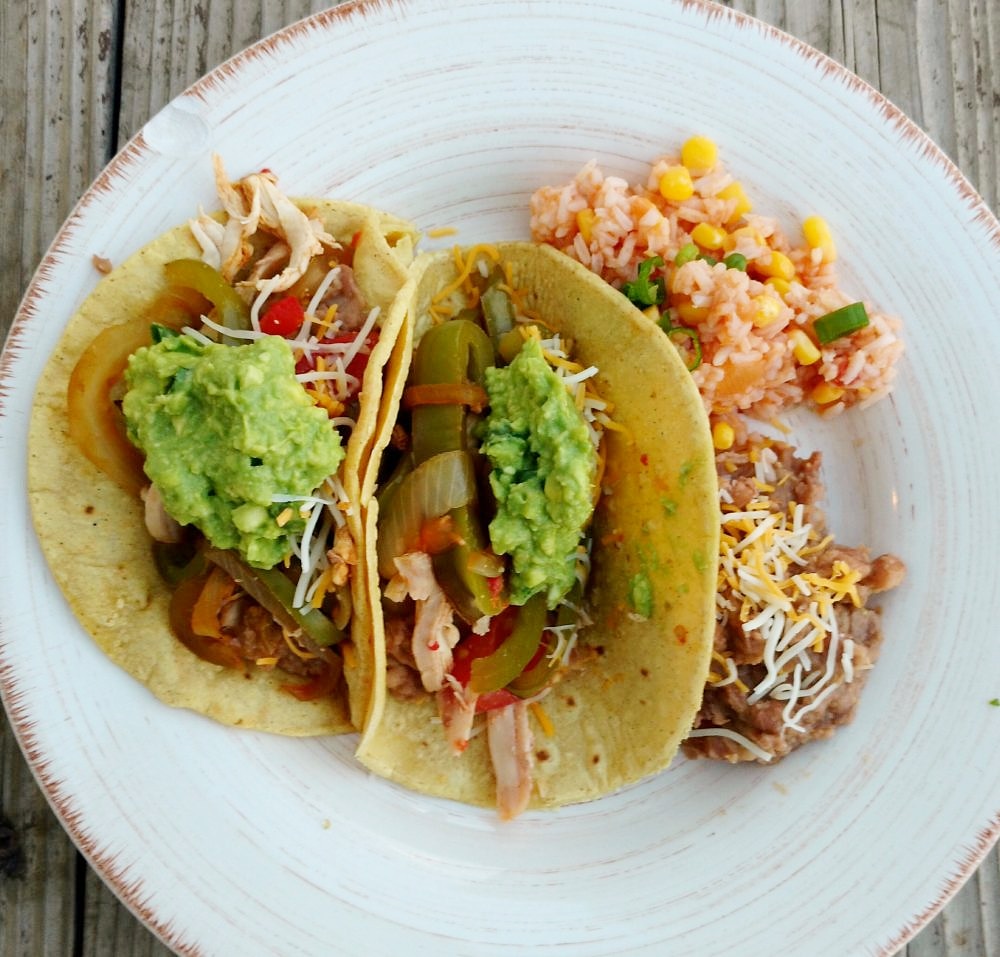 Tuesdays are for Mexican food at our house, and these fajitas are a crowd favorite! Paired with homemade refried beans and guacamole, it's impossible to eat just one!
Hearty Vegetable and Chicken Fajitas
2 large Green Bell Peppers, sliced
1 large Yellow Onion. chopped into 1/2" squares
4 medium Vine Ripe Tomatoes, chopped coarsely
1/2 cup Rotisserie Chicken, shredded
1 Tablespoon Chili Powder
1 teaspoon Garlic Salt
1 teaspoon Ground Cumin
8-12 Cooked Flour or Corn Tortillas (Gluten-Free option)
Shredded cheese and Plain Greek Yogurt for topping
Refried Beans
Mel's Kitchen Refried Beans Made in the Slow Cooker
Guacamole
4 ripe Avocadoes (Ripe when soft)
2 Tablespoons Lime Juice
1 teaspoon Garlic Salt
1/4 teaspoon Ground Cumin
1/4 Cup Green onions, chopped fine
1/4 Cup Cilantro, chopped fine
Directions:
1. Plan ahead for this one and make a batch of Mel's Refried Beans in the slow cooker. Freeze beans in 2 cup servings in an air-tight container so they are ready for all of your refried bean needs.
2. Spray a large skillet with cooking spray and add bell peppers and onions on medium high heat. Cover the skillet with a lid. Stir occasionally. Once the vegetables are crisp-tender, add the chicken to warm through for 2 minutes. (Here's my tip for having pre-cooked chicken handy.) Lastly, mix in tomatoes and spices. Cover and let simmer for about 5 minutes.
3. Prepare guacamole by removing avocado pits and scooping avocado out of the shell. Mash the avocados with a pastry blender, fork, or electric immersion blender. Mix in all other ingredients and serve immediately.
4. Assemble fajitas by spreading a layer of beans on the bottom of the tortilla. Scoop the fajita mix on next, and top with guacamole, cheese and Greek Yogurt.
Enjoy!
Makes 8 to 12 fajitas