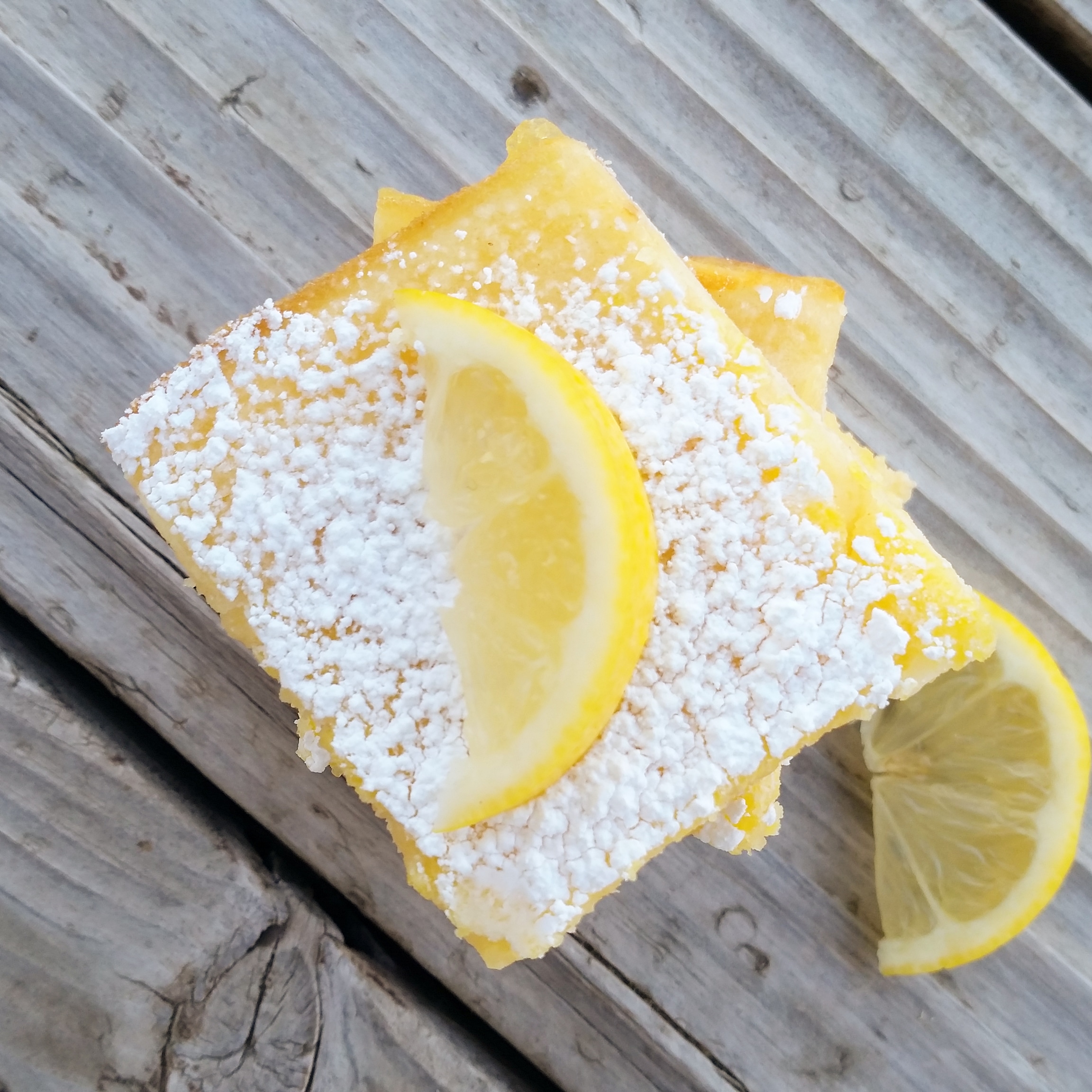 If you are in the mood for a sweet and tart treat, this is the one for you! This recipe is a slight modification of one given to me by a friend in college. I only took out a teeny bit of sugar so it would have more lemony zing to it. Unlike most of my recipes in the treats category, I have not substituted any applesauce for fat, whole wheat flour for white, or flaxseed for eggs. This is just a good ol' pastry. That's probably why my husband made the comment after tasting this, "You know, when you actually try to bake, you are really good at it." Ha! Well, I hope you like this too. Enjoy!
Tart Lemon Squares

2 Cups All-purpose Flour
1/2 Cup Powdered Sugar
1/2 teaspoon Salt
1 Cup Cold Butter, cut into eighths
1/4 Cup plus 2 Tablespoons All-Purpose Flour
1 Cup Fresh Squeezed Lemon Juice
6 Eggs
1 1/2 Cups White Sugar
1/3 teaspoon Salt
Extra Powdered Sugar for dusting the tops

Directions:
1. Preheat oven to 350 degrees. Grease a 9 x 13 inch pan and set aside.
2. For the crust, mix together flour, powdered sugar and salt. Using a pastry blender, cut in the butter until the mixture is crumbly and can be pressed together.
3. Press the mixture evenly into the greased pan, and bake for 25 minutes until golden brown on the edges.
4. Meanwhile, whisk together flour and lemon juice until flour is completely dissolved. Then add eggs, sugar, and salt until sugar is completely dissolved.
5. When the crust is golden, pull it out on the oven rack and pour the lemon/egg mixture over the crust. Decrease the heat to 325 degrees and bake until the filling is springy to the touch, between 25 and 30 minutes.
6. Cool completely in a refrigerator or freezer. Dust with powdered sugar and cut into 2-inch squares before serving.

Makes 30 2-inch squares.
Featured Product
(Includes Affiliate Links)