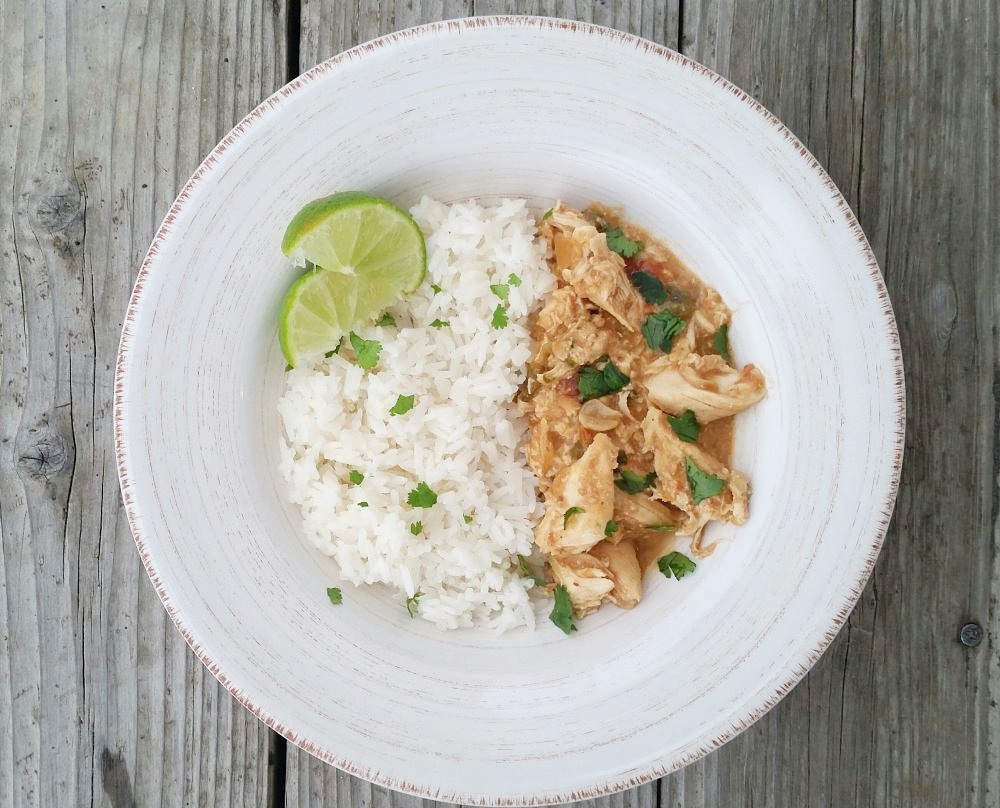 Sunday Dinners call for something delicious, comforting, and easy to prepare, which is why most of my Sunday dinners are cooked in a slow cooker or Instant Pot (Affiliate link). There's nothing that says "home" better than walking into the door after a day of Church worship, Church choir practice, and other Church meetings to a kitchen filled with the delicious aroma of our savory dinner. Sunday meals are heavier than those we eat the rest of the week, and that is just as it should be! This Thai Peanut Chicken is best served over Coconut Jasmine Rice. And, because a meal is never complete without a fresh fruit or vegetable, I usually pair this with a salad or roasted zucchini squash. Happy eating!
Thai Peanut Chicken

8 boneless, skinless Chicken Breasts
1 1/4 Cup Pace Picante salsa*
1/2 Cup Natural Peanut Butter
1/4 Cup Lime Juice
1 Tablespoon fresh grated Ginger
1 1/2 Tablespoons Soy Sauce (I use Bragg Liquid Aminos for my Gluten-Free friends.)
1/2 Cup shelled Peanuts
1/4 Cup fresh Cilantro, chopped

Slow Cooker Directions:
1. Place chicken in bottom of 6-quart slow cooker.

2. Pour all remaining ingredients except half the peanuts and the fresh cilantro.

3. Cook on low 8-10 hours or on high for 4-6 hours.

Instant Pot Directions with FROZEN chicken*:

1. Pour 1/2 Cup peanut/salsa mixture (minus the peanuts and cilantro) into the bottom of the Instant Pot. Place the chicken breasts on top and pour the remaining mixture over the chicken.

2. Secure the lid and set the steam release knob to the sealing position. Press the "Pressure Cook/Manual" Button and set to 15 minutes.*

3. When cooking cycle has ended, let the chicken sit for 10 minutes before manually switching the steam knob to the "venting" position to release the rest of the pressure.

4. Before serving, use kitchen shears to cut chicken into small, cube-size pieces.

5. Serve over Coconut Jasmine Rice and garnish with peanuts and fresh cilantro.

Makes 8-10 servings.

*Notes:  *Use your salsa of choice, just make sure there is no sugar added. Make sure you use FROZEN chicken. It has more water in it than if you used thawed chicken. This dish will burn on the high pressure setting if you use thawed chicken. Also, when using the Instant Pot method, if your chicken breasts are extra large, increase the pressure cook time by 5 minutes. 
Featured Product
(Includes Affiliate Links)
 Instant Pot
Bragg Liquid Aminos