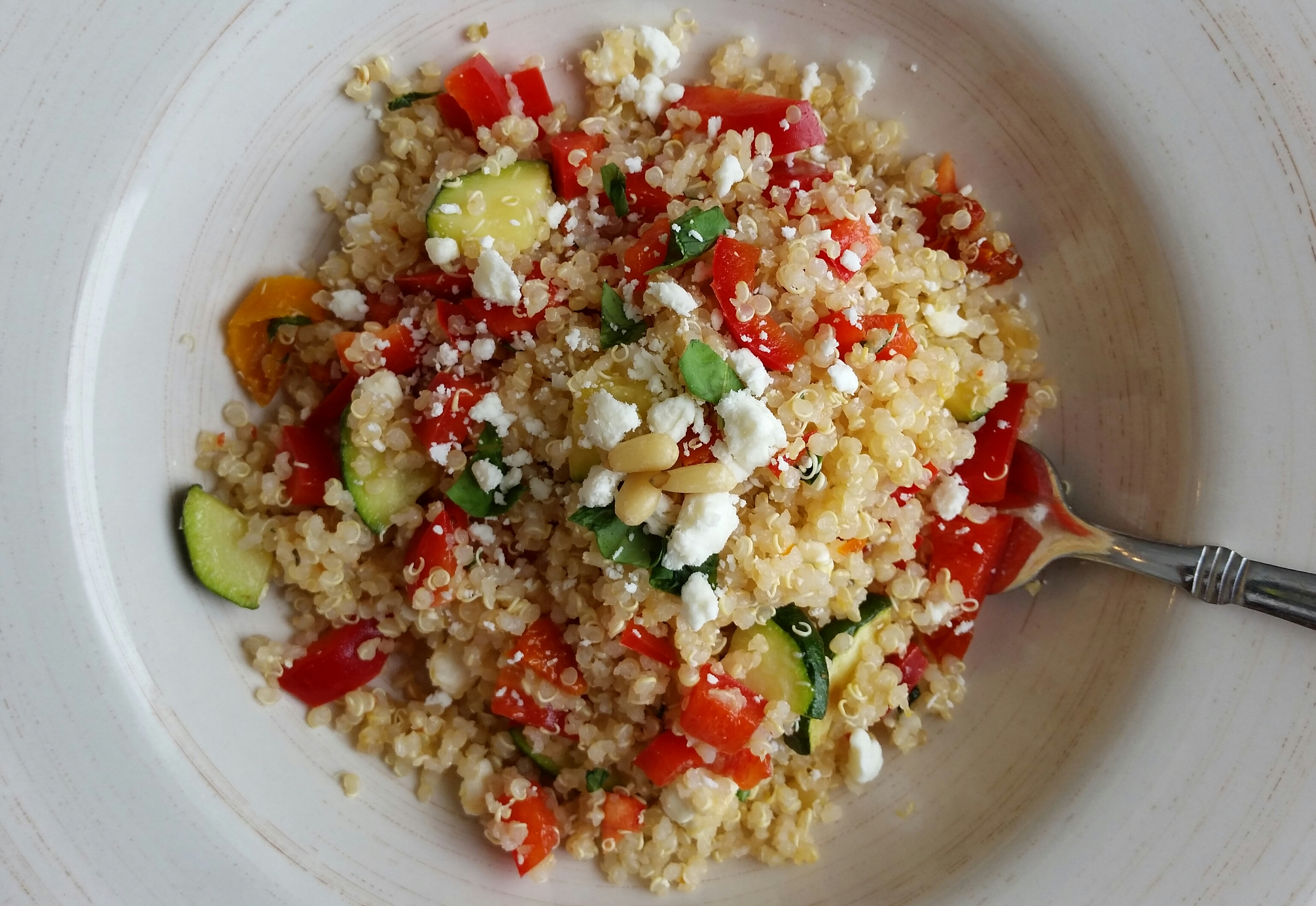 Looking for a simple salad that can serve as a great side dish or a filling meal? Look no further. This salad is easy to make, and it's packed with energy and nutrition to satisfy your hunger. Did you know that one half-cup serving of cooked quinoa has FIVE GRAMS of protein in it? It's no wonder this dish "sticks to your ribs" for a good while—it has the perfect balance of protein, carbohydrate, and fat (and fiber!) to keep you fueled for a busy day. The vegetables provide excellent sources of vitamin C, folate, vitamin K, vitamin A, and more. Serve this for your next family gathering, outdoor barbecue, or just pack it for lunch. Enjoy!
Hearty Quinoa Salad
1 Cup Quinoa, dry
1 1/2 Cups Zucchini, chopped
1 teaspoon Olive Oil
1 Red Bell Pepper, Chopped
1/4 Cup Feta, crumbled
1/4 Cup Sundried Tomatoes, chopped
3 Tablespoons Pine Nuts
2 Tablespoons Fresh Basil, chopped fine
1/4 Cup Bottled Italian Dressing*
Directions:
1. In a large saucepan, combine 1/2 Cup quinoa with 1 Cup water. Cover with lid and bring to boil. Once boiling, turn heat off and leave pan on the burner for about 15 minutes until quinoa is fully cooked. Set aside.
2. Sauté zucchini in olive oil over medium-high heat for about 5 minutes or just until it starts to get brown and crisp-tender. Remove from pan and let cool in a separate container.
3. Roast pine nuts in the same pan for about 3 minutes. Stir often to promote even cooking and prevent burning.
4. Mix all salad ingredients together and refrigerate about 4 hours or until chilled through. The salad tastes best after a few hours of marinating.
Tip: If you need it ready in a jiffy, chill the quinoa and zucchini in separate, uncovered containers in the freezer for about 10 minutes before combining all ingredients.
Makes 4 side servings.

*When choosing an Italian dressing, check the label for sugar content. If it contains more than 3 grams of sugar per 2 Tablespoon serving, try to find the original, full-fat version of the dressing. When manufacturers make a low-fat dressing, they substitute sugar for fat to make up the flavor. Unfortunately, refined sugar converts to fat faster than the oil from the dressing does when we digest it, so it's better to go for the full-fat version.