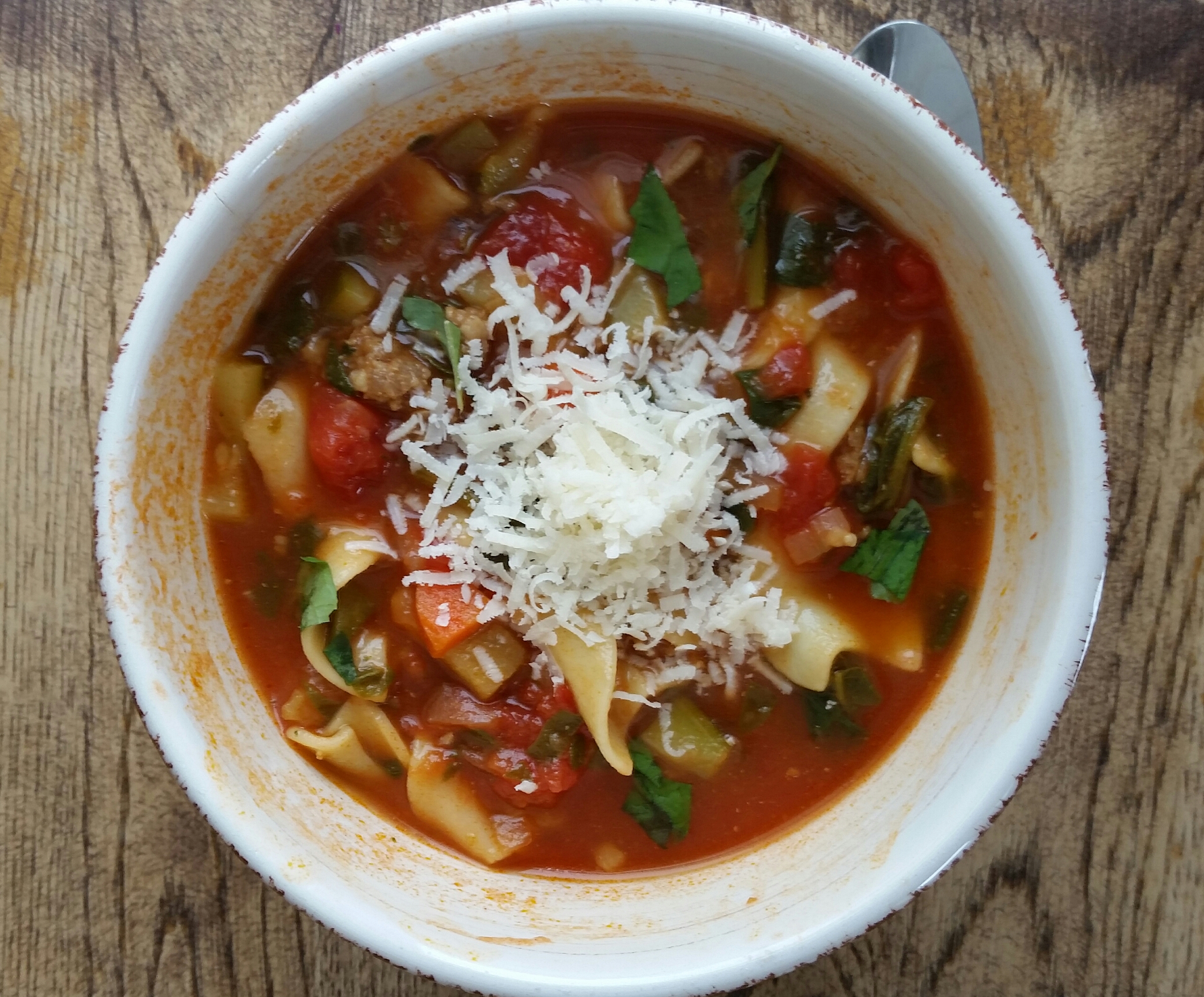 This recipe is my healthified (that should be a word, right?) version of a soup that was served in the café which my dietetics colleagues and I spent a semester running in college. The original recipe was pretty heavy, so I altered it to include more vegetables and less meat. At dinner last night, my six-year-old boy asked if I could make this soup on every soup night. I hope you enjoy it as much as he does!
Hearty Lasagna Soup
1/2 pound Italian Sausage
1 1/2 Cups Onion, chopped
2 Medium Carrots, chopped
2 Medium Zucchini Squash, chopped
6 Cloves Garlic, minced
7 Cups Water
7 teaspoons Chicken Soup Base
2 Cans Diced Tomatoes (15 ounces each)
1 Can Tomato Sauce (15 Ounces)
2 Tablespoons Fresh (1 Tbsp Dry) Parsley, chopped fine
2 Tablespoons Fresh (1Tbsp Dry) Basil, chopped fine
1/2 teaspoon Oregano
2 1/2 Cups Egg Noodle Pasta (dry)
2 Cups Spinach, chopped
Grated Parmesan Cheese for garnish
Directions:
1. In a large pot, brown the sausage over medium high heat. Once cooked, drain and gently rinse with hot water. Add onions, carrots, and zucchini to sausage. Sauté for 5 minutes. Stir in minced garlic and sauté for 1 minute more.
2. Add water, soup base, tomatoes, sauce, and herbs to sausage and vegetable mixture. Bring to a low boil and cook until vegetables are tender.
3. Add dry pasta and simmer until al dente, about 10 minutes.
4. Stir in chopped spinach and garnish with freshly grated Parmesan Cheese.
Serves 8.