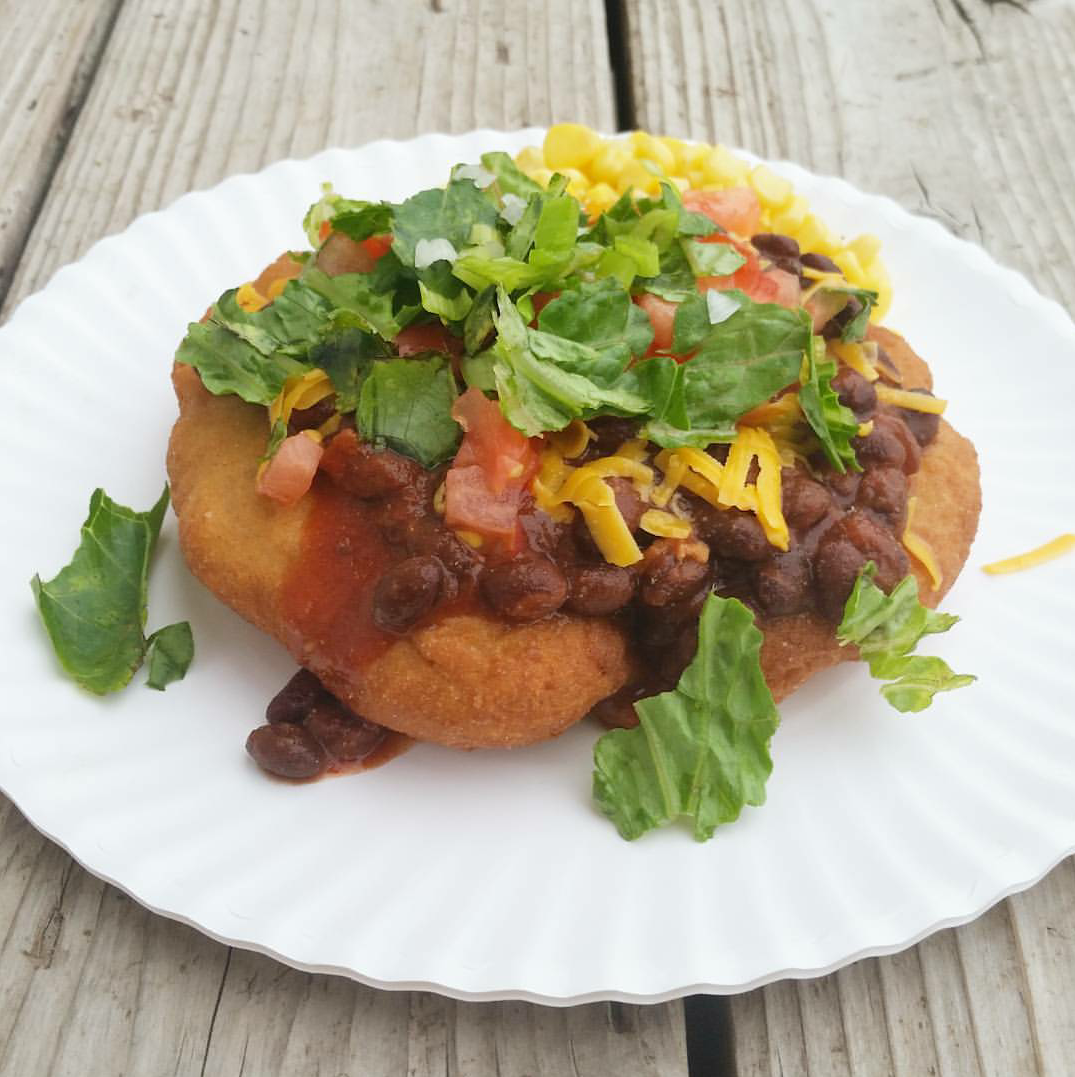 Looking for a fun dinner to feed a large crew? Look no further than Indian Tacos! I ALWAYS make our fry bread inside a skillet on our outdoor barbecue grill because I can't stand the smell of lingering fried foods in my kitchen. Thus, this is a perfect meal for warmer months. I also did this once for Halloween (instead of candy) and my neighbors LOVED it! Whatever the occasion, I hope your crew enjoys these Indian Tacos as much as mine does.
Indian Tacos

Fry Bread
1 Recipe Whole Wheat Pizza Dough
4 Cups Canola oil (for frying)

Taco Meat
4- 15 oz. cans Pinto Beans (7 1/2 cups), drained
1 Cup Cooked Ground Beef
1- 15oz. Can Tomato Sauce
1 Tablespoon Garlic Salt
1 teaspoon Cumin
Salt and Pepper as needed

Toppings:
-Shredded Cheddar Cheese
-Lettuce
-Tomatoes,
-Salsa
-Guacamole
-Sour Cream (AKA Plain Greek Yogurt)

Directions:
1. Prepare one recipe of my Whole Wheat Pizza Dough. (Right click on the link or just search "Whole Wheat Pizza Dough in my search bar.) Set aside.
2. Heat Canola Oil in Cast Iron Skillet. Test the heat by dropping a marble size ball of dough into the oil. If it sizzles, the oil is ready.
3. Meanwhile, combine all Taco Meat ingredients in a large stock pot. Simmer the taco meat while frying the bread.
4. Flatten a ball of dough using your fingers. Start with a ball between the size of a golf ball and a tennis ball.
5. Carefully drop the flat dough into the hot oil. Cook on one side for 3 to 5 minutes or until golden brown. Use metal tongs to flip the dough over and cook for another 3 minutes.
6. Place the cooked fry bread on a large plate lined with paper towels to soak up the excess grease.
7. Top fry bread with Taco Meat and desired toppings. Enjoy!

Makes 20 to 25 Tacos.