Instant Pot (or Slow Cooker) Marinara Chicken with Mashed Potatoes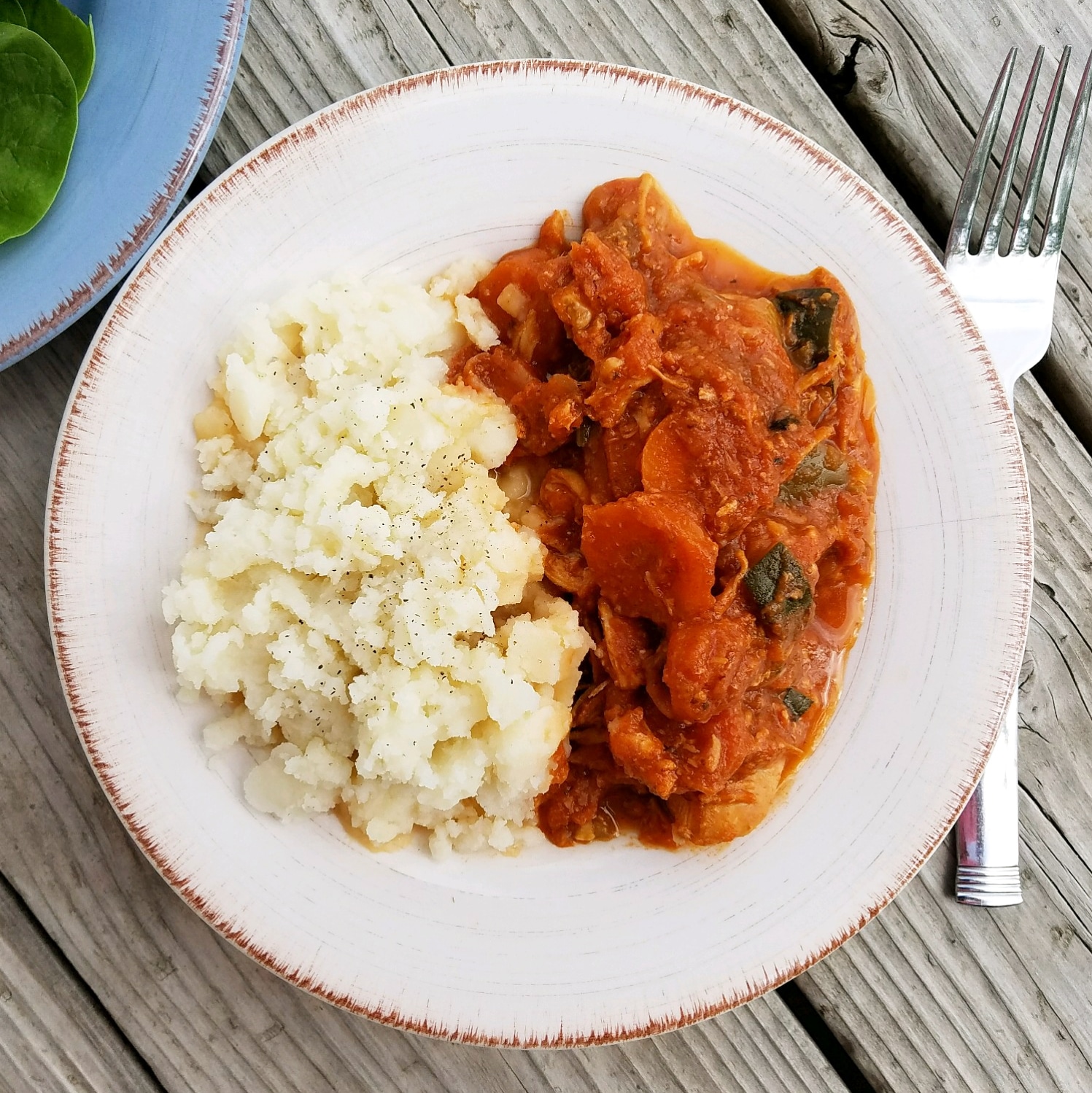 Several Sundays a year, this dish makes an appearance on our dinner table. It's a perfect Sunday dinner because it's healthy, full of vegetables, and it can be assembled in the slow-cooker and ready to eat when we return from Church. Or, it can be made in a jiffy in the Instant Pot after Church with little effort and planning. And, of course, it tastes amazing, so I always feel confident serving this to our Sunday dinner guests. We love to eat this with mashed potatoes, but you could do rice or egg noodles as well. Enjoy!
Instant Pot Marinara Chicken Over Mashed Potatoes
A FAST and healthy meal, ready whenever you are.
Ingredients
3

Pounds

Chicken Breasts*

see notes

24 ounce

can

Pasta Sauce*

see notes

8 ounce

can

Tomato Sauce

1

medium

Onion

chopped

1

medium

Green Bell Pepper

chopped

1 1/2

Cups

Carrots

sliced

1

medium

Zucchini

(1 Cup), chopped

2

cloves

Garlic

minced

2

Tablespoons

COLD water

1

Tablespoon

Cornstarch

8

Cups

Prepared Mashed Potatoes for Serving
Instructions
Instant Pot Directions:
Combine all ingredients except water, cornstarch, and mashed potatoes in Instant Pot. Mix well so the chicken is coated.

Secure lid and select the [Manual] or [Pressure Cook] setting on the Instant Pot. Adjust to [Low Pressure] setting for 15 minutes. If your chicken is larger pieces, increase the cooking time to 18 minutes.

When the cycle is finished, allow the steam to naturally release, about 15 minutes before opening. Cut chicken breasts with shears or a metal spoon into 1-inch pieces.

Meanwhile, mix the remaining 2 Tablespoons of COLD water with cornstarch until mixture is smooth.

Change setting to [Sautee] and add the corn starch mixture to the marinara chicken. Stir until the sauce thickens, about 3 minutes.

Serve over hot mashed potatoes or noodles.
Slow-Cooker Directions:
Use THAWED chicken breasts for this method. Combine all ingredients except water, cornstarch, and mashed potatoes in Instant Pot. Mix well so the chicken is coated.

Cover with lid and cook on LOW 6 to 8 hours.

Before serving, stir together just 2 Tablespoons water and 1 Tablespoon Cornstarch in a small bowl until mixture is smooth.

Increase heat to HIGH and stir into marinara chicken. Cook an additional 15 minutes or until sauce thickens.

Serve over prepared mashed potatoes or noodles.
Notes
Remember to use frozen chicken for the Instant Pot Pressure Cook method and thawed chicken for the Slow-Cooker Method. My favorite marinara sauce is Hunts Garlic and Herb because it contains no added sugar. Also, I have made this before when my Instant Pot alerted me that it was beginning to burn. If this happens to you, simply press the [Cancel] button, carefully remove the lid, add 2 more Tablespoons of water, and give the chicken a few stirs. Replace the lid and resume to pressure cooking process.
Featured Products
(Includes Affiliate Links)