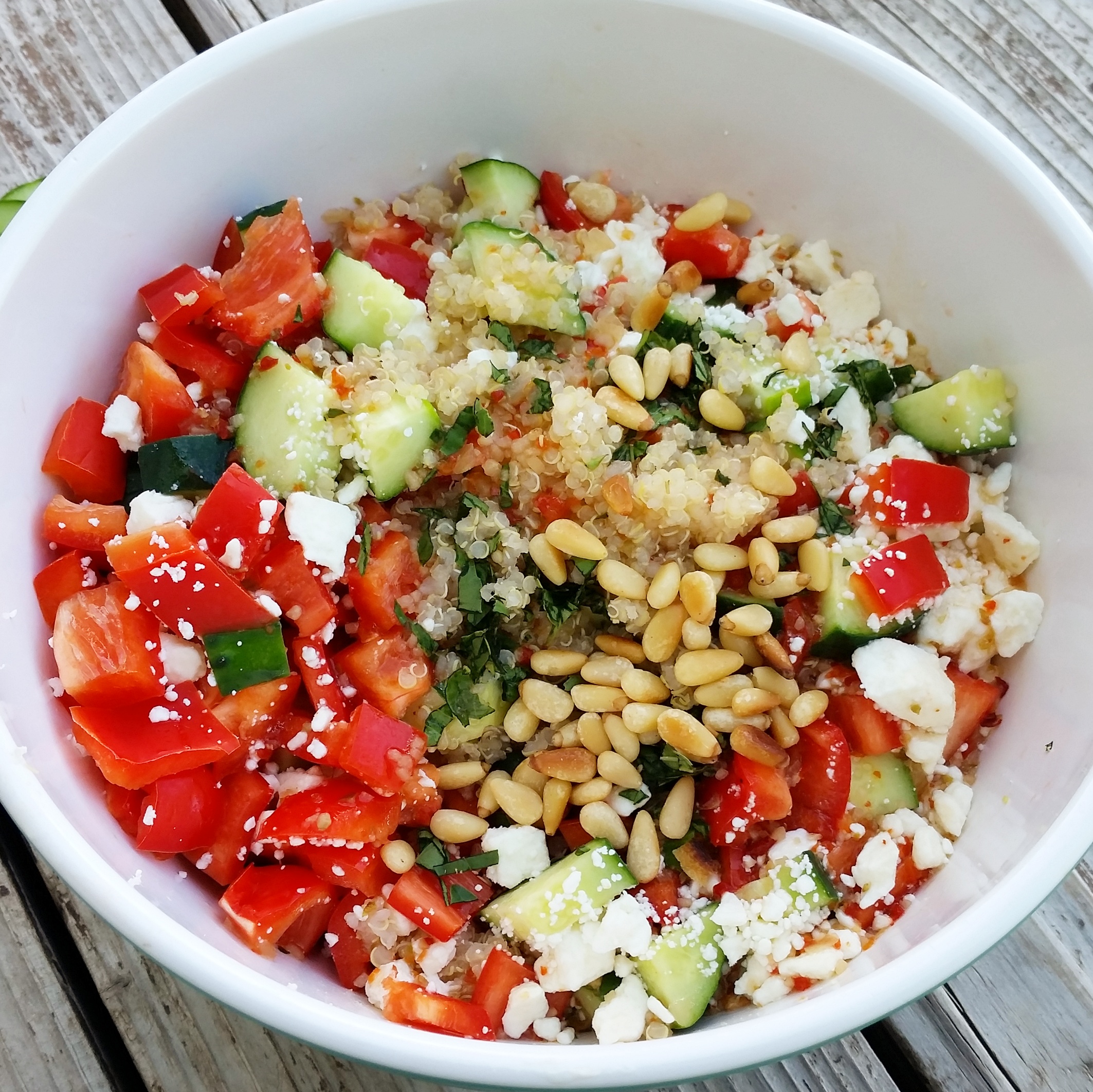 This is the most flavor-packed summer salad that takes the least amount of time to make. It's so fresh, so easy, and so healthy. The quinoa is full of fiber and protein and the veggies provide vitamins, minerals and antioxidants to keep you nourished and energized. Enjoy!
Summer Quinoa Salad

1 1/2 Cups Quinoa, cooked and chilled
1 1/2 Cups Cucumbers, chopped
1 Red Bell Pepper, chopped
1/4 Cup Feta Crumbles
3 Tablespoons Pine Nuts
2 Tablespoons Fresh Basil
1/4 Cup Bottled Italian Dressing*

Directions:
1. In a large saucepan, combine 3/4 Cup quinoa with 1 1/2 Cups water. Cover with lid and bring to boil. Once boiling, turn heat off and leave pan on the burner for about 15 minutes until quinoa is fully cooked. Set aside and chill in fridge.

2. Chop cucumbers and bell peppers.

3. Roast pine nuts in a non-stick pan for about 3 minutes. Stir often to promote even cooking and prevent burning.

4. Mix all salad ingredients together and refrigerate about 4 hours or until chilled through. The salad tastes best after a few hours of marinating.

Tip: If you need your salad ready in a jiffy, chill the quinoa in separate, uncovered containers in the freezer for about 10 minutes before combining all ingredients.

Makes 6-8 side servings.
*When choosing an Italian dressing, check the label for sugar content. If it contains more than 3 grams of sugar per 2 Tablespoon serving, try to find the original, full-fat version of the dressing. When manufacturers make a low-fat dressing, they substitute sugar for fat to make up the flavor. Unfortunately, refined sugar converts to fat faster than the oil from the dressing does when we digest it, so it's better to go for the full-fat version.