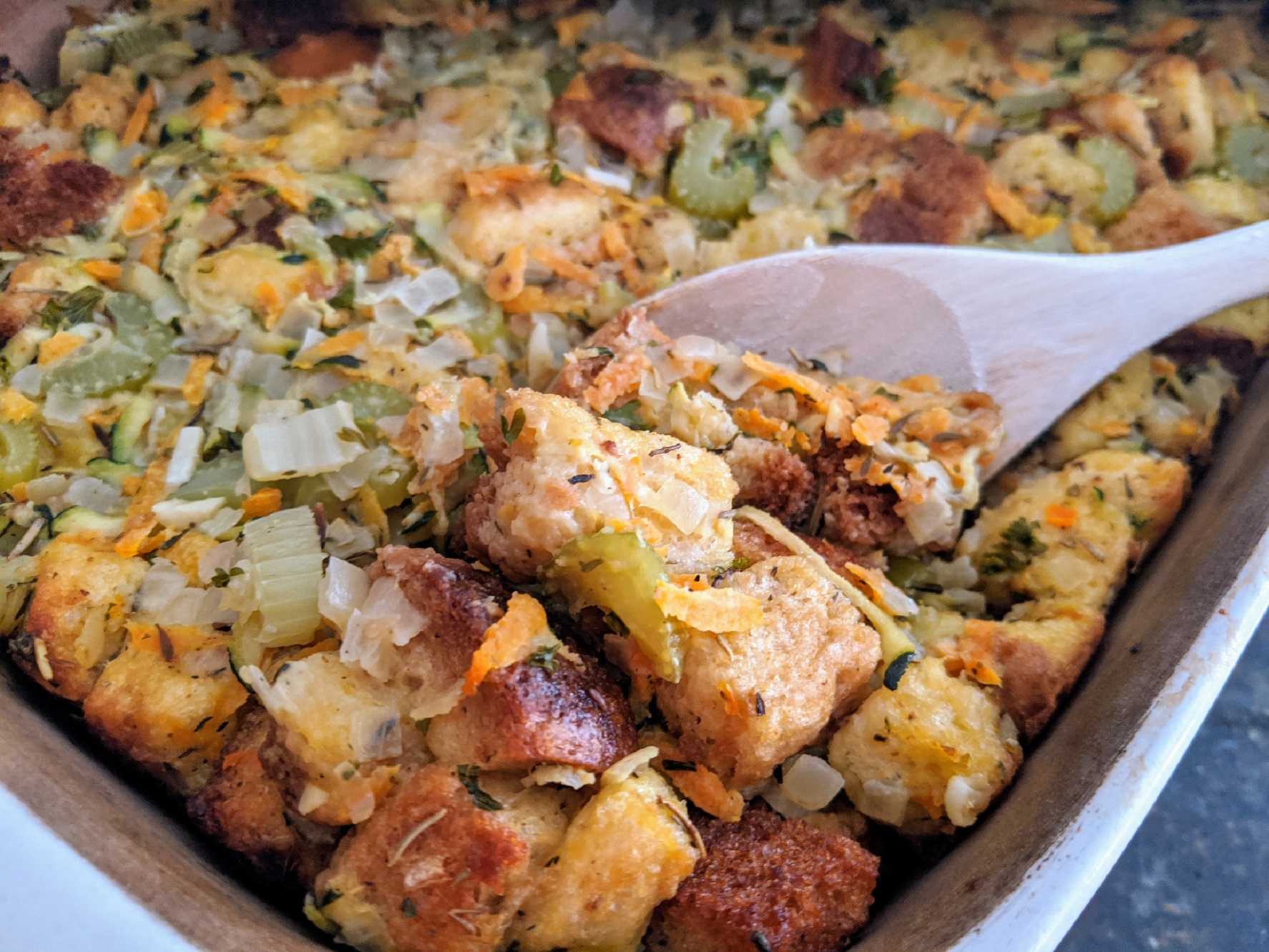 Writing this almost one year after the fact, I can still remember what Neil said about this stuffing. And I quote, "Wow. I actually like this stuffing." That means a LOT coming from a guy who never really ate nor enjoyed stuffing as a kid. So, this one better go on the bloggety-blog. Enjoy!
Thanksgiving Stuffing
Ingredients
6

tablespoons

butter

divided

1 3/4

loaf

white bread

5

stalks

celery

diced small

2

cups

carrots

shredded

2

cups

zucchini

shredded

1

large

onion

diced small

3

cloves

garlic

minced

3/4

cup

chicken broth

2

teaspoons

salt

1

teaspoon

ground pepper

2

tablespoons

dried parsley

4 Tablespoons fresh

2

teaspoons

sage

2

teaspoons

rosemary

2

teaspoons

thyme

4

large

eggs
Instructions
Cut bread into cubes and lay in a single layer on cookie sheets. Toast the bread in a 250 degree oven, stirring often for about 45 to 60 minutes. This step is best done in advance. Change heat in oven to 375 degrees.

Saute celery and onions in 2 tablespoons butter for 8 minutes. Add minced garlic and a pinch of salt. Cook for one minute more.

Add sauteed vegetables, shredded carrots and zucchini to a large mixing bowl with dried bread.

Whisk together the broth, 4 tablespoons melted better, dried herbs, salt and eggs in a small mixing bowl. Pour over the bread and vegetable mixture. Stir to coat the bread cubes well.

Press the stuffing into an oversized 9 x 13 x 3 pan or two 9-inch square pans.

Cover with foil and bake for 25 minutes at 375 degrees. Remove foil and bake for 10 to 25 minutes more.
Notes
Stuffing is one of those dishes you can get started on up to five days before Thanksgiving. Spread cubed bread on cookie sheets to dry out. If you rather, you can do step 1 a few days before and put the dry cubes back in the bread bag with a twist tie until you are ready to make the dish. Grandma Sycamore's is our favorite white bread.