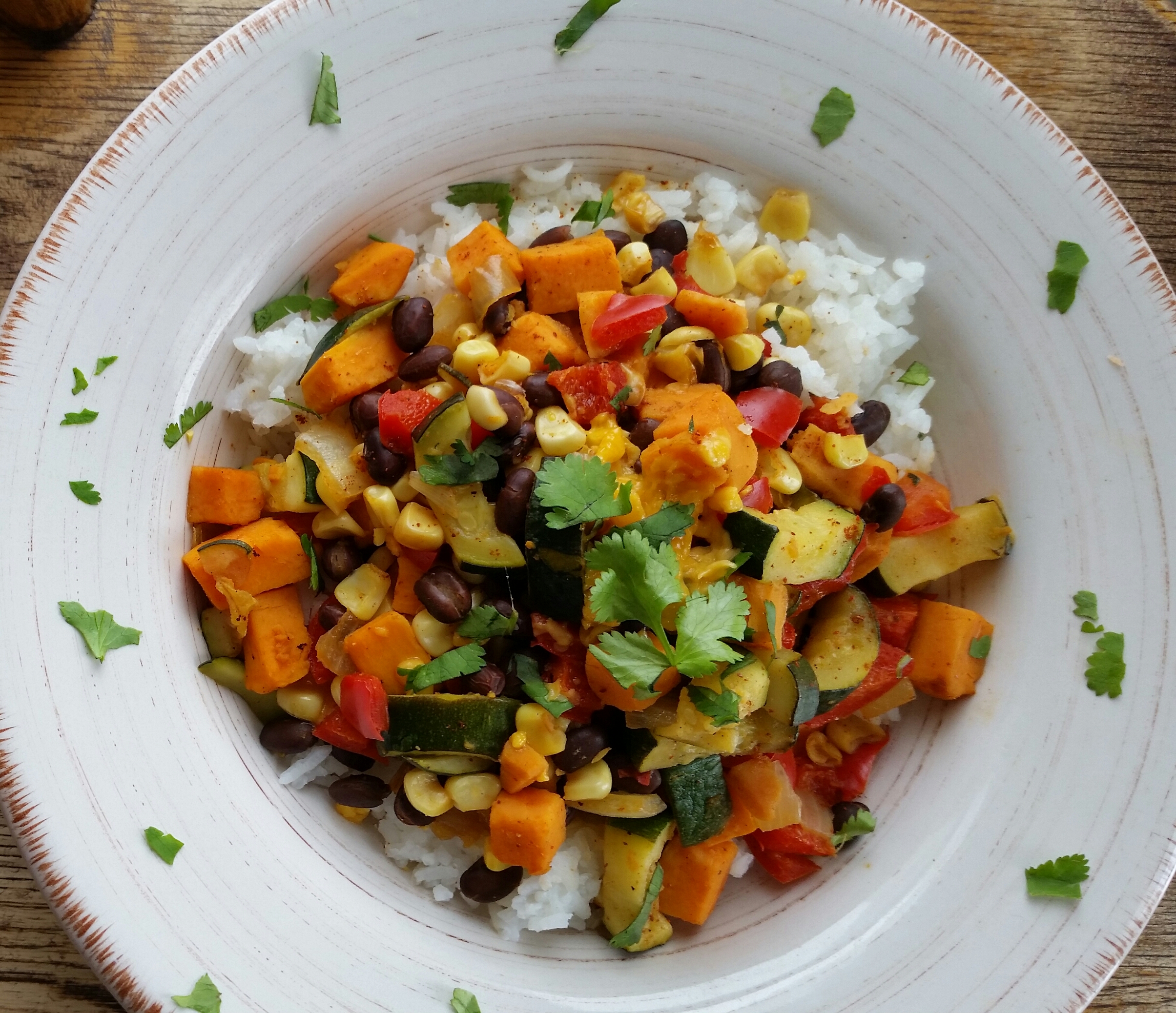 Cleaning out the fridge never tasted so good! For one of those nights when you need a quick meal that tastes great and satisfies every person at the table, try this Fiesta Vegetable Bowl. It's packed with super-foods containing protein, healthy fats, antioxidants, phytochemicals, cholesterol-lowering fiber, vitamins, minerals and more! Best of all, it's ready in under 30 minutes.
Fiesta Vegetable Bowl
Canola Cooking Spray
3 1/2 Cups Sweet Potato, peeled and diced
2 Tablespoons water
2 medium Zucchini Squash, diced
2 Red Bell Peppers, Diced
1 medium Yellow Onion, diced
1 1/4 Cup Frozen Corn
1 15 oz. can Black Beans, drained
Juice of 1 Large Lime
1 1/2 teaspoons Garlic Salt
1/2 teaspoon Cumin
1/2 teaspoon Chili Powder

4 Cups Cooked Rice

Garnish with:
Cilantro leaves
Sharp Cheddar
Avocadoes, diced
Greek yogurt or Sour Cream

Serves 6-8 people.
1. Starting with the sweet potato, use my super-duper chopping tip to chop all your veggies into bite-sized pieces.
2. Coat a non-stick skillet with Canola Cooking Spray and heat over medium high heat.
3. Add just the sweet potatoes and water to the skillet. Allow to cook for 2-3 minutes before adding zucchini, peppers, and onions to the skillet.
4. Cook vegetables until crisp-tender, about 6-8 minutes, stirring occasionally.
5. Add frozen corn and cook for another 5 minutes until warmed through.
6. Serve vegetables in bowls over a bed of rice and top with cilantro, cheese, avocadoes and/or sour cream.
7. Devour.