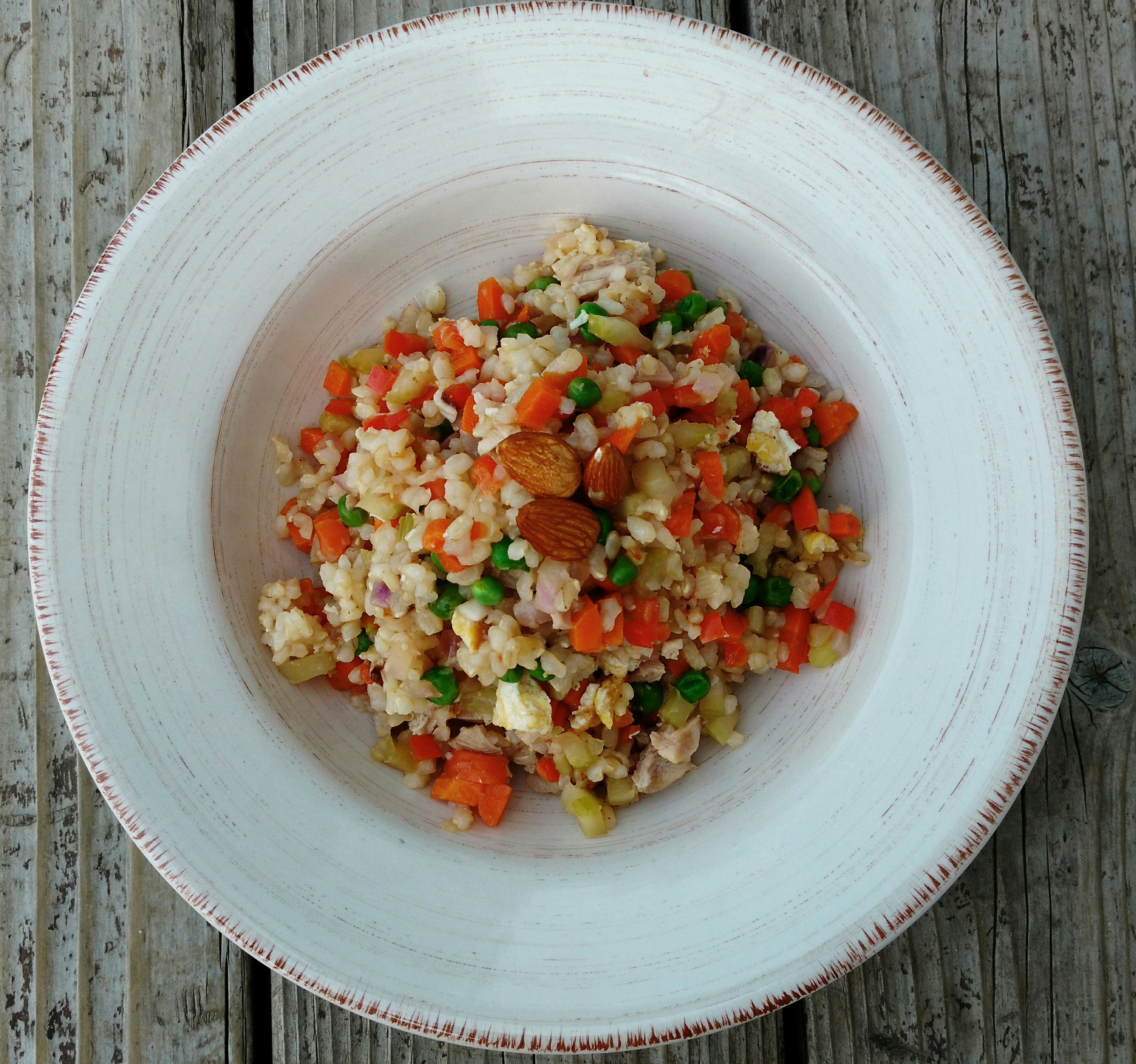 Here's a healthful spin on a favorite Chinese dish. It's savory, flavorful, and packed with nutrition that will leave you feeling satisfied. Enjoy this healthy comfort food!
Hearty Not-Fried Rice
3 Cups Brown Rice, cooked and cooled
1 Red Bell pepper, chopped
1 1/2 Cup Carrots, chopped
1 Cup Celery, chopped
1 Cup Frozen Peas
1/2 Cup Green Onion, chopped fine
1-2 Tablespoons Olive Oil
2 Eggs + 1 teaspoon Soy Sauce
1/2 Cup Cooked Chicken, shredded (Optional)
1/2 Cup Almonds (optional)
Sauce:
1 Tablespoon Rice Vinegar
1 1/2 Tablespoon Soy Sauce (I use Bragg Liquid Aminos for my Gluten-free friends.)
1 teaspoon Dried Ginger
Directions:
1. Chop all vegetables into pea-sized pieces. Set aside
2. Whisk eggs and soy sauce in a small bowl. Spray a large, non-stick skillet with cooking spray and heat it to medium-high heat. Add the egg mixture in an even layer to the pan. Slide a flat spatula under the perimeter of the egg like you would when cooking an omelet. Cook for 5 minutes constantly sliding the spatula around the eggs. Flip the eggs, raw side down and cook for another 2 minutes. Remove from pan and cut the egg into one-inch strips. (You could always just scramble the eggs too. They will just have a different texture.) Set aside.
3. Add Olive Oil to skillet and sauté the carrots, peppers, and celery about 8 minutes or until crisp-tender. Mix the rice, peas, and chicken into the vegetables. Cover with a lid and cook until peas are warmed through.
4. Meanwhile, in a small bowl whisk together the rice vinegar, soy sauce, and ginger. Add the sauce to the rice mixture and stir until evenly coated.
5. Mix in the eggs, green onions and almonds and serve immediately.