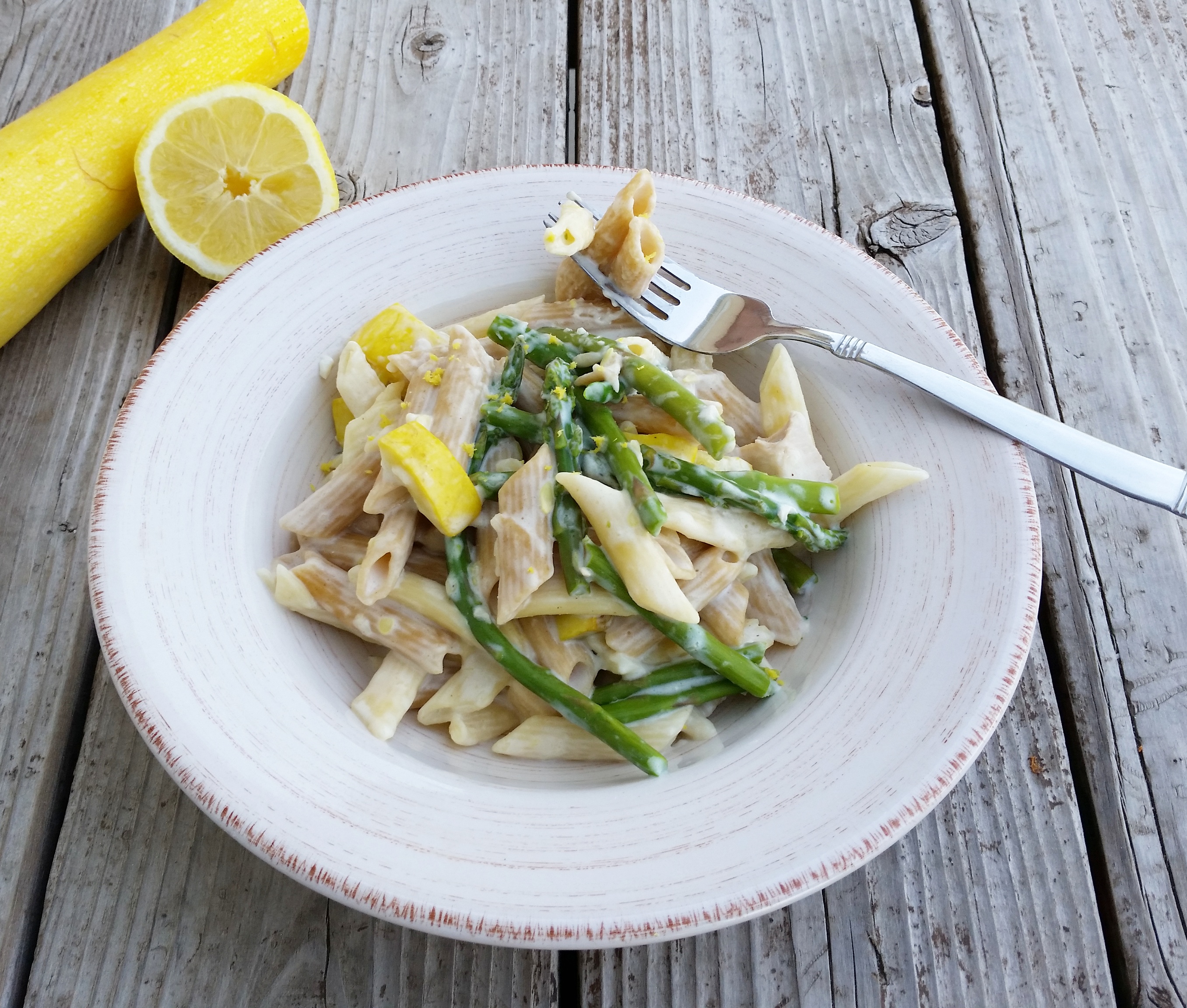 This quick fix has become another favorite dinner at the Andersen household. It's flavorful, filling, and chocked full of vegetables, so I consider that a win, win, win. I hope your family loves it too. Enjoy!
Lemon Asparagus Alfredo
1 Boneless, skinless Chicken Breast (about 12 oz.)
8 oz. Whole Wheat Penne
8 oz. White Penne
1 Large Yellow Squash, cubed (about 1 1/2 Cups)
1/2 bundle Asparagus, cut into 2 inch sticks
2 teaspoons Olive Oil
1 Recipe Guiltless Alfredo Sauce
Zest of 1 Lemon
Salt and Pepper for seasoning
Directions:
1. Sprinkle chicken breast with salt and paper. Bake thawed chicken breast at 300 degrees for 35 minutes or until juices run clear. (I seasoned a frozen chicken breast and baked it at 275 degrees for 55 minutes.) Use a meat thermometer to make sure the internal temperature reaches 165 degrees.
2. Bring a large pot of water to boil and cook the penne until al dente. Drain and return to large pot. Set aside.
3. In a large pan, heat olive oil over medium-high heat. Sauté yellow squash and asparagus until vegetables are crisp tender, about 8 to 10 minutes.
4. In a large saucepan, prepare Guiltless Alfredo Sauce. (You will also need a blender for this step.) When finished, zest the lemon into the Alfredo sauce
5. Once chicken is done baking, let it cool for 5 minutes. Cut it into 1/2 inch cubes and add it to the pot of drained pasta. Add vegetables to pasta and pour the Alfredo sauce over the pasta mixture.
6. Stir mixture to evenly coat the pasta and vegetables with sauce. Serve immediately. Season with salt to taste.
Serves 6 to 8.