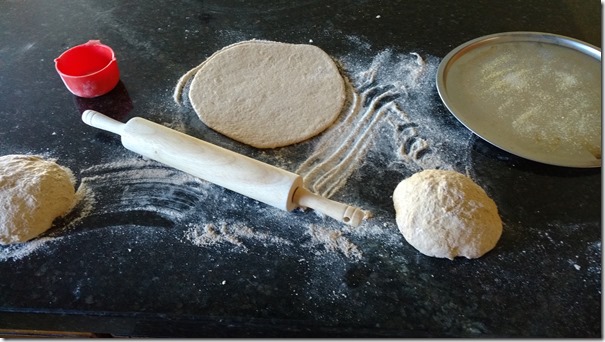 Fridays are pizza night at our house, and we never get sick of it because it is so versatile. We put everything from squash to pears on our pizza and we have a lot of fun doing it, too! It has taken me years to finally get the dough right, though. If it doesn't turn out just right the first time, keep trying! However, this recipe is the most tried-and-true version that I have.
Whole Wheat Pizza Dough 2 Cups Water at 80°F
2 Tablespoons Active Dry Yeast
1/4 Cup Olive Oil
1 teaspoon Salt
4 3/4 Cup Whole Wheat Flour + ~1 Cup more for kneading/rolling

Makes 3-4 pizza crusts
Pre-heat your oven to 420°F.
Grease 3-4 pizza pans with cooking spray. Sprinkle Corn meal around the pan. (This is the best way to prevent your crust from sticking to the pan.)
Add yeast to a large bowl of warm water and let it sit for 2-3 minutes, Mix Olive oil and salt into the yeast water and stir a couple of times. Add half the flour to the wet ingredients and stir until smooth. Add the remaining flour until it becomes too difficult to continue stirring inside the bowl.
At this point, pour the dough onto a floured countertop. Use both hands to knead the ball of dough for 6-8 minutes. Add sprinkles of flour to the counter and to the ball of dough whenever it starts sticking to your countertop. The dough should be fairly gummy when you try to pull it apart. If it easily separates when you pull it, keep kneading!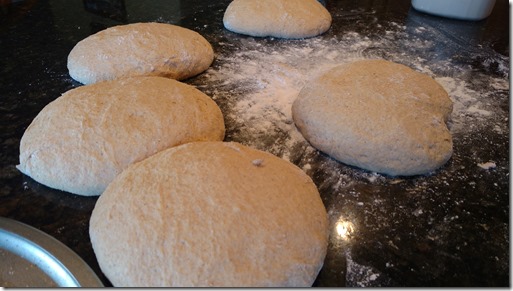 Divide the dough into 3-4 separate balls. Let the balls rest for a minute or two.
Shape the balls into pizza crust with a rolling pin until you have it at your desired thickness. Transfer the crust to the greased pans. Poke holes all around the dough with a fork. This prevents large bubbles from forming in the crust.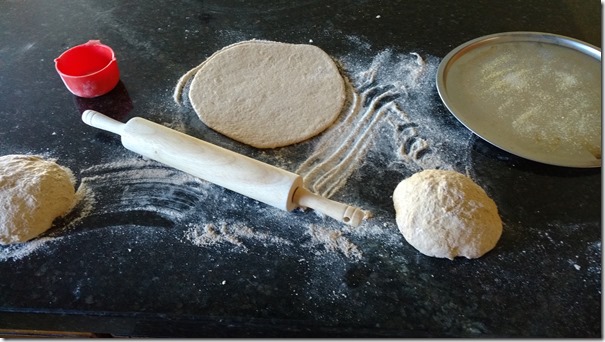 Bake for about 3 minutes before adding your sauce and toppings to the pizza. Once your toppings are added, bake the pizza for another 8-10 minutes or until the bottom is medium-brown.
Enjoy your pizza night!