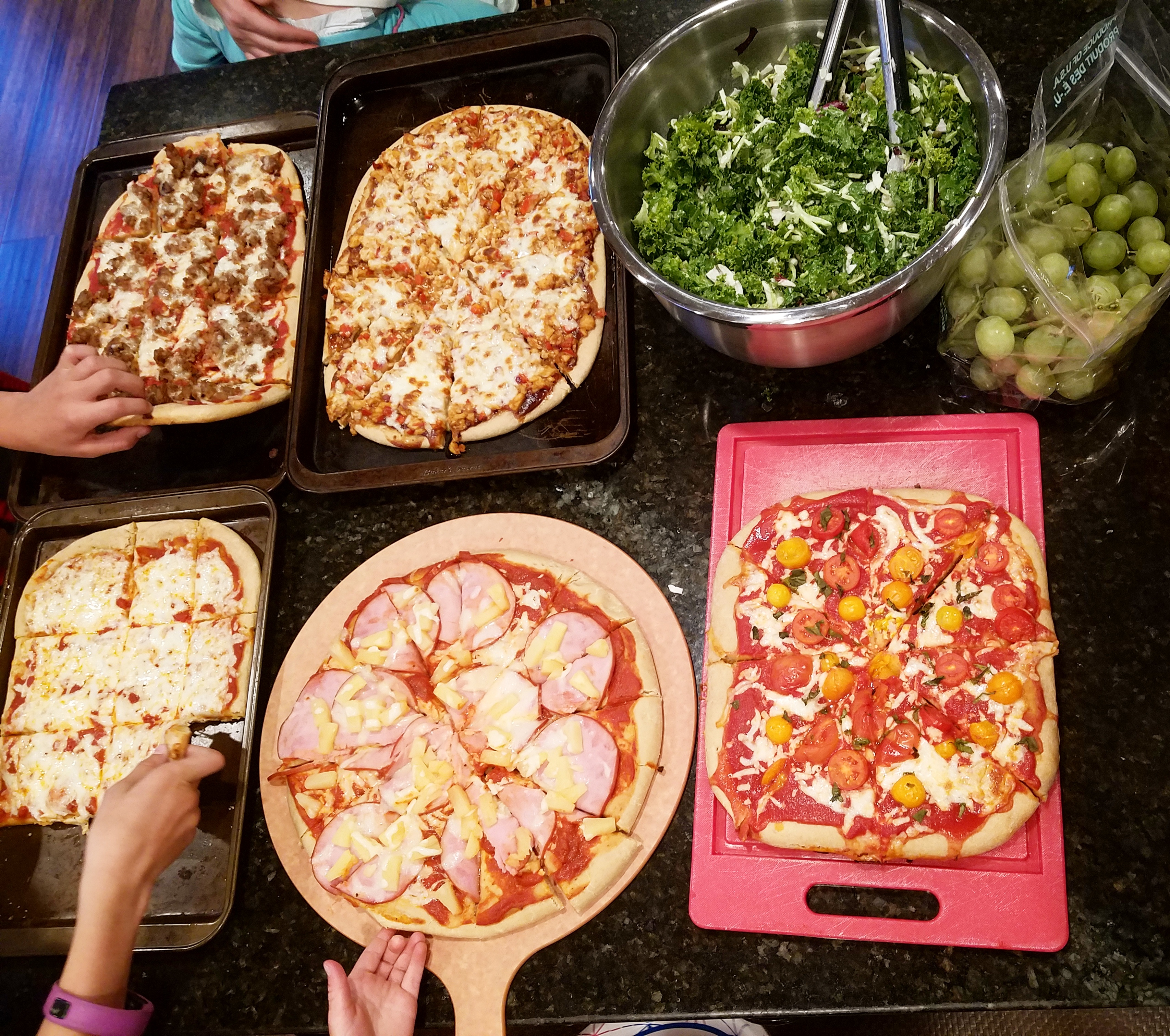 Fridays are pizza night at our house, and we never get sick of it because it is so versatile. We put everything from sausage to squash on our pizzas and we have a lot of fun doing it, too! It has taken me years to finally get the dough right. If it doesn't turn out just right for you the first time, keep trying! However, this recipe is pretty well tried-and-true, and it's hard to fail if you are using the Bosch Mixer.
Whole Wheat Pizza Dough
Ingredients
2

Cups

Water at 80°F

2

teaspoons

Active Dry Yeast

1/4

Cup

Olive Oil

2

teaspoons

Salt

4 3/4

Cup

Whole Wheat Flour

(approximate)
Instructions
Pre-heat your oven to 420°F. This will warm your kitchen and help activate the yeast. Set up your mixer with the heavy dough hook insterted.

Grease 3, 12-inch round pizza pans with cooking spray. Sprinkle with corn meal (optional).

Add yeast and warm water to mixer and let it sit for 2-3 minutes. Mix olive oil and salt into the yeast water and stir a couple of times.

Add half the flour to the wet ingredients and begin mixing on the lowest setting. Slowly add no more than 1/2 cup of additional flour at a time. Once the dough begins to "clean off" the sides of the bowl as it mixes, stop adding flour. Increase the mixing speed to the medium setting and mix for 7 minutes.

Grease hands with a bit of oil. Pull out of the mixer three equal portions of dough, shaping into balls, and place in the center of each pizza pan.

Using the palm of one hand, press the dough ball into the pan as you slowly spin the pan with your other hand. The crust should fill a 12-inch diameter pan and be about 1/2 inch thick. Doing it this way prevents extra clean-up with having to scrape dough or wipe grease from your countertop. However, if you prefer to use the rolling pin on a floured or greased surface, that works too.

Poke several holes in the dough with a fork. This prevents large bubbles from forming in the crust.

Pre-bake the crust for about 5 minutes before adding your sauce and toppings. Once your toppings are added, bake the pizza for another 6 to 8 minutes or until the bottom is medium-brown.

You can do the rest from here. Add the sauces, toppings and cheese of your choice to make your own custom pizza. It will need another 8 to 10 minutes to finish baking.
Notes
This recipe makes 3, 12-inch pizza crusts. The nutritional information is based on 1 out of the 24 slices this recipe yeilds.
Enjoy your pizza night!
Featured Product
(Includes affiliate links)