Easy Buttermilk Drop Biscuits (Whole Wheat)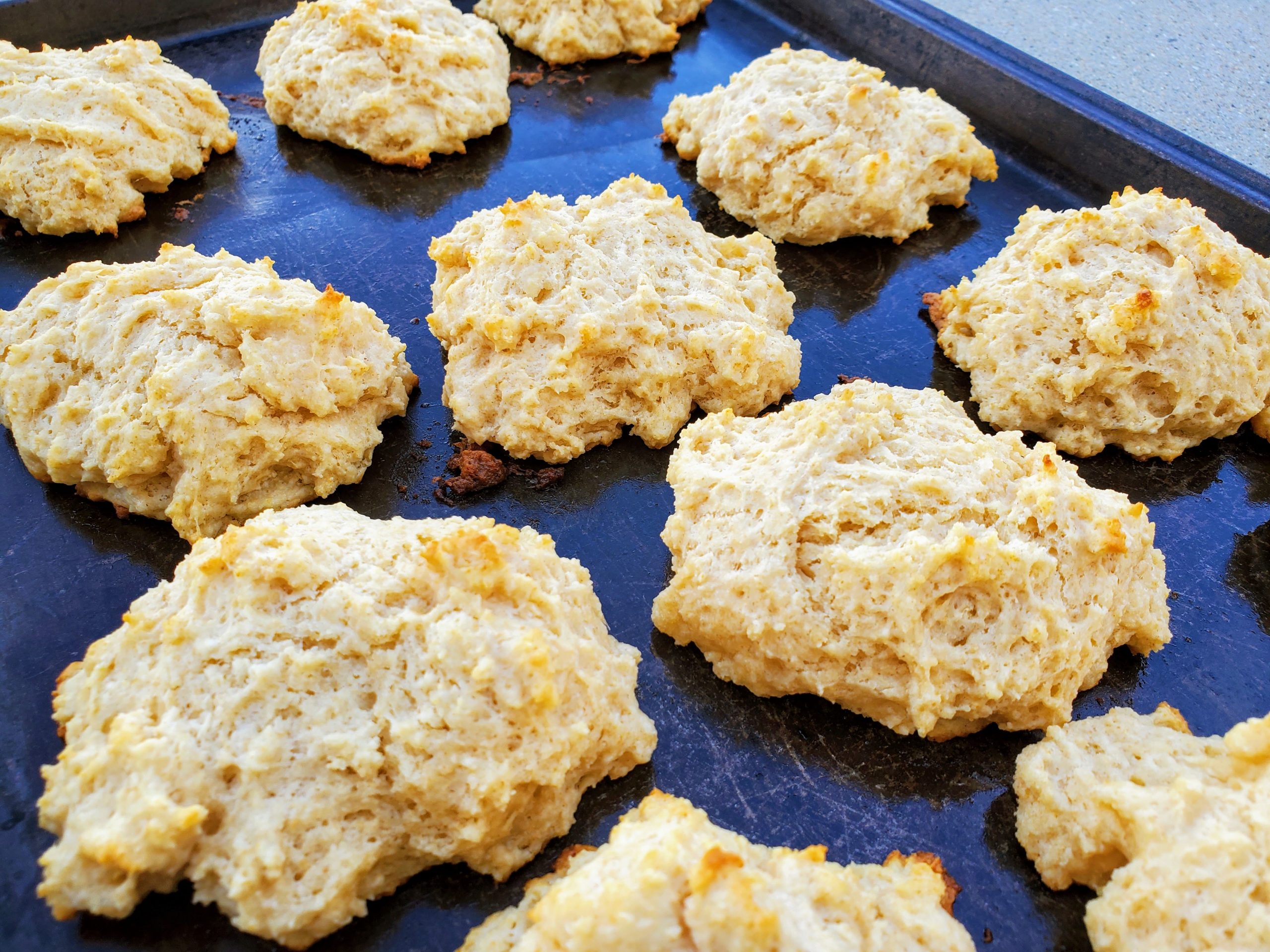 I feel so grateful that I stocked up on wheat berries before the panic of COVID-19 began. Flour sure is hard to come by right now! I grind my wheat berries into flour 2-3 times a week lately for bread, pancakes, muffins, and cornbread. Our latest favorite whole wheat side dish is this delicious and super-easy drop biscuit. It's soft, buttery, and melts in your mouth. You can use buttermilk, but I always have kefir that needs to be used up, so that is what I use. These are a great side to any dish. This week I am making them with my Balsamic Chicken and Veggies to round out our meal. (Wow, that was a lot of links in that summary. It's all good stuff though.) Enjoy!
Easy Buttermilk Drop Biscuits (with Whole Wheat)
Buttery, melt-in-your-mouth biscuits made with half wheat flour
Ingredients
2 1/4

Cups

Whole Wheat Flour

2 1/4

Cups

All-Purpose Flour

2

tablespoons

baking powder

1 1/2

teaspoon

salt

1 1/8

teaspoon

Cream of Tartar

1 1/8

Cup

Butter

cold but not frozen

2 1/4

Cups

Buttermilk

or plain kefir
Instructions
Preheat the oven to 425 degrees. In a large bowl, stir together the flours, baking powder, salt, and cream of tartar. Use a pastry blender to cut in the butter until the mixture resembles coarse crumbs.

Make a well in the center of the flour mixture and add the kefir (or buttermilk) all at once. Use a fork to stir just until combined. It should resemble a thick, lumpy batter.

On a greased baking sheet, drop dough by spoonfuls about one inch apart. Use a lightly greased spatula to scrape the dough out of the spoon and onto the sheet.

Bake for 6 to 8 minutes. or until the tops are barely golden brown. Watch them carefully, because the bottoms will brown before the tops.
Notes
I use kefir in place of buttermilk because it's what I always have on hand. Either one will work in this recipe.
>