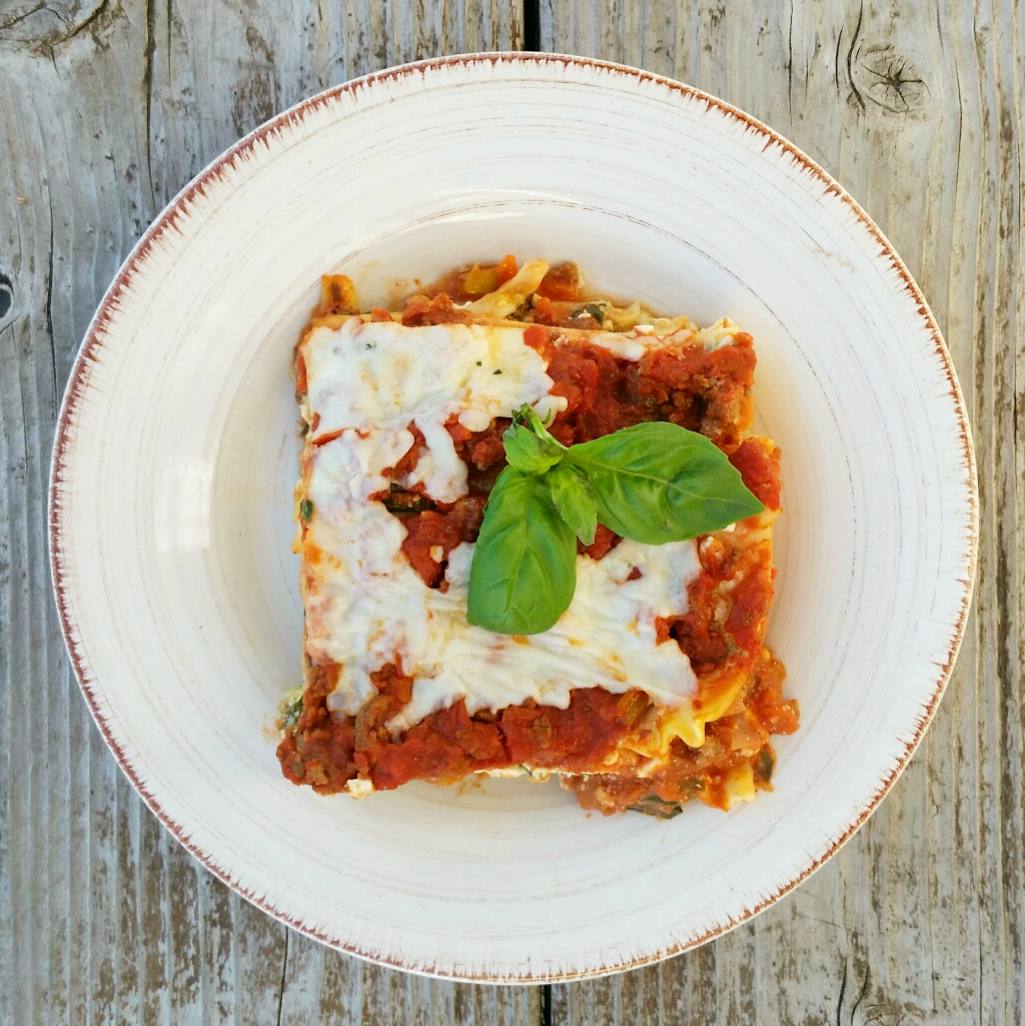 You will love the fresher, lighter flavor of this homemade lasagna.  From start to finish, I spent about 1 hour and 15 minutes making this dish. While that is longer than most weeknight meals I make, I believe it was worth every minute when I watched my kids lick every last bite out of the pan. I hope you and your family enjoy it as well!
Megan's Homemade Lasagna
Ingredients
Sauce
1/4

pound

Ground Beef 1 Cup Cooked

1/4

pound

Mild Italian Sausage 1 Cup Cooked

2/3

Cup

Celery chopped fine

2/3

Cup

Carrot shredded

2

cloves

Garlic minced

1- 15

ounce

can Diced Tomatoes

2- 15

ounce

cans Tomato Sauce

2

Tablespoons

fresh Basil chopped fine

1

teaspoon

Salt

1/2

teaspoon

Black Pepper
Cheese Layer
2

Cups

Cottage Cheese 4% milk fat

1

Egg* See note

1/3

Cup

Parmesan shredded

2

Cups

Packed Spinach
Topping
1 1/2

Cups

Shredded Mozzarella Cheese
Instructions
Preheat oven to 375 degrees.

For sauce, cook beef, sausage, onion, celery, carrots and garlic in a large saucepan until meat is brown. Drain any excess fat.

Add un-drained tomatoes, tomato sauce, chopped basil, salt and pepper. Bring to a low boil and then reduce heat. Simmer, covered, for about 15 minutes. Stir occasionally.

Meanwhile, cook noodles for 8 to 10 minutes so they are slightly under-cooked. Drain noodles and set aside.

For cheese filling, mix together cottage cheese, egg, Parmesan and spinach. Set aside.

Spread 1/2 cup of the sauce over the bottom of the baking dish. Layer half of the noodles in the bottom of the dish, trimming with kitchen shears as necessary to fit. Spread with half of the cheese filling. Top with half of the remaining sauce and half of the mozzarella. Repeat layers.

Place 9 X 13 dish on a baking sheet. Bake at 375 degrees for 30 to 35 minutes. Let stand for 10 minutes before serving.
Notes
I have mistakenly left out the egg in the past. It still tasted great, but never really set up in a pretty square serving. So, if the soupy plate doesn't bother you, and you have an allergy to eggs, leaving them out still works.