Cheesy Polenta with Roasted Veggies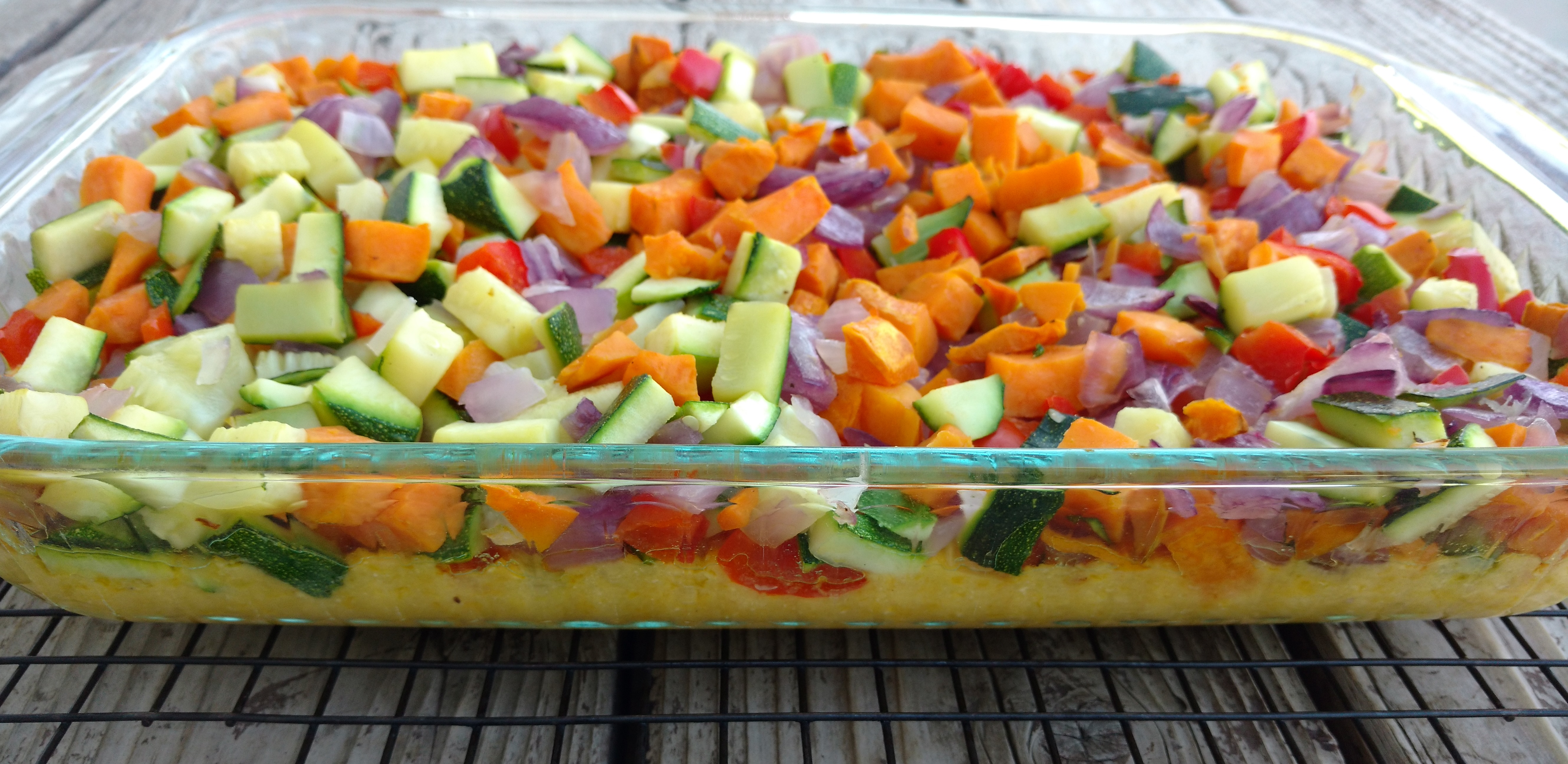 To get my kids to eat this dish, I tell them that it is "cheesy corn bread" and they are all over this stuff! What is polenta? It is also referred to as corn grits because it is a coarsely-ground cornmeal. I find mine in the whole foods section of the grocery store with all of the "Bob's Red Mill" products. To make this a gluten-free meal, try Bob's Red Mill Gluten Free Corn Grits. There's no difference in flavor or texture. Just no cross contamination with wheat.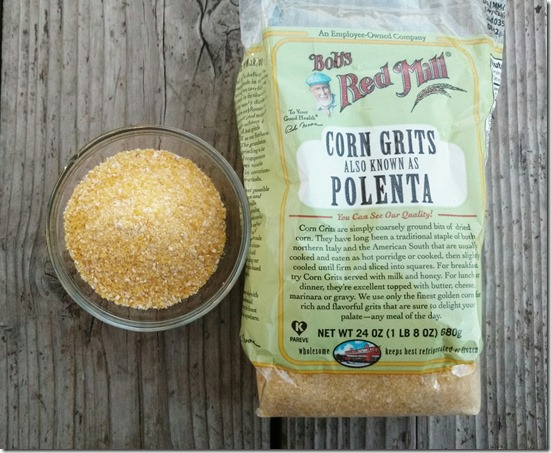 I made this recipe for the first time when I saw it on the Produce on Parade blog years ago. You can find the original recipe here. To make it more kid-friendly, I made some changes. Enjoy!
Cheesy "Corn Bread" with Roasted Veggies

Roasted Veggies
2 medium Sweet Potatoes, chopped
2 small Zucchini Squash, chopped
2 Cups Red Onion, chopped
1 1/2 large Red Bell Peppers, chopped
2 Tablespoon Olive Oil
Salt and Pepper to tasteCheesy "Corn Bread"
6 cups Water
2 cups Stone Ground Polenta
2 cups Sharp Cheddar Cheese
1/2 teaspoon Salt
1/4 teaspoon Pepper

Makes 8-10 servings.
1. Preheat the oven to 450 degrees. Chop all vegetables into cubes using my not-so-secret chopping tip. Keep the sweet potatoes separate and zap them in a microwave safe bowl with a tablespoon of water for about 2 minutes.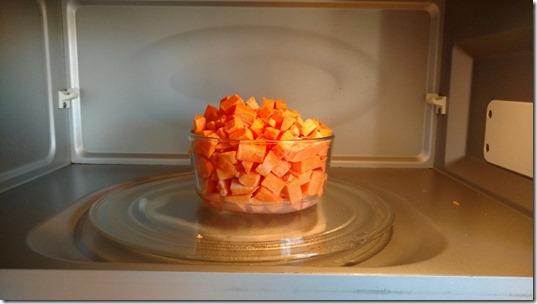 2. Toss all the vegetables in a large bowl with olive oil, salt and pepper. Pour them onto a large, tin foil-lined cookie sheet, and roast for about 15 minutes. Stir them once or twice to ensure even cooking. Once they are crisp-tender, remove and set aside. Decrease oven temperature to 350 degrees.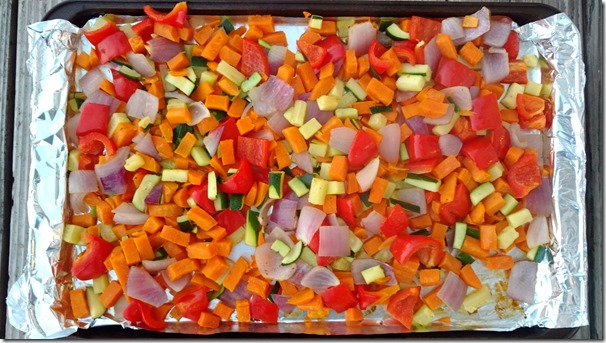 2. Meanwhile, bring water to boil in a large pot. Slowly stir in the polenta with a long wooden spoon. Reduce heat to medium and keep stirring for about 10 minutes until it is the consistency of very thick cream of wheat.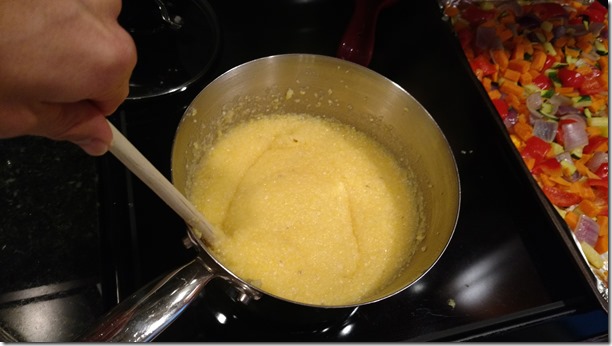 3. Remove from heat and add the cheese, salt, and pepper. Pour into a greased 9 x 13 inch pan and level it evenly inside the pan with the back of your spoon.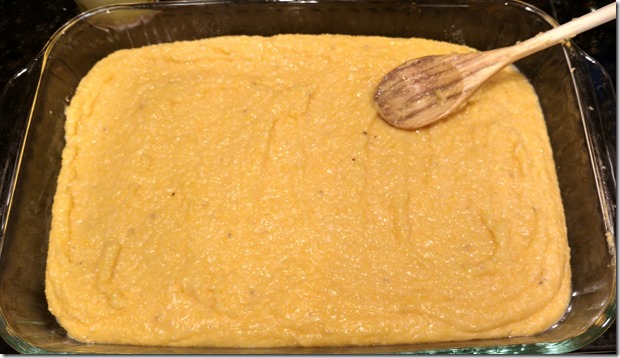 4. Bake at 350 degrees for 10 minutes. Remove from oven, top evenly with roasted vegetables, and bake for another 5 minutes.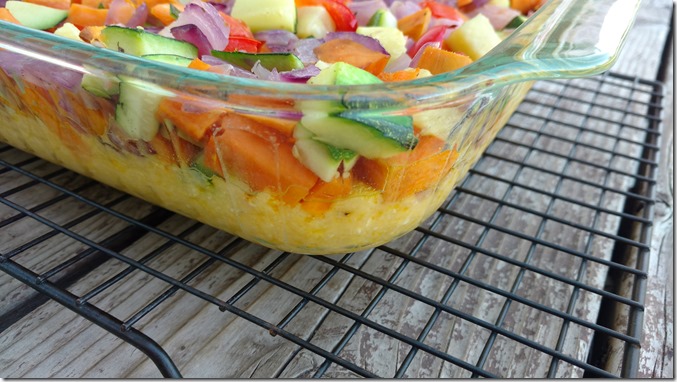 5. Remove from oven and let sit for about 5 to 10 minutes. Season with salt and pepper as needed and serve immediately.