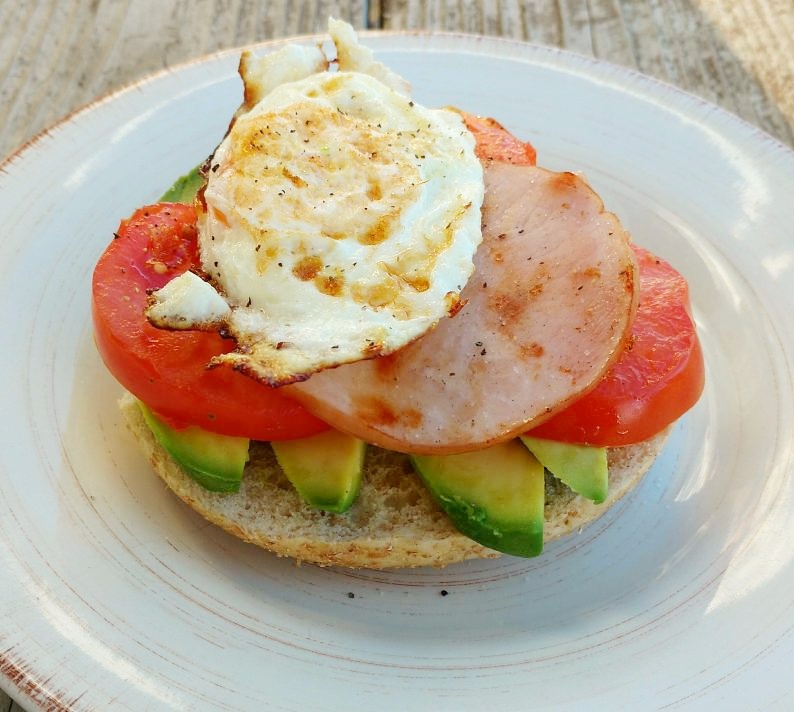 On those mornings when cereal or toast just wont cut it, this savory dish is sure to satisfy. I crave this on Saturdays after a morning jog, because of its balance of protein, carbohydrate and fat. Enjoy!
Hearty Breakfast Bagel
1/2 Whole Wheat Bagel, toasted
1/4 Avocado, cut in slices
2 slices Tomato, 1/2 inch thick
1 slice Canadian Bacon
1/2 teaspoon Butter
1 Fried Egg
Salt and Pepper to taste
Makes 1 serving.
Directions:
1. Fry egg in melted butter over medium-high heat. Cook approximately 3 minutes on one side. Flip it over and cook 1 minute on the other side.
2. While egg is cooking, toast your bagel for a minute or two. My favorite whole wheat bagel is "Bubbas 100% Whole Wheat and Honey" Bagels.
3. After your egg is cooked, warm your bacon slice in the same pan.
4. Top toasted bagel with avocado slices, tomato, Canadian Bacon, egg, salt and pepper.
5. Devour.