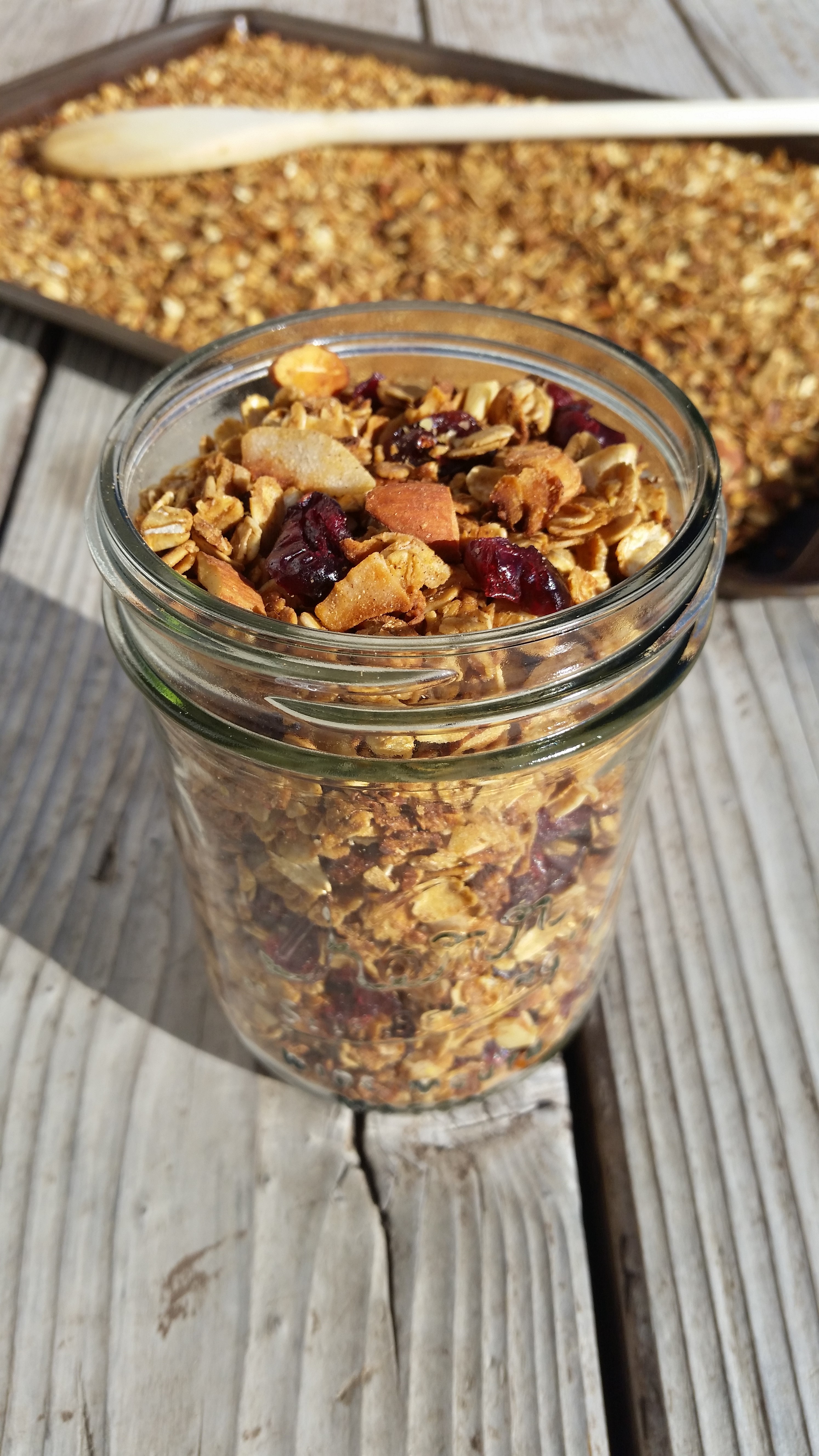 My favorite mid-night snack also doubles as one of my favorite breakfast cereals. I love making my own Granola because I can alter the sugar content, assuring a healthy combination of whole grains, nuts, dried fruit and other grains. Unlike most store bought granola, this version contains only whole ingredients and has LESS sugar than a cookie.  Something so delicious as this needs to be shared. Enjoy!
Hearty Granola
16 Cups Old-Fashioned Oats
2 Cups Raw Nuts, chopped
1 Cup Coconut, shredded
1/2 Cup Ground Flaxseed
2 Tablespoons Cinnamon
1 Cup Dried Fruit (Raisins, Craisins, Mango, Pineapple, etc.)
Syrup:
1 Cup Water
1/2 Cup Canola Oil
1 1/2 Cups Honey
1/2 Cup Molasses
1/2 teaspoon Salt
1 teaspoon Vanilla Extract
Directions:
1. Preheat oven to 325 Degrees F. Lightly grease 3 cookie sheets and set aside.
2. In a large mixing bowl, combine oats, nuts, coconut, flaxseed, and cinnamon. Stir to combine.
3. In a large saucepan, combine syrup ingredients. Heat on low until sugars are dissolved. Remove from heat and add vanilla.
4. Pour syrup over dry ingredients and stir until completely coated. Spread mixture onto cookie sheets.
5. Bake 20 to 30 minutes, stirring every 10 minutes. Bake an extra 15 minutes for crunchier texture.
6. Immediately after removing from oven, stir in dried fruit and let cool on the counter.
7. Store in a cool, dry place in airtight containers. Use within 2 months.
Makes: 22 Cups