Grilled Balsamic Vegetable Salad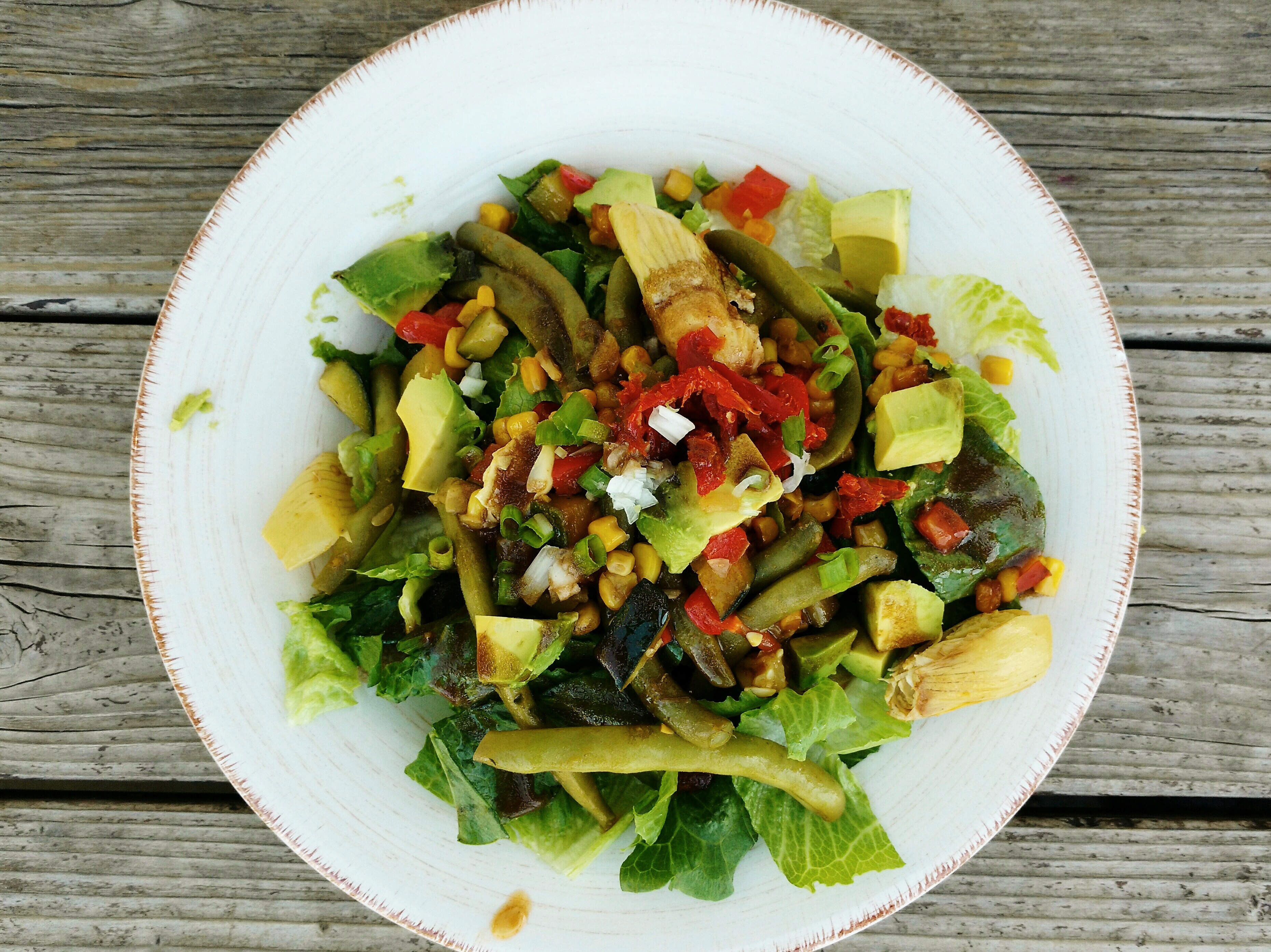 This is the heartiest of all hearty salads, and a hit at barbecues and potluck dinners! It is a modification of "California Pizza Kitchen's" Roasted Vegetable Salad.
Grilled Balsamic Vegetable Salad
1-2 Cups asparagus or green beans (whatever is in season)
1 Red bell pepper, chopped
2 small zucchini squash, chopped
1 Cup frozen corn
1 (15 oz.) can artichokes in brine
1/4 cup green onions, chopped fine
1 avocado, chopped
small handful sundried tomatoes
Romaine lettuce, chopped
Vegetable Marinade:
1/4 Cup olive oil
1 Tablespoon soy sauce (I use BRAGG Liquid Aminos for my Gluten-Free friends)
1/2 teaspoon cumin
dash of cayenne pepper
Balsamic Dijon Dressing:
1/2 Cup olive oil
1/3 Cup Balsamic vinegar
2 teaspoons Dijon mustard
1 1/2 teaspoons minced fresh garlic
salt and pepper to taste
Directions:
1. Chop all the veggies except avocadoes. Combine the green beans, bell pepper, zucchini, corn, and artichokes into a large bowl.  Prepare the vegetable marinade in a jar with a lid. Give it a few shakes and pour it over the veggies. Let it marinade while you prepare the Balsamic Dressing.
2. Grill the veggies until the green beans are crisp-tender. Let them cool for 5 minutes and serve over a bed of romaine lettuce, topped with green onions, avocado chunks, sundried tomatoes, and 1/8 to 1/4 Cup of dressing. (Don't use ALL the dressing you made. It will be too greasy. Save some for another salad some other time.)
Makes 10 to 12 side servings.
There's a lot of chopping that goes into this salad, so check out my "Chopping Tips" to speed up the process. You will be glad you did. If the dinner-hour is as crazy for you as it is at my house, do your chopping and marinate the veggies earlier in the day. They taste better the longer they marinate anyways.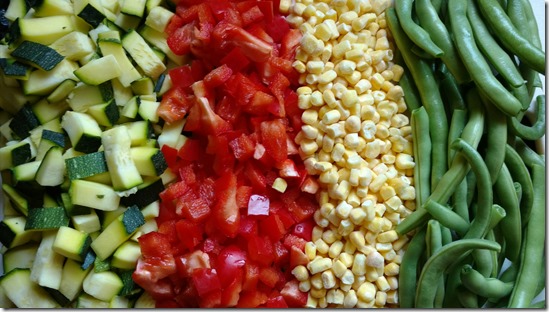 The veggies have the best flavor when they are grilled on an electric griddle or inside a cast-iron skillet made for an outdoor grill. I have used a big skillet on my stovetop, and the flavor is still good, but not great.
For potlucks, I mix everything together with dressing so it is easier to serve a large group. At home, however, we always have leftovers, so I serve the veggies on a bed of lettuce. This allows us to eat it the next day without soggy lettuce. I paired the salad with garlic cheese bread to make it a complete meal. Enjoy!