Hearty Hawaiian Haystacks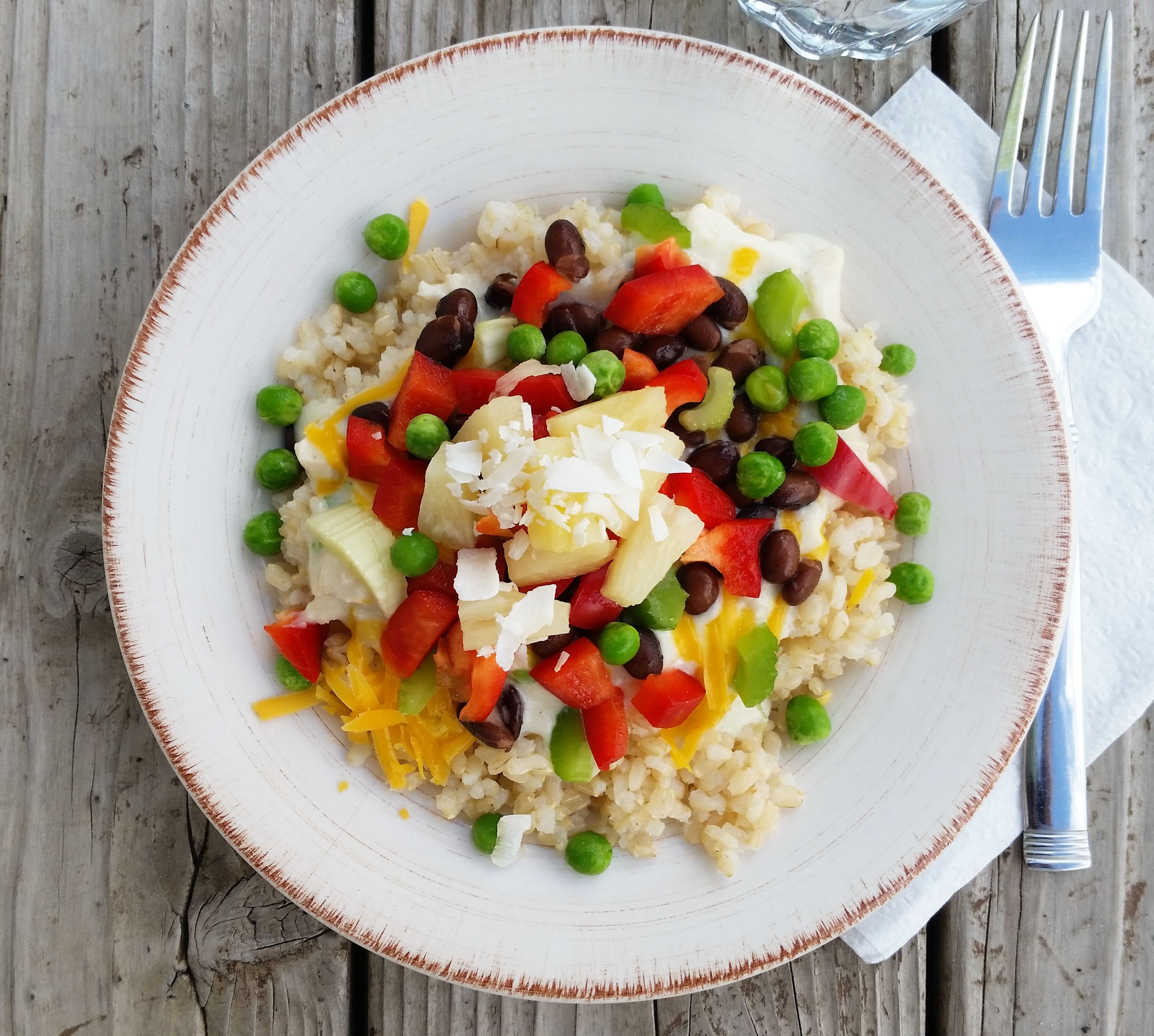 This is such a great meal for Sunday afternoons, because it can stretch out to feed lots of people. Since we are constantly inviting extended family and neighbors for Sunday dinner, this meal works perfectly. If our company wants to make it a potluck, it's easy to ask them to bring one of the toppings. The creamy chicken sauce is made from scratch, and it has flavor 100 TIMES better than when made with canned cream of chicken soup. Enjoy!
Hearty Hawaiian Haystacks
Creamy Chicken Sauce
2 boneless, skinless Chicken Breasts
1 Recipe Hearty Cream of Chicken Soup
1 Cup Greek Yogurt
1/2 Cup Milk for thinning
2 Tablespoons Fresh Parsley, chopped fine
Salt and Pepper to taste
2 Cups Brown Rice
4 1/4 Cup Water
Toppings
Shredded Cheese
Beans-black, kidney, or garbanzo
Celery, Chopped
Bell Pepper, chopped
Frozen peas, thawed
Jicama, chopped
Pineapple, fresh or canned
Fresh Tomatoes, chopped
Salsa, canned or fresh
Coconut Flakes
Green onions, chopped fine
Almonds, slivered or chopped
–Get Creative! Add anything that sounds good.
Directions
1. Cook the chicken breasts in a slow cooker for 4-6 hours.
2. In a large pot, add brown rice to the water, cover with a lid, and bring to boil at medium high heat.  Reduce heat to a simmer and let cook for about 30 minutes.
3. Meanwhile, make your cream of chicken soup. Once it is thickened, add the Greek yogurt and milk if it needs thinning. Season with parsley, salt and pepper.
4. Stack the chicken sauce and toppings on top of a bed of rice. Enjoy!
Serves 6-8 people.