Light and Creamy Potato Salad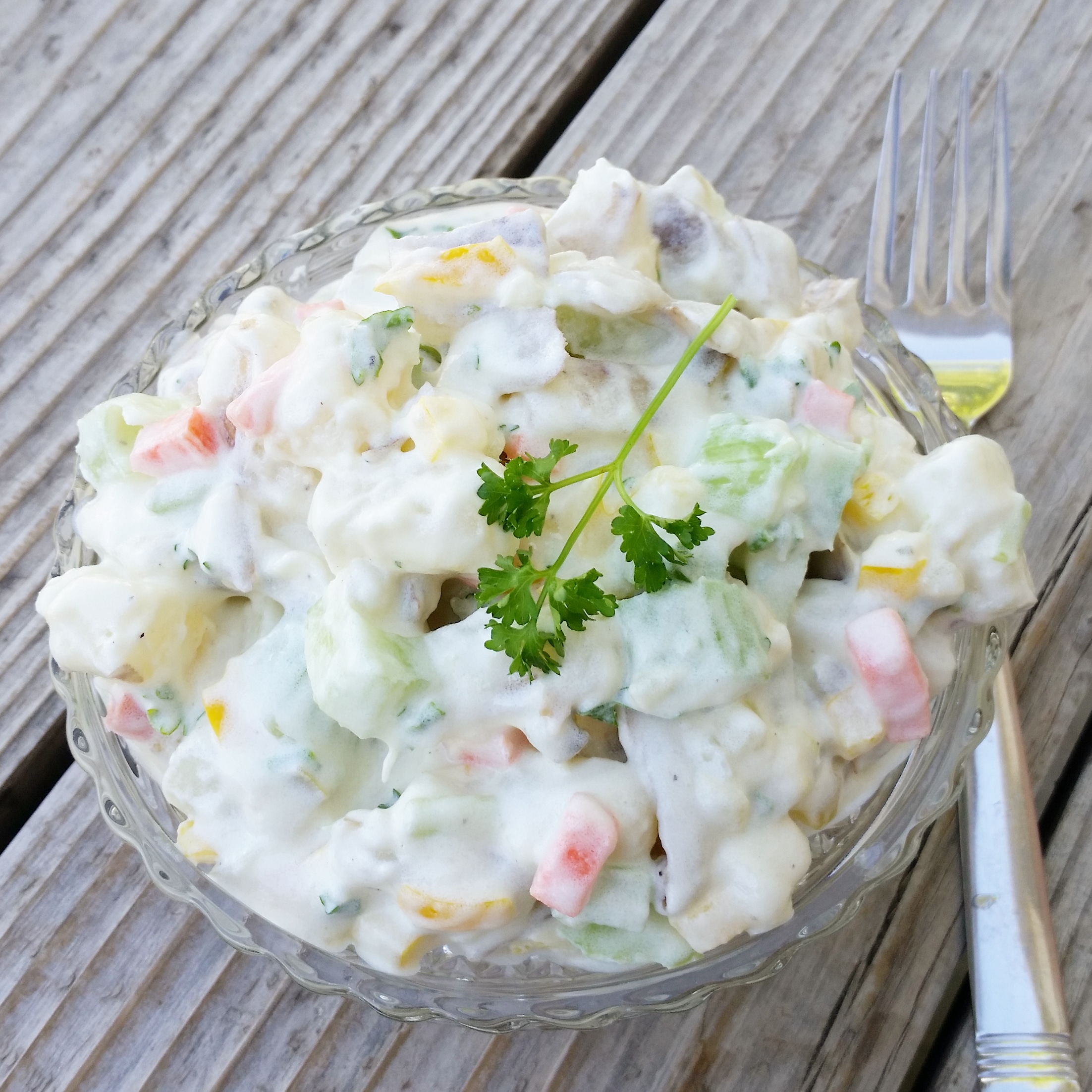 This recipe is a lighter version of the classic potato salad. Because I am not a fan of hard-boiled eggs, they were omitted from this version. It also has half the mayonnaise and twice the vegetables for added flavor and nutrition. You will love how fresh this salad tastes. Make it for your next Summer barbecue! Enjoy!
Light and Creamy Potato Salad
8 Cups Potatoes, cubed
2 Cups Celery, chopped
1 Red Bell Pepper (1 1/2 Cups), chopped small*
3/4 Cup Dill Pickles, chopped small
1/2 Cup Carrots, chopped small
Dressing:
1 Cup Greek Yogurt
1 1/4 Cup Mayonnaise (Regular Fat)
1/3 Cup Green Onion, chopped fine
3 Tablespoons Fresh Parsley, chopped fine
1 teaspoon Salt
1/2 teaspoon Pepper
Directions:
1. Boil potatoes until the cubes are soft yet still hold their shape. Strain and then pour potatoes into a large serving bowl. Put it in the fridge or freezer to chill while preparing remaining ingredients.
2. Meanwhile, in a small bowl, whisk together the dressing ingredients.
3. Add remaining vegetables to potatoes. Pour dressing over top and mix until well-coated.
4. Chill the potato salad in the refrigerator for 4 to 8 hours before serving so the flavors can blend.
Makes 15 (1 Cup) Servings

*Notes: "Cubed" or "chopped" versus "chopped small" in this recipe is specified by the size of blade I used in my vegetable chopper. The larger blade was for the potatoes and celery and the smaller blade was for everything else. I cut my food prep time in half (pun fully intended…) by using my beloved Vidalia Chop Wizard. Seriously. I can't survive in the kitchen without it. More details below:
Featured Product
(Includes Affiliate Link)