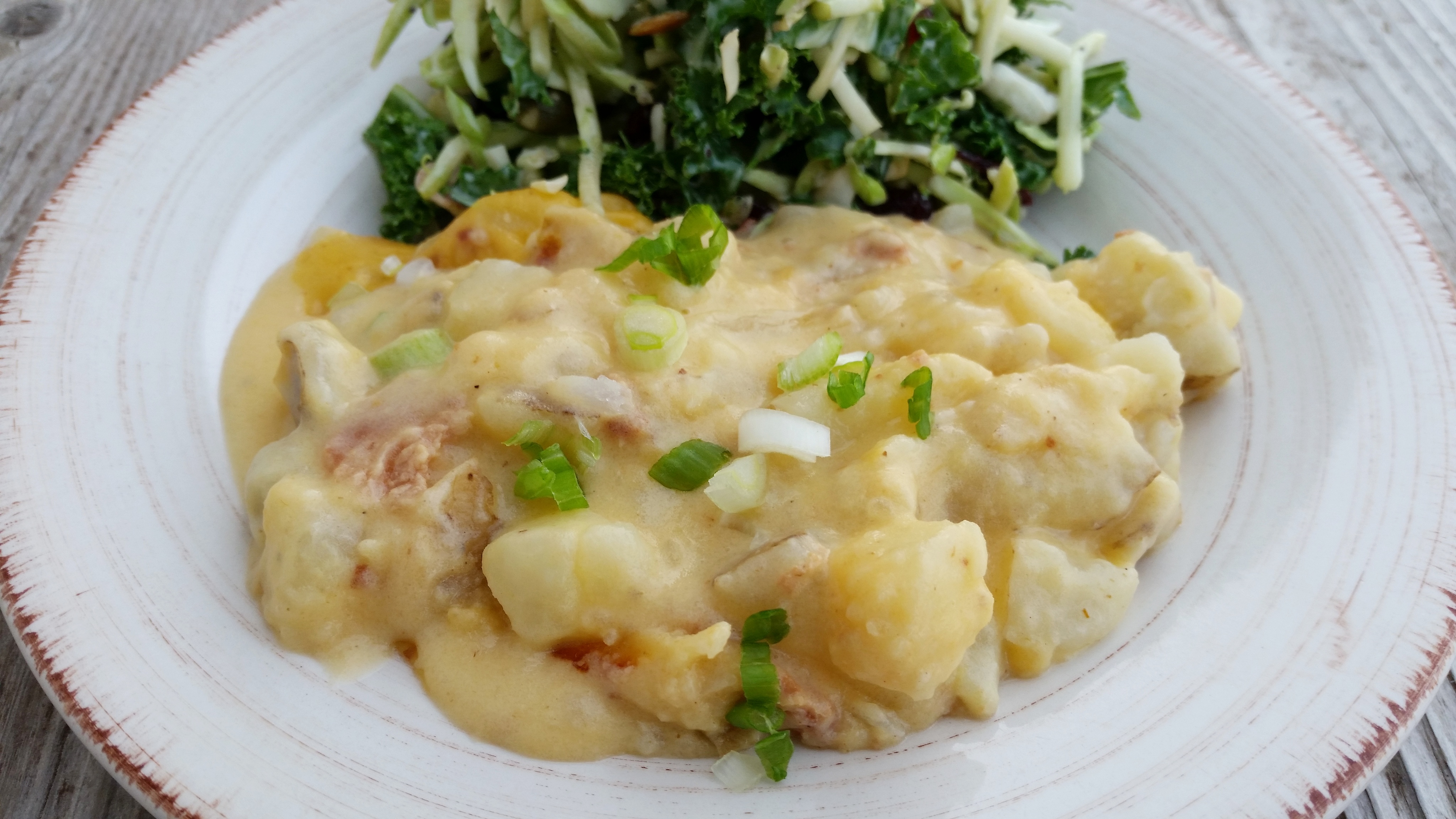 Growing up, our family always ate what we called, "Cheesy Potatoes" on Easter Sunday as a side dish to our Easter ham. Since moving to Utah years ago, I have learned that people here call them "Funeral Potatoes."  I have actually been asked to make these for several funeral dinners while I have lived here, so I guess the name is an accurate description for the use of these potatoes! Regardless of their name, these potatoes are a delicious comfort food. As always, I have "healthified" my recipe and there are no canned soups or creams involved, but there is PLENTY of flavor. Enjoy!
Mormon Funeral Potatoes
7 Cups Potatoes, cubed
1 (heaping) Cup Plain Greek Yogurt
1/4 Cup Bacon Pieces
1/2 teaspoon Salt
1/4 teaspoon Pepper
1/4 Cup Green Onions
Directions:
1. Pre-heat oven to 400 degrees.
2. Boil potatoes for about 10 minutes. They should still hold their shape but not be crunchy when removed from heat and drained.
3. Prepare one recipe of my Hearty Cheese Sauce. Mix yogurt and bacon pieces into the Cheese Sauce.
4. Pour bacon and cheese sauce over the boiled potatoes and mix well to incorporate. Add salt and pepper.
5. Pour cheesy potatoes into a greased, 9 x 13 pan and bake at 400 degrees for 15 minutes.
6. Increase the heat to a high broil and bake for another 2 minutes. Watch the potatoes closely—don't let them scorch!
7. Remove from the oven, sprinkle with green onions, and let sit for 10 minutes before serving.
Makes 12 side servings or 6 main dish servings.