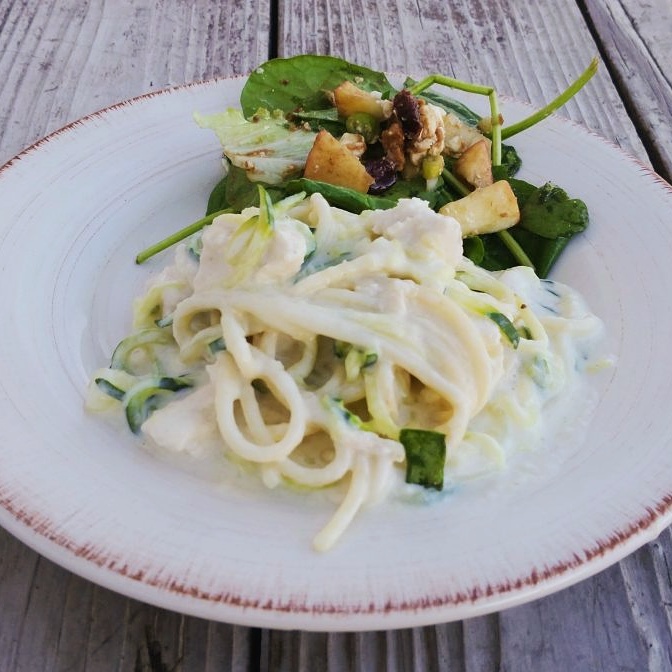 I know I am a little late to the bandwagon, but I must say that I am loving these Zoodles (zucchini noodles)! I have a hand-held spiralizer which works well to make beautiful spirals of zucchini squash into zoodles. What a great way sneak more vegetables into your diet and cut a few carbs out for people like diabetics who need to watch their intake! Tonight, I made zoodles into an Alfredo dish that was delicious. My 7-year-old was inhaling the stuff as he told me I needed to take a picture and put this on the website. So, here it is. Enjoy!
Chicken Zoodle Alfredo

2 Chicken Breasts (2 1/2 Cups), fully cooked*
4 Medium Zucchini Squash, spiralized
8 oz. Spaghetti Noodles
1 Recipe Guiltless Alfredo Sauce

Directions:
1. Bake or grill chicken breasts until fully cooked through. Cut into bite sized cubes and set aside.
2. Prepare 1 Recipe Guiltless Alfredo Sauce. Set aside.
3. Bring a pot of water to boil and cook Spaghetti noodles until tender.
4. Meanwhile, spiralize the zucchini squash and place them in a large, non-stick skillet. Steep the zoodles, covered with a lid for about 5 minutes.
5. Strain the spaghetti noodles, and add them along with the chicken and Alfredo sauce to the zoodles. Stir to combine. Serve immediately.

Serves 6 to 8.
*Notes: I prefer to use cooked rotisserie chicken. I always have a store on hand in my freezer. Here's a link to a tutorial of how I store it: https://heartysmarty.com/freezing-rotisserie-chicken/
Featured Product
(Contains Affiliate Link)