Homemade Cream of Chicken Soup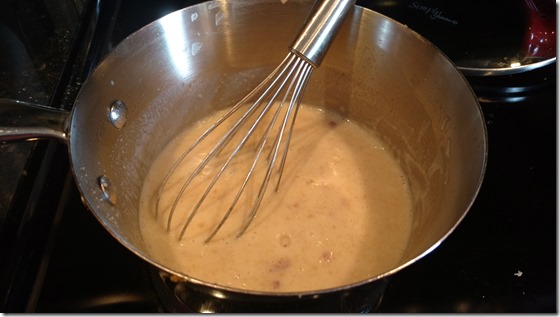 I always used to cook with canned Cream of Chicken Soup. I never thought to question whether there was another way. Finally, I decided I could do better. I substitute this mix in every recipe I make; soups, gravies, casseroles, sauces, and more. It's simple, and it takes just a few minutes to whip up.
Homemade Cream of Chicken Soup
More flavor, less ingredients, and healthier for you.
Ingredients
1/4

cup

onion

minced

2

Tablespoons

butter

1/3

cup

flour

1 1/4

cup

milk

2% milkfat

1 1/2

teaspoon

"Better than Bouillon" chicken base

1/2

teaspoon

salt

1/4

teaspoon

pepper
Instructions
Sauté onions in butter in a medium saucepan until onions are soft and translucent.

Mix in the flour to form a paste.

Pour in half of the milk and whisk continually until well-combined with a wire whisk.

Add the rest of the milk and the bouillon and continue whisking until mixture thickens and begins to bubble.

Remove from heat. Season with salt and pepper.
Notes
Any color of onion will work in this sauce--green, red, yellow. I have even used dehydrated onions and they gave the sauce a more rich flavor. Also, this recipe yeilds equivalent to one 15-ounce can of cream of chicken soup. Calories listed are per 1/2 cup serving.
Photo Tutorial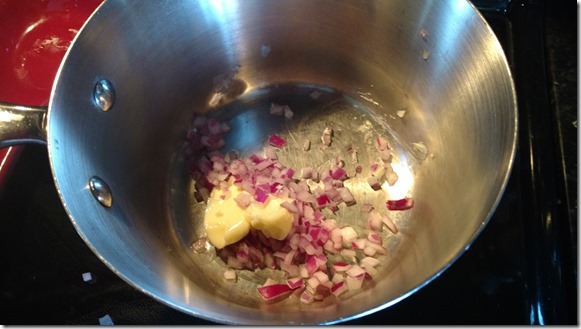 Mince onions into small pieces. Sauté the onions in 2 Tablespoons of butter, stirring occasionally.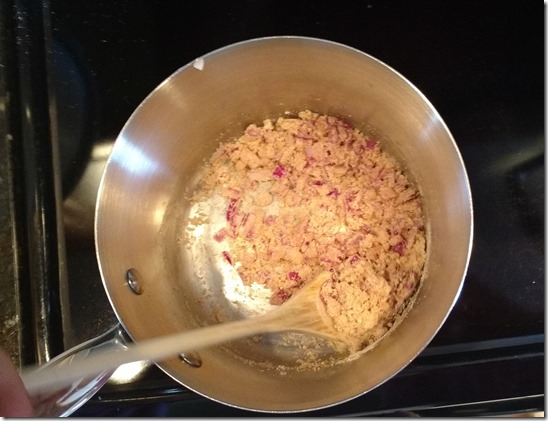 Once the onions are tender and slightly translucent, add the flour. (I always have a steady supply of fresh ground wheat in my fridge, so that is what I use for flour. In fact, I really only ever use all-purpose (white) flour when I am baking dessert items. Whole wheat works fine for everything else I make.) Mix the flour and butter until it forms a paste. This flour+butter "paste" is called a roux (pronounced, "roo").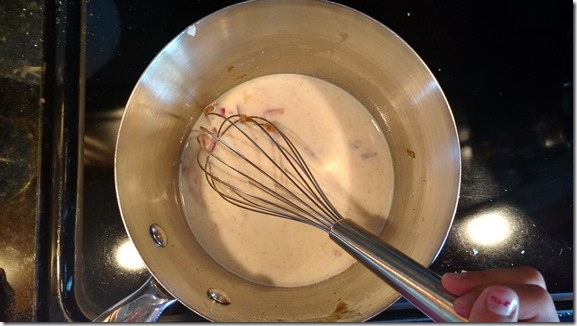 Add only half of the milk to the roux, just to make sure it gets fully dissolved and there are no clumps. Once the mixture is smooth, add the remaining milk. Stir continuously! If you get sidetracked and walk away from this mixture, it will scorch and you will have to start all over.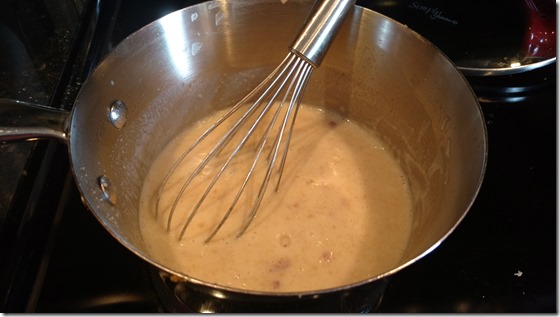 Sprinkle some salt and pepper into the soup to taste. You will know the soup is finished when the mixture is thick and begins to bubble. Remove the pan from the heat, and it is done! You just made your very own cream of chicken soup from scratch! Don't you feel so liberated?!
Featured Product
(Contains affiliate links.)