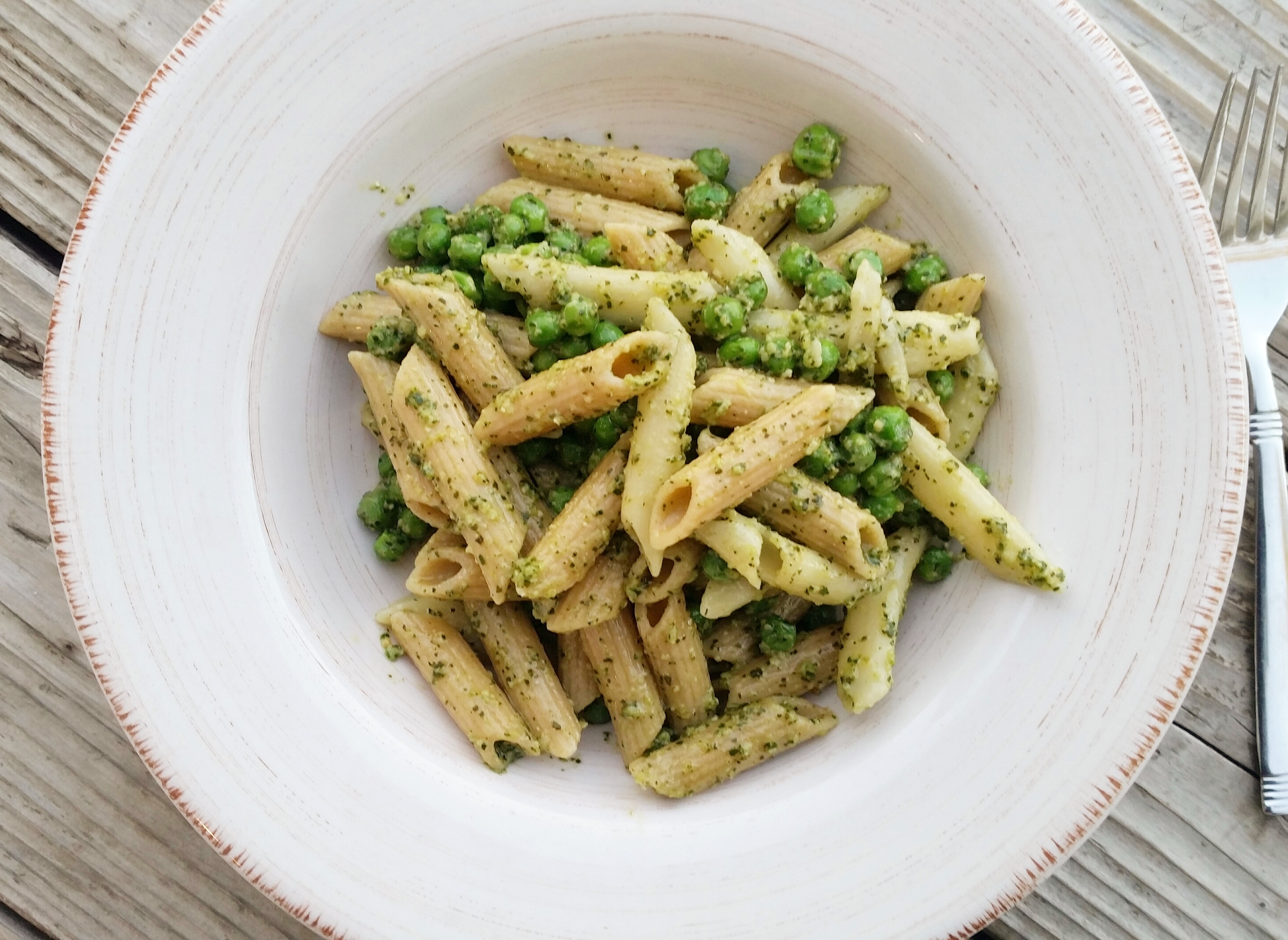 Oftentimes as I'm cooking in the kitchen, someone comes along and snitches a bite of whatever I am making. This time it was my husband taste-testing this Pesto Pasta. He took one bite, rolled his eyes back in his head and exclaimed, "Mmmmm!" He may have even done a fist-pump in the air. With a reaction like that, I had to document this one. I served it with a Caesar Salad made of romaine lettuce and homemade garlic croutons to make it a complete meal. I hope you get a similar reaction from your family or dinner guests when you make it for them.
Pesto Pasta
2 Cups Basil, packed fresh leaves
2 Cloves Garlic
1/4 Cup Pine Nuts
2/3 Cup Olive Oil, divided (California Olive Ranch is my favorite)
Salt and Pepper to taste
1/2 Cup Parmesan, shredded fresh + 1/4 Cup for topping
12 oz. Penne Pasta (6 oz. white and 6 oz. whole wheat)
2 Cups Frozen Peas
Directions:

1. Bring a large pot of water to boil. Follow directions on package to cook your pasta of choice. I like to use Penne, but Farfalle or Rotini works well too. During the last 5 minutes of boiling, add frozen peas to the pasta. Drain and set aside.
2. Meanwhile, combine basil, garlic, and pine nuts in a food processor. Pulse a few times until chopped.
3. Add 1/2 Cup Olive Oil and process until smooth. Continue adding remaining Olive Oil until desired consistency is reached. Season with Salt and Pepper.
4. Transfer to a small mixing bowl and add the Parmesan cheese. Pour pesto over cooked pasta and stir until well-coated. Top with extra Parmesan. Serve warm.
Serves 6. 
Featured Product
(Contains affiliate links)
California Olive Ranch Everyday Extra Virgin Olive Oil