Spinach and Feta Quinoa Cakes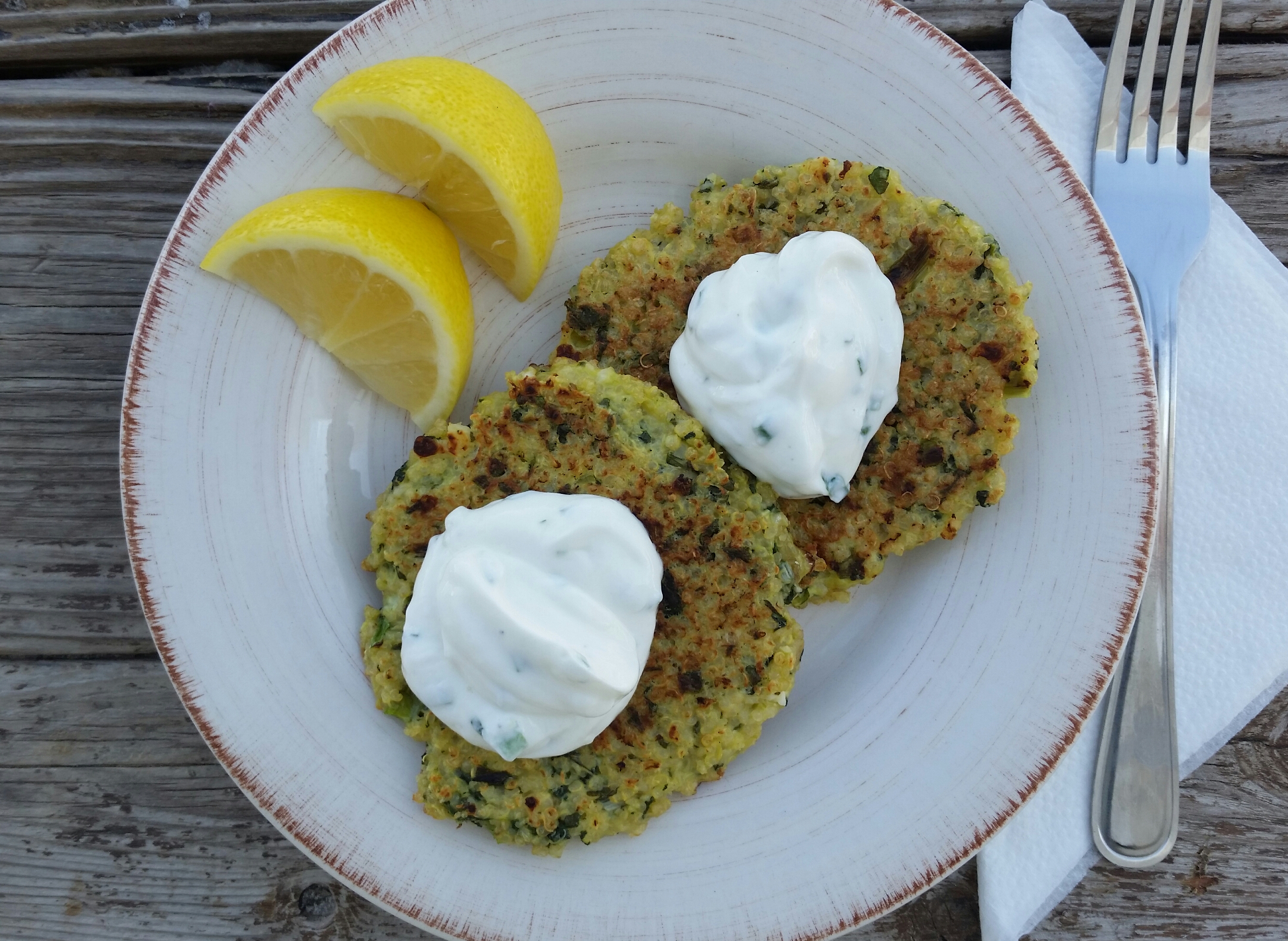 This is a gluten-free, protein packed meal. Two cakes with 1 tablespoon of yogurt sauce each provides 16 grams of protein, 10 grams of fiber, and 20 grams of carbohydrate. The combination of spinach and feta cakes with fresh lemon and basil dipping sauce will make your taste buds dance. Enjoy this delicious party in your mouth!
Spinach and Feta Quinoa Cakes 2 Cups Quinoa, cooked
2 Eggs
2 Cups Fresh Spinach, chopped
1/4 Cup Green Onions, chopped
1/3 Cup Feta Cheese, crumbled
1 Tablespoon Fresh Basil, chopped fine
1 clove Garlic, minced
1 teaspoon Lemon Zest
1 teaspoon Lemon Juice
1/2 teaspoon Salt
1/4 teaspoon pepper

Lemon Basil Yogurt Sauce
1 Cup Greek Yogurt
2 Tablespoons Green Onions, chopped
1 teaspoon Fresh Basil, chopped fine
2 teaspoons Lemon Juice, freshly squeezed
1/2 teaspoon Salt
1/4 teaspoon Pepper

Directions:
1. Mix all quinoa cake ingredients together in a large mixing bowl. Use a fork to beat the eggs and incorporate well into the quinoa mixture.

2. Preheat an electric skillet to 350 degrees. You may also use a stove-top skillet heated to medium high.

3. Use your hands (get a little messy here) to form a ball out of the quinoa just smaller than the size of a tennis ball. Place it on the heated skillet and press it down into a patty. It should have about a three-inch diameter. Use a spatula to round out the sides of the cake, if necessary.

4. Cook for about 7 minutes on the first side of the cake. Use a spatula to flip the cake over and cook for another 5 minutes.

5. While the cakes are cooking, prepare the yogurt dipping sauce. The sauce tastes better after marinating. If you think about it, the sooner you make it the better.

6. When the cakes are finished, serve them immediately and top with a dollop of yogurt sauce.

Makes 6 (3 inch diameter) cakes.
The cakes should be golden brown when you first flip them over. They are ready to eat when they are the texture of a burger and don't easily crumble.