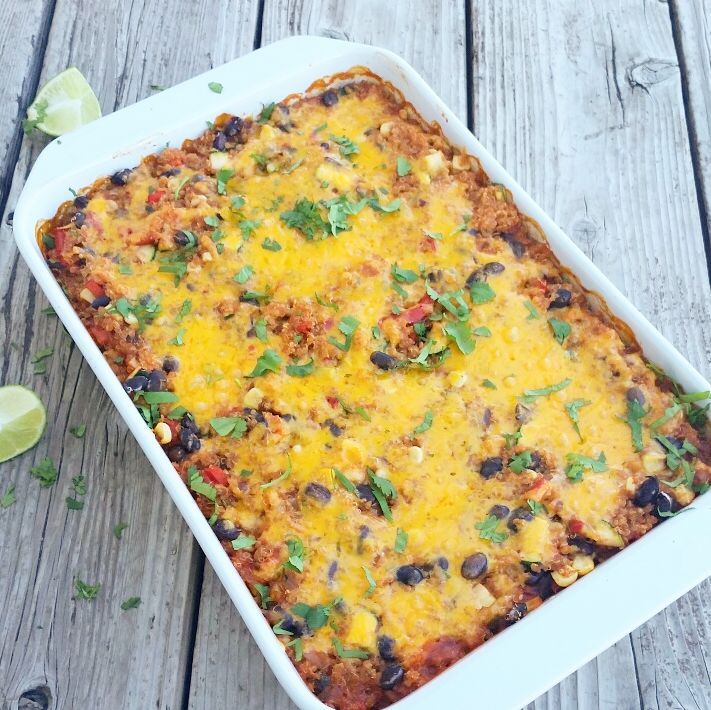 Quinoa has all the essential amino acids to make a complete protein. What does that mean, you might ask? It means that this plant is as complete of a protein as meat. Also, in just 1/2 Cup of cooked quinoa there are FIVE grams of protein. That's pretty awesome for a plant protein. Quinoa also contains lots of fiber and healthy fats which deems it as SUPER FOOD status. I get lots of people saying, "I know quinoa is good for me, but how do I use it in my cooking?" Well, here you go folks, another quinoa recipe just for you.
Mexican Quinoa Bake

1 1/2 Cups Quinoa, dry
2 Cups Zucchini, chopped
1 Red Bell Pepper, chopped
1 Cup Corn
2 (15 oz.) Cans Black Beans, drained
1/2 Cup Green Onions, minced
2 Tablespoons Cilantro, minced
1 Recipe Enchilada Sauce
1 1/2 Cup Cheddar Cheese, shredded
Salt and Pepper to taste
1 Avocado, Mashed (optional)
1 Lime, sliced (optional)
Directions:
1. In a large pot, cook quinoa in 3 Cups water, according to directions.
2. Spray 9 x 13 inch pan with cooking spray and pre-heat oven to 350 degrees.
3. Prepare 1 Recipe Enchilada Sauce.
4. Once quinoa is finished cooking, add zucchini, bell pepper, corn, black beans, and green onions to the large pot.
5. Pour enchilada sauce over the vegetable quinoa mixture and stir well. Pour the mixture into the greased pan and top with cheese and cilantro. Cover with foil.
6. Bake at 350 degrees for 20 minutes. For the last 5 to 10 minutes, remove the foil and increase the heat to 400 degrees to make the edges crispy and the cheese slightly browned.
7. Cool for 10 minutes before serving. Garnish with avocado and juiced lime slices.
Serves 6 to 8.
For more quinoa recipes, try my Hearty Quinoa Salad, Smoky Sweet Potato Quinoa Skillet, Spinach and Feta Quinoa Cakes, and Broccoli Quinoa Bake.