Thanksgiving Dinner Meal Prep Schedule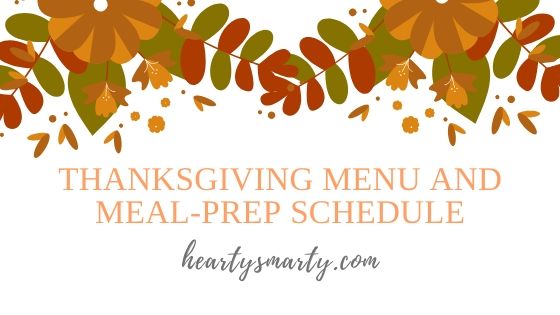 Are you hosting Thanksgiving Dinner this year? Me too. And boy, howdy! This is a super busy week with class parties, basketball games, and my daughter and I open in our Christmas Carol Musical on Friday, so we are busy rehearsing Monday thru Wednesday nights this week. Thus, using my small windows of time efficiently is going to be CRUCIAL for me to pull this off.
Thanksgiving Menu
Smoked Turkey (See below)
Garlic Roasted Butternut Squash
Rolls (Either store-bought or company is bringing these)
Drinks (Company is bringing these)
Pies (Company is bringing these)
Food prep schedule:
Friday: Menu Plan and Costco Run
I did myself a favor this year and bought a Smoked Turkey from Costco. It needs to cook for about 3 hours before serving, but I don't have to marinate, rub, brine, or pull innards out of a turkey this year. And I am so happy about that.
Another important item at Costco is Grandma Sycamore's Bread (2 loaves).
Saturday: Cube and dry out the bread for stuffing
Cube about 1 1/2 loaves of bread and lay in an even layer on 3 cookie sheets. Heat oven to 170 degrees and bake for 20 minutes. Open the oven and let the bread finish drying out overnight.
Monday:
Online grocery order for fresh stuff using the Prepear App.
Test the cubed bread and make sure it is totally dry in the middle before bagging it in an air tight bag
Peel, core, and cube the butternut squash. Roughly chop 4 cloves of garlic and seal it up with the butternut squash in a ziplock bag. Refrigerate until Thanksgiving day.
Cook the cranberry sauce and refrigerate it in a plastic container until Thanksgiving Day
Tuesday:
Make Strawberry Pretzel Jello from start to finish in a glass Pyrex pan with a lid. Refrigerate until Thanksgiving Day.
Toast and sugar the pecans for the spinach salad. Store in a ziplock bag.
Caramelize the onions for the spinach salad. Refrigerate in a ziplock bag.
Mix up the balsamic dressing for the spinach salad in a mason jar with a lid. Refrigerate.
Wednesday
Combine thawed green beans with homemade cream of chicken soup in a 9 inch square pan. Cover with foil and refrigerate.
Chop potatoes and add them to the inner metal Instant Pot® pot. Cover with plastic wrap and store in the fridge until you are ready to cook them on Thanksgiving Day.
Prepare the stuffing up until it is ready to cook. Cover with foil and refrigerate until tomorrow.
Thursday
3 hours before dinner time-

Begin warming the turkey. (See how much easier that is than fussing over giblets and turkey innards days in advance?!)
Set the tables with table cloths, centerpieces, dishes, butter in dishes , jam in dishes (because someone else is bringing the rolls, right?), serving spoons, salt and pepper, etc.

2 hours before dinner time- Go ahead and start the mashed potatoes cooking in the Instant Pot®. Keep them warm until it's time to eat.
45 minutes before dinner time- preheat the oven to 350 degrees and begin baking the stuffing.
30 minutes before dinner time-

Add green beans to the oven. Cook for 25 minutes before topping with French fried onions. Bake 5 minutes more.
Assemble the spinach salad. Set on the table or return to the fridge.
Make the gravy from turkey drippings

15 minutes before dinner time-

Remove the stuffing and beans and put them in a warming oven or cover tightly with foil to keep warm.
Increase the oven temperature to 450 degrees and let it roast for 10 minutes. Meanwhile, carve and plate the turkey.

10 minutes before dinner time-

Remove cranberry sauce from fridge and transfer into a serving bowl with a small serving spoon
Place warm dishes on cooling racks or hot pads on the serving table/counter
Fill glasses with ice and drinks.

5 minutes before dinner time- Share gratitude with your guests by saying a prayer and/or expressing what you are grateful for. Truly, anyone who is blessed enough to enjoy a meal like this on Thanksgiving Day has reason to give thanks.
Happy Thanksgiving!

Nonstick Roasting Pan
Pyrex Set with Lids